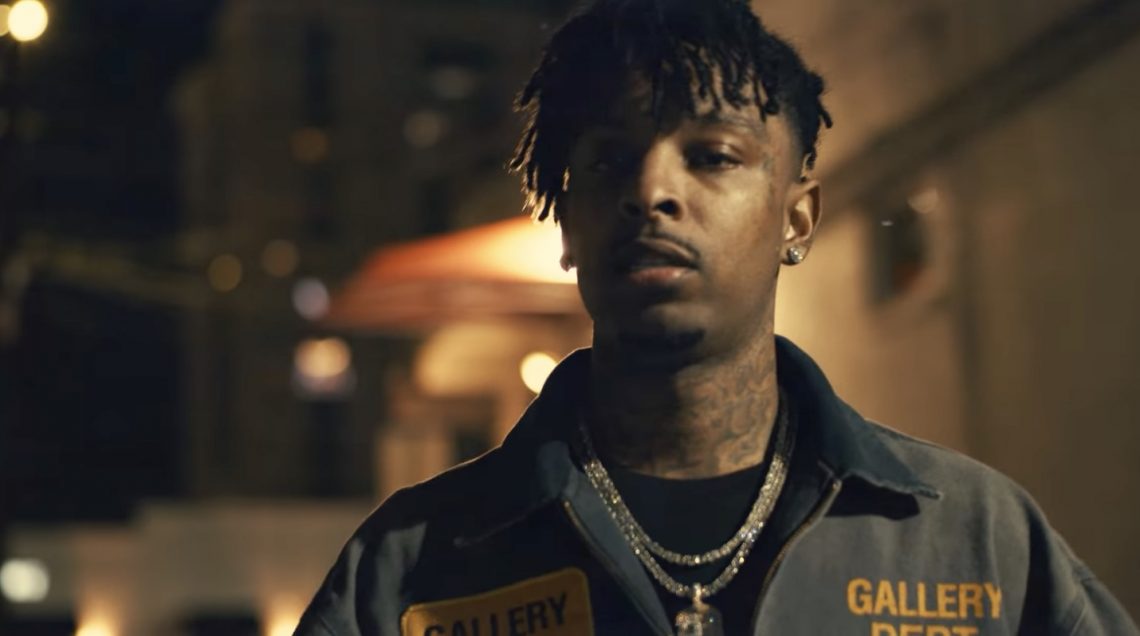 Hip hop Videos 2022 "Amahiphop U.S PMVC Jan".
Here is 2022 and Amahiphop U.S premium music videos compilation PMVC January has started. We had a great 2021 with more videos released and compiled seasonally. As our hip-hop music videos compilation continues its proceedings, there are new changes we are making. hip hop videos 2022.
Watch below 2022 Jan. hip-hop videos, we are also adding a little description to each video to help you understand the album, date and other related features where the video is coming from. This is unlike other compilations on Amahiphop.
Dragging your attention to previous compilations, you can check all 2021 videos from this page. From there you can be able to navigate to Jan. to Dec. videos as for 2021. You can check out Amahiphop 2021 best hip-hop videos. It featured Nicki Minaj, Jay-Z, DJ Khaled, The Weeknd, Lil Wayne and more artists.
As for January 2022 U.S PMVC, 21 Savage has to get it starting just after December PMVC was closed by Tyga's Lift Me official video. Meanwhile, 21 Savage is the first rapper to open the year with his new video for 2022 and you can watch it below.
Watch Amahiphop 2022 hip-hop videos compilation, Jan……
21 Savage, "No Debate"

Could 21 Savage get Amahiphop 2022 songs compilation? The Atlanta rapper is celebrating the year, a new season with two brand new songs. No Debate' and 'Big Smoke'. If he could drop songs at about 5 to 10 tracks, be it standalone singles or features, then we could compile his 2022 songs. As for his first start, here you watch No Debate official from 21 Savage who also had a bunch of collaborations last year. 21 Savage has not revealed any project behind his two new songs but we hope he announce something sooner or later this year.
Gucci Mane, "Fake Friends"

Gucci Mane has joined Amahiphop January videos compilation. Another thing you need to know about Gucci is that he always has something to offer. Just every year can even give you one of two albums. Meanwhile, Last year he shared Ice Daddy yet again and he and his label put out So Icy Christmas. It was almost a quiet year by his hectic standards. So, it's January 2022 and here we are with Gucci Mane new song accompanied with its official as Fake Friends. The video one of the hip hop videos 2022 has given us so far.
NBA YoungBoy, "Fish Scale"
NBA YoungBoy is one of the hip-hop who most times grow fanbase via a relentless release. Despite how he has put out some smart work late last year through Amahiphop U.S PMVC compilations, today the Baton Rouge rapper has joined Amahiphop 2022 January videos compilation with a new song titled Fish Scale. Another good news is that NBA YoungBoy has also announced a new mixtape coming this month. This is among anticipated 2022 mixtapes and albums. In the description of the video, it says NBA Youngboy will be dropping a new mixtape in "less than 2 weeks" so stay tuned for a full new project from him this month. A couple of weeks ago, he shared the song 'Emo Rockstar' where he rocked his favourite new thing, face paint.
Brandy and Remy Ma, "Lady Z Strikes Back"

Randy and Ramy Ma have joined Amahiphop U.S PMVC videos compilation, January 2022. They share new song LadybZ Strikes Back from ABC series. Remy Ma was able to join the ABC Queens and has released this music video. There are more hip-hop female 90's rappers who are contributing to this series. Though Eve is taking a break to welcome her first baby with her husband.
The Weeknd, "Sacrifice"

The Weeknd is the first artist to share his first solo album for 2022. DAWN FM, that's the title of the album featuring rappers and crooners like Lil Wayne, Tyler The Creator, Quincy Jones, Jim Carrey and more. From the album, you will listen to some songs which also includes Sacrifice. He has put out the official video for Sacrifice which you are currently watching on Amahiphop U.S PMVC January 2022. This is the first video from The Weeknd's DAWN FM album and it's integral to the album as well.
24 Dugg and 2 Chainz, "Million Dollars"

Our 2022 January hip-hop music videos compilation has gotten a ton of amazing videos. 2 Chainz and 24 Dugg aren't slowing and they even have released new music and video Million Dollars on Amahiphop U.S PMVC. Million Dollars featured Detroit rapper and it is a song coming from 2 Chainz next album Dope Don't Sell Itself. Just ahead of the album which is slated to drop this month as of the 2022 albums, Dugg and Chainz have given awareness while we keep waiting for his follow-up to So Help Me God.
NBA YoungBoy, "Foolish Figure"

NBA YoungBoy, since this month his has dropped couple of songs with its official videos on Amahiphop U.S PMVC Jan. 2022. Checking above videos, you will see the Still, Flexin rapper has got himself on our Jan. compilation with Fish Scale. Today, his drop Foolish Figure and the video as well. Behind all these regular release, NBA YoungBoy is simply readying new mixtape that will be available later this month. It could be part of our 2022 albums. NBA YoungBoy has about fours songs which include Fish Scale, Emo Love, Emo Rockstar and Foolish Figure.
The Weeknd, "Gasoline"

The Weeknd has been proving his relentless hard work in making sure his fans got the best of 2022. So after dropping Sacrifice official video which you can watch above, the singer is back with another video from his latest 2022 album DAWN FM. The video is called Gasoline as directed by Matilda.
Kelvin Gate, "President"

Gate has made Amahiphop premium music video compilation PMVC with a new music video titled President. This is his first video since 2022. He has already teased and previewed the song yet again he is back the full song and video on U.S PMVC.
Gunna, "pushin P"

Gunna continues to drop more latest from his Drip 4 Season album which was added as 2022 latest album. Today you are watching Pushin P from D4S featuring Young Thug. At least he has some other ways for his fans to feel much better after Drake could appear on the physical album. Nothing was broken because Gunna can also you D4S get the best awareness and here is his Pushin P official video to watch.
EARTHGANG, "All Eyes On Me"

Back in November there was an album announced by Eartgang. Since then we haven't heard an song or order further proceedings but today Earthgang is back with new song and video on Amahiphop U.S PMVC 2022. It's All Eyes On Me.
Sledgren and Wiz Khalifa, "Chill With Me"

Sledgren and Wiz Khalifa on Amahiphop hip hop music videos compilation January 2022. Sledgren is one of Wiz Khalifa's super producer who have worked with him over the past years. Sledgren is now readying a fresh compilation and here he got Wiz to assist him and it all has started with Chil With Me official music video. Meanwhile this is the first time the Tylot Gang on our U.S PMVC Jan. 2022.
Chris Brown, "Iffy"

Chris Brown is back but is this a sign he's seriously working on new album. We can't tell the exact reason why this new song Iffy. But all the same, fans are happy to welcome Chris Brown new song and video as Iffy, a first solo since Jan. 2022 and you currently watch it on Amahiphop U.S premium music videos compilation PMVC.
Rick Ross and DreamDoll, "wiggle"

Just in promotion of his latest album, Rick Ross is back with DreamDoll in New Video Wiggle on Amahiphop U.S PMVC. That was last year Rozay released is album Rich Than I Ever Been. The Album featured a slew of hip-hop names including DreamDoll and here is his colloboration her.
DaBaby, "Sneaky Link Anthem"

Just before new EP which he called Back On My Baby Jesus Sh!t AGAIN, DaBaby has shared his first video Sneaky Link Anthem on Amahiphop U.S PMVC Jan. 2022 compilation. This is one of the hip hop videos you watching so far this year. Watch the video above.
50 Cent, Lil Durk and Jeremih, "Power Powder Respect"

50 Cent, Lil Durk and Jeremih have made it on Amahiphop U.S PMVC Jan. 2022. Rap icon 50 Cent linked with Durk and Jeremih on new FORCE theme which also come its official video and now you can watch on this videos compilation. In the song, Durk and 50 Cent shared about their hustles and how tough they have been with law the ultimate attempt to make a living at all costs. Jeremih provides support on the song's hook, singing, "I want that money and power, and powder!" The new series – Power Book IV: Force – will focus on the backstory of the character Tommy Egan, played by Joseph Sikora, and will no doubt supply another round of mischief, mayhem and crime drama that POWER fans have come to love.
DaBaby, "Couple Cubes Of Ice"

Few of our hip hop rappers have dropped a couple of music videos since this Month. NBA YoungBoy, The Weeknd and now another artist with new video on Amahiphop U.S PMVC is DaBaby. DaBaby is back once again with new official video Couple Cubes Of Ice just few days of Sneaky Link Anthem video. All his new music videos is readying his upcoming EP which will soon drop.
Rod Wave, "Cold December"

Rod Wave always has a way to join Amahiphop monthly videos compilation. Rod has shared Cold December, new song accompanied with its video. Fans are aware of this song since he already announced it on social media. Here is the song and also the first song from Rod Wave since this month, this year to be precise.
Cordae, H.E.R. and Lil Durk, "Chronicles"

Cordae new album gradually pulling a lot off attention since the album was released. He featured H.E.R and Lil Durk on Chronicles and here is the video for song. This video is giving From A Bird's Eye View more awareness. Cordae will also drop more videos from his new album but as for now, he has treated Chronicles with its visual along with H.E.R and Lil Durk in the same video. Meanwhile, Cordae is now on Amahiphop U.S PMVC video and you can watch it above.
DaBaby, "Book It"

Just before he lost grip on the upcoming EP, DaBaby continues to impress his fans what every music video he has. Check through the videos we have updated on Amahiphop PMVC, then you will see DaBaby has already gotten two videos. Now he just shared another new song with its video as Book It which has made it three videos he has released since this month.
2 Chainz, "Pop Music"

2 Chainz is reminding his fans about his coming album Dope Don't Sell Itself. The Atlanta rapper is now back with new music video as Pop Music. Meanwhile, this is the first music from this project he's about to drop later this year. It featured MoneyBag Yo and Beatking as official guest appearances.
Megan Thee Stallions and
Shenseea

, "Lick"


Shenseea and Megan Thee stallion have finally drop the video for the latest arrival in hip-hop industry. The song which day previously shared the update has hit its official video on Amahiphip U.S PMVC Jan. 2022. The not-so-subtle music video features an assortment of lickable treats — lollipops, popsicles and ice cream cones — set amid a cotton candy-colored landscape.
Gucci Mane and Lil Durk, "Rumors"

Gucci Mane has added Lil Durk to his upcoming project which will soon get released this year. Gucci Mane put out his project called So Icy Christmas around Christmas to highlight music from him as well as some of the artists on his 1017 label. But today, he is kicking off his solo 2022 run by dropping a new single called 'Rumors' where he joins forces with Chicago's Lil Durk. The hard-hitting track is produced by Tay Keith and comes along with a music video which you can watch above.
DaBaby and NBA YoungBoy, "Hit"

NBA YoungBoy and DaBbay have been busy working on new projects in their respective ways. While NBA Boy has released his Colors album, Today DaBaby and NBA YoungBoy have joined forces on their collaboration Hit. The song was released earlier this month as Bestie/Hit and above is the video.
Wiz Khalifa, Juicy J and Project Pat, "Backseat"
Wiz Khalifa, Juicy J and Project Pat have released their long-awaited music video for Backseat. It's not their first time to work on mutual collaboration with Juicy J and Project Pat. Wiz Khalifa is now having about two music videos on Amahiphop U.S PMVC which you can check out above.
Papoose, Lil Wayne, 2 Chainz, Remy Ma and Busta Rhymes, "Thought I Was Gonna Stop"

That was earlier this month Papoose shared the remix of his collaboration which formally featured only Lil Wayne in the first version. The second version of the song was released featuring both Lil Wayn, Remy Ma, 2 Chainz and Busta Rymes which is now available on Amahiphop Jan. 2022 PMVC
Quavo, "Shooters Inside My Crib"

This is the first new music video from Quavo since this year. He has shared yet again new music video just after dropping 'Strub Tha Ground' last October. Shooter Inside My Crib is out it its video here on Amahiphop only compilation.
Benny The Butcher and J. Cole, "Johnny P's Caddy"

Benny Butcher and J. Cole is back with their first collaboration for the year. It's called Johnny P's Caddy. The song is lifted off Benny's forthcoming album Tana Talk 4 which is coming soon and will serve as the follow up to the third installment that came out in 2018.
Polo G and Moneybagg Yo, "Start Up Again"

It's still all about HALL OF FAME album which was released last year. The featured more rappers including Moneybagg Yo. Polo G, his collaboration with Moneybagg Yo worth it also and and have share the official video of Start Up Again which is one of the songs on HOF album.
Doja Cat, "Get Into It (Yuh)"

Doja Cat has shared the music video for her song 'Get Into It (Yuh)' and it's definitely not a regular one you see everyday.The hitmaker transforms into a sexy space commander to rescue her cat named Starscream, from evil aliens. 'Get Into It' is one of the standouts from her latest album Planet Her, which debuted at No. 2 on the Billboard 200 chart last July. The album has spawned multiple hits and is a strong contender for multiple GRAMMYs for this year.
Music
News
Video