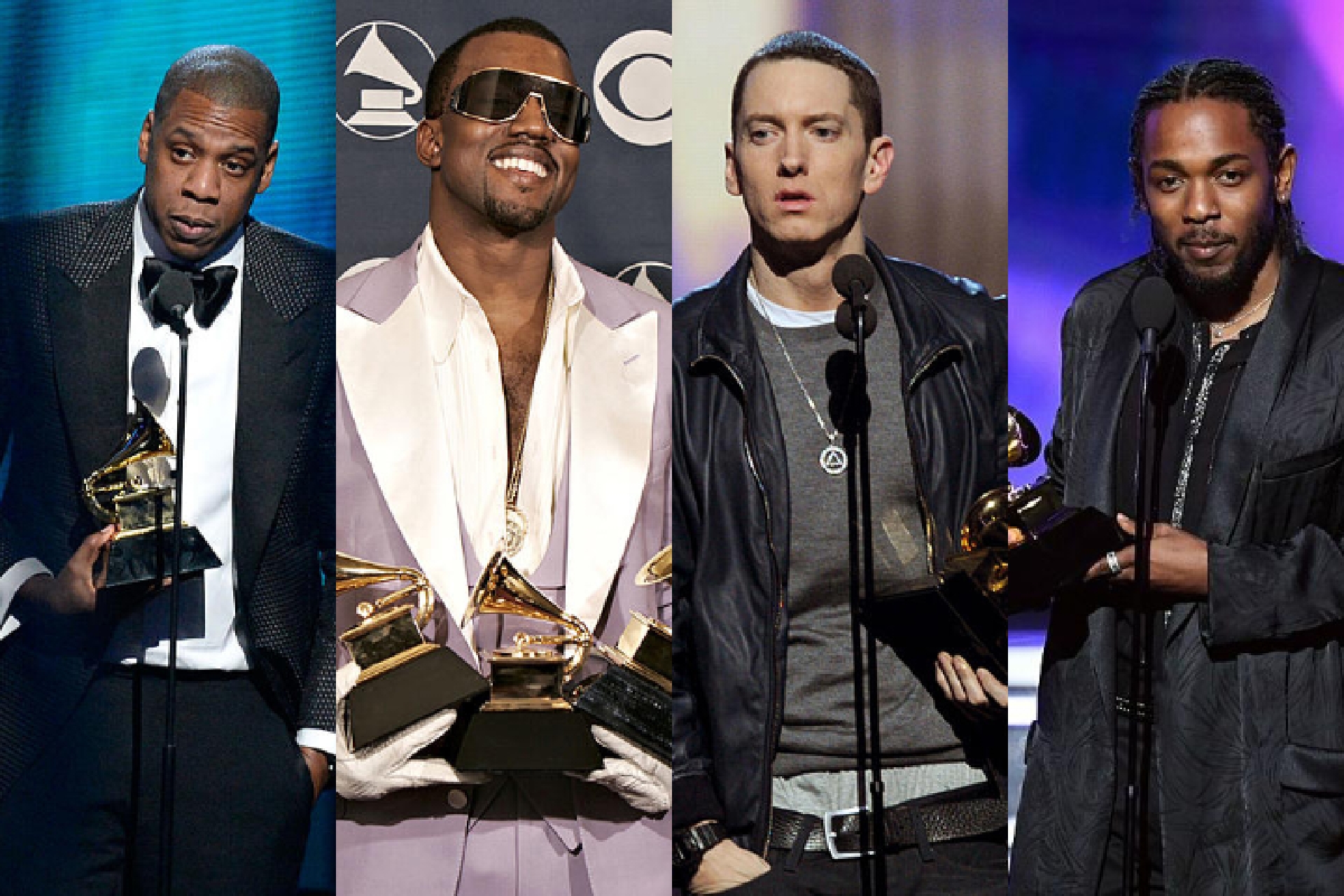 Top Rappers with the Most Grammy Awards
Let us know that hip hop rapper or singer who doesn't like to win Grammy Awards. It's an Awards, for everyone who is doing music aims at. Grammy Awards, well these days not all artists like it anymore probably because of one or two reasons. However, on this page, we're naming traditional rappers who have gotten more Grammy Awards. Below are the top rappers with the most Grammy Awards.
Jay-Z remains the top leading rapper with the highest Grammy Awards then followed by Kanye west, then Eminem, Kendrick Lamar and the last person is Pharrell Williams. They are the top 5 Grammy rappers alive and well known for their amazing Awards respectively.
Grammy Awards history is also something you might want to know. It began back in 1958 as The Gramophone Awards. The Awards arena followed Hollywood Walk of Fame as second the biggest Awards show. Meanwhile, Hollywood Walk of Fame had always been a predecessor to Grammy Awards. It was officially launched in 1950s.
There are about 10 other Grammy Awards rappers but below we list top 5 Grammy Awards.
Jay-Z
Last year, Jay-Z showcased his Grammy Awards online. It was claimed to be because of Nas. Jay-Z posed with all his Grammy and was said to have shown it to Nas. Though Hov has always been proud of his amazing success and earning is no longer new to him. At least Hov has taken about 24 Grammy Awards hardware home. This made him the rapper with the highest Grammy Awards. Jay-Z Awards include 'Vol. 2… Hard Knock Life' as best rap album in 1998. Crazy In Love, Run This Town, Death of Auto-Tune and more were all part of Jay-Z Grammys.
Kanye West
Many people have always compared Jay-Z and Kanye West. Although there have always been some other factors that differentiate them. But when it comes to Grammy Awards Kanye West and Jay-Z have the same spot of accolades. However, YE maintains 24 Grammy Awards in his custody just like Jay-Z. They are also billionaires along with Rihanna. YE began his Grammy Awards winning back in 2004 with his album The College Dropout. Other songs that contributed to his success include his JESUS Walk and the other song he produced for Alicia Keys, 'You Don't Know My Name'.
Eminem
The third rapper on the list is Eminem. Eminem is the top white rapper and also in top 5 hip-hop rappers with the maximum number of Grammy Awards 15. Sure, Eminem's Grammy Awards is 15 which puts him in the top 5, and in the top three list, at least. Eminem was nominated 44 times but has won 15 times. The Slim Shady LP won him best rap album of the year in 2000. Eminem is the first rapper to win Best Rap Album for three consecutive LPs. It made King.
Kendrick Lamar
Kendrick Lamar is a rapper loved by many people. He has won a lot of hearts using his rap skills and all that used in describing good music. He can't be missing from this list of the top 5 hip-hop rappers with Grammy Awards K. Dot has about 14 Grammy Awards after getting nominated 47 times. 'I' is one of the songs from his To Pimp a Butterfly album. It won him the best rap song in 2014. Lamar and his cousin, Baby Keem, won Best Rap Performance at the 2022 Grammys for their collaborative hit, "Family Ties."
Pharrell Williams
Pharrell Williams is another rapper, a producer and singer who was able to put his name on the top 5 Grammy Awards winners. He has about 13 Grammys. He secured his first Grammy for Best Pop Vocal Album as a co-producer on Justin Timberlake's solo debut, Justified, back in 2004.
What do you think about the list? You can share your view with us via the comment section below.
(Via)
About Author
Links, a co-founder of Aswehiphop, has been dedicated to the platform since its inception in 2019, overseeing the curation of artist songs and features compilations.