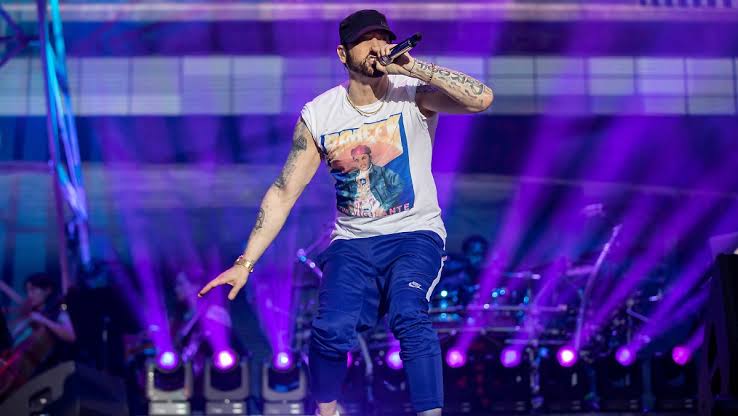 Eminem Turned Down $8 Million Offer to Perform At World Cup
"Eminem rejected $8 million offer to perform at World Cup game."The 2022 FIFA WORLD CUP would have turned into something bigger than expected. But football lovers around the world did enjoy the performances from Davido, Aisha, Ozuna, Gims, Nora Fathi, Balqees, Rahma Riad and Manal. They are the artists that hit up on the 2022 FIFA World Cup Qatar closing ceremony.
But it's true that the above-mentioned artists are not the only singers or rappers confronted by 2022 FIFA WORLD CUP Qatar officials. 50 Cent revealed him and Eminem were also reached out by the recent World Cup officials for them to give the event a bigger experience. If you haven't watched 50 Cent 2023 interview where he talked about making new music and also bringing Eminem 8 Miles to BMF, then you should also check it out.
While on the interview with Big Boy's Neighborhood said Eminem turned down $8 million deal to perform at the last World Cup. The deal came after their 2022 Super Bowl Halftime Show performances, which also featured Dr Dr, Snoop Dogg, Mary J. Blige and more. 50 Cent explained how the deal came across and how it was declined by Lose Yourself rapper.
"Because of the Super Bowl, I got an inquiry about the World Cup," the Queens mogul stated. "They had a budget of $9 million for it. So they was gonna give— I would have took one, Big. Then the other eight would have been for Em."
Meanwhile, 50 said that if anybody was interested in a one-and-done, they'd do "the biggest live sporting event in the world." If the FIFA World Cup won't cut it, what could?

Still, once they made the offer, 50 Cent called Em's manager Paul Rosenberg to talk it over. Ultimately, they turned it down. While it seems likely, there's no telling whether the news got directly to the "Lose Yourself" rapper.
However, 50 Cent said that he called Eminem, and the manager told him about the deal, but their response was not quite in terms of the deal. "They was like, 'He's not gonna do it.'" Although they didn't show such hesitation during the interview. Eminem is not a new rapper. He is a big traditional hip-hop sensation. Turning down a big deal that is worth millions has been part of his lifestyle.
Eminem turned down $8M offer to perform at World Cup 2022 😯https://t.co/52WCdDsvQr

Via: @BigBoy @BBNcrew pic.twitter.com/lTrPjkcrFe

— HipHopDX (@HipHopDX) January 7, 2023
The FIFA WORLD CUP Qatar also featured Nicki Minaj. She shared a song for World Cup, and the song is titled TUKOH TAKA which also appeared on her 2022 songs and features. She also shared the official music video for the song. Lil Baby is another rapper who didn't perform during the World Cup Qatar. But his partnership with Budweiser made him present at the big game event.