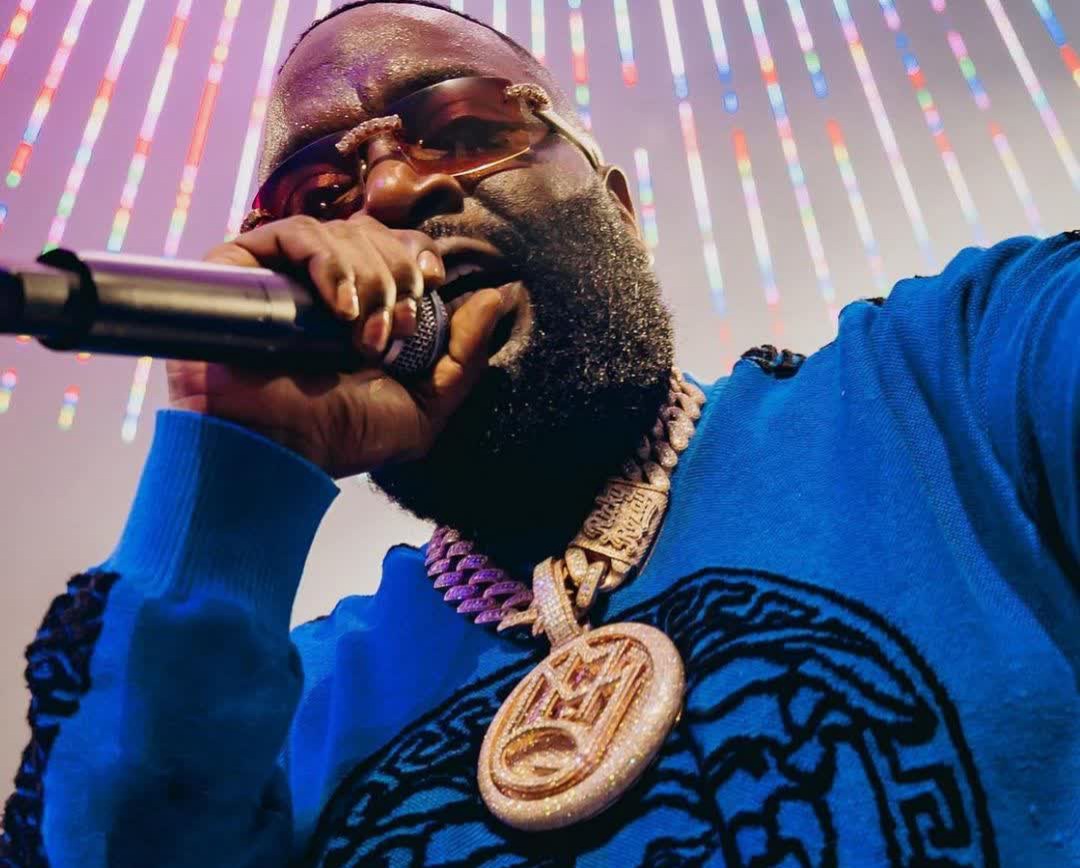 Rick Ross Songs 2022 Features to Listen
Rick Ross 2022 songs features and more. Rick Ross really has something for you his fans and if you have been looking for Rick Ross 2022 features to listen to below you can check it out. There are a few collaborations he assisted since this and will be sharing with you all.
Has Rick Ross released any album this year? The answer is no because his last studio album was released in 2021 which is Richer Than I Have Ever Been. The album also welcomed its deluxe edition after featuring some hip hop rappers on the first version.
While we hope still can't if Rick Ross is going to drop more albums this year, you can simply listen to Rick Ross's best features of 2022 or you equal call it Rick Ross's 2022 songs list.
Rick Ross 2022 Songs Features
Lobster Omelette
God Did
Rounds
Save The Best For Last
Feelings
Tear Gas
Face Time
My Pimpin
The Scenic Route
Ice Cream
PYREX POPPIN
Receipts
Lobster Omelette
Freddie Gibbs has released his new album '$oul $old $eparately' the album featured Rick Ross also more. You can listen to Lobster Omelette and also let us know what you think.
God Did
Rick Ross is one of the top featured rappers we have seen here on Aswehiphop. He also has assisted DJ Khaled on his new album God Did album. Just on the same track, DJ Khaled featured both Lil Wayne, Jay-Z and Rick himself.
Rounds
John Legend has released his new album which he called LEGEND via Republic Records. The album also featured just a few attire and Rick got himself on a track called Rounds.
Save The Best For Last
Save The Best For Last is one these songs that appeared on The Game's DRILLMACTIC album which was released on August 12 2022. Rick Ross was featured on this album with this particular song title which this 29 tracks on the album.
Feelings
DaBoyDame linked up with Rick Ross and EST GEA on this song called Feelings. It is one of Rick Ross's 2022 songs and also on the best features list. It is Co-produced alongside Mike Crook and Dupri, the booming cut sees the artists delivering hard-hitting bars tailor-made for the streets. The song was also released with its official video.
Tear Gas
If you also want to hear the new Lil Wayne and Rick Ross latest collaboration, then you need to check out Tear Gas. Tear Gas is another song Rick Ros has been featured on since this year. This is not Lil Wayne song or Rick song but both were featured by Conway the Machine from his "God Don't Make Mistakes" album. You can also check the song on Lil Wayne 2022 songs compilation.
Face Time
Well, this particular song by Kodie Shane was released last year September. But in 2022 the has also made an appearance with its official music video featuring Rick Ross. Face Time is not just added as part of Rick Ross 2022 singles but as part of Rick Ross's best songs in 2022.
My Pimpin
Rick Ross and Nicki Cannon connected on a song titled My Pimpin. That was earlier this year, in February. Nick Cannon, Rick Ross, and ItsAMovie join forces for "My Pimpin." Meanwhile, it is not only Rick Ross featured in the song. Maybe counting how many videos have Rick Ross dropped in 2022, then you should also add My Pimpin after the song also welcomed the official video.
The Scenic Route
This year Dr Dre featured more traditional hip-hop rappers via the album which is called The Contract. From the album, Eminem is featured on the song Gospel while Rick Rick Ross added more help on The Scenic Route.
Ice Cream
Freddie Gibbs, Rick Ross celebrate success in 'Ice Cream' video. They are favourite collaborators and this year again Freddie connect yet again with Rozay on song which at the same time drop with video. The Kenny Beats-produced track gives a new spin on the sample RZA employed for Raekwon's song of the same name, which appeared on 1995's Only Built 4 Cuban Linx…
PYREX POPPIN
PYREX POPPIN is another Rick Ross 2022 songs. Here is a different collaborator whose name is Gunplay. It was released last year but came in this year as one of Rick Ross 2022 best music videos you watch always.
Receipts
Well, we can truly tell you that Rick has not drop any album this year but the fact remains he has been assisting on his own way. Scotty LVX and artist Rick Ross linked with back in March 2021 on a song Receipts. The song came with video and both Rozay and Scotty have to show up different styles in the video.
This page is being updated. You can always check back for more Rick Ross best 2022 songs features and more.