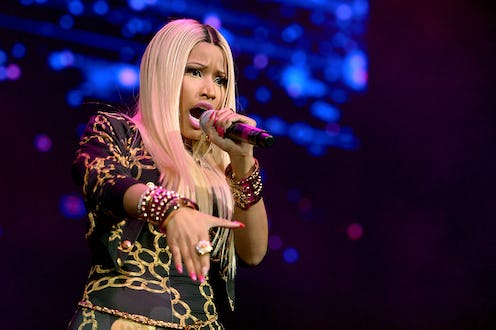 Nicki Minaj Shares FIFA World Cup Song 'Tukoh Taka'
The 2022 world cup is getting amazing treatment ahead of its kick. Apart Nicki Minaj Tukoh Taka world cup song, there are more donations that have inspired the heavyweight cup recently. Maybe you can check it.
So Nicki Minaj has finally made it to the world cup. Sure, Nicki Minaj is among the celebrities who are attending the FIFA World Cup probably using her new collaboration Tukoh Taka. The song featured Maluma and Myriam.
Tukoh Taka is one of the 2022 FIFA World Cup songs from the mentioned celebrity rapper and singers. Nicki Minaj has suffered a series of backslashes over her corporation with the world cup. This is because her fanbase will not be going to Qatar to watch the football event. There is a restriction placed against LGBTQ. Meanwhile, the 2022 Qatar is anti-LGBTQ.
Nicki Minaj who has massive fans both good and bad didn't listen to the backslash probably from LGBTO folks. She moved on and release Tukoh Taka song for 2022 Qatar cup. The first time the hit news online we were not sure when the song is dropping but today Nicki Minaj Tukoh song is out.
This also means that Nicki Minaj featured songs have increased buy-one. You can check out Nicki Minaj's 2022 featured songs and her newly released songs. Nicki Minaj on 2022 FIFA World Cup marks history as the first time an official FIFA World Cup song that features lyrics in English, Spanish and Arabic. It's a high-energy record that fans will likely get behind. Listen to the below via Apple Music.
You can also learn more about the FIFA World Cup 2022. What is banned at the Qatar cup and what are the fines and prison sentences? But as for now you, just listen to Nicki Minaj Tukoh Taka song. Also, let us know what you think.
About Author
Links, a co-founder of Aswehiphop, has been dedicated to the platform since its inception in 2019, overseeing the curation of artist songs and features compilations.