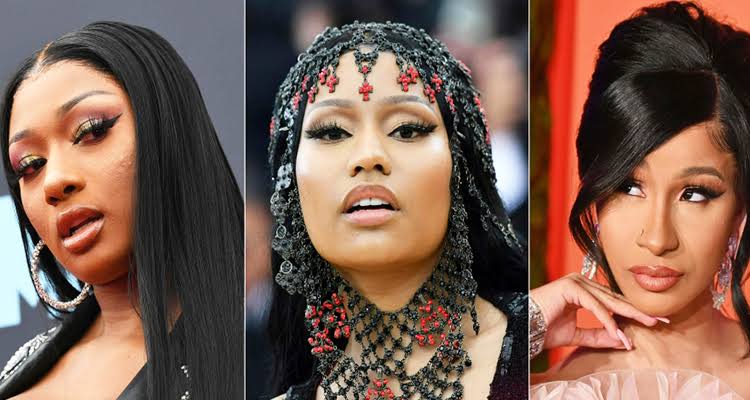 Best Female Rap Songs & Videos 2023
Do you know that last year there were a lot of female rap songs you might have missed? If you have been following most of our compilations here on Aswehiphop then need to be updated with all of our news feeds. However, the best female rap song for 2022 featured a lot of notable female rappers and more. You can check the list out. On this page, we are providing you with the best female rap songs of 2023.
This will definitely feature most of your favourite female rappers. There are female rappers fans expected to return on Billboard 2023 and we have also listed them out. It also implies that new songs, albums, collaborations and all that will get released same this year. As we reported last year, Nicki Minaj and Cardi B will be storming 2023 with new albums. Meanwhile, on this page, you will likely see Nicki Minaj and Cardi B rap song resurfacing once again.
So far, GloRilla has joined the list of best female rap songs of 2023. It comes from a collaboration she had with Moneybagg Yo new song On Wat U On. Check out our list of female rap songs of 2022 below. Please note, this page will keep getting updated till THE END OF 2023.
Best Female Rap Songs and Videos Of 2023
Last Time I Saw You
Bongos
SEVEN
Point Me 2
Karma
Put It On Da Floor
Pound Town 2
Alone
Princess Diana (Remix)
My Body
Internet Troll
In Ha Mood
BestFrenn
On Wat U On
Last Time I Saw You
Nicki Minaj is planning to drop a new album in November of this year. Though we have heard a few songs from her. But she has continued to drop more songs ahead of her PINK FRIDAY 2. Last Time I Saw You is one of her latest releases so far.
Bongos
Just ahead of her upcoming album, Cardi B linked up with Megan Thee Stallion again on a new song. It's called Bongos and with was released on the 8th of September 2023. This is one of the best female songs and videos you should also watch.
SEVEN
In July 2023, Jung Kook and Latto teamed up on the song SEVEN which later debuted at No. 1 on Billboard Hot 100. The song made Latto secure the first female No. 1 rap song of 2023. It is one of the best female rap songs of 2023.
Point Me 2
On July 7th, FendiDa Rappa and Cardi B linked up on a rap song titled Point Me 2. The first version of the song was released in 2022 by FendiDa. However, FendiDa rekindled the track again with its remix featuring Cardi B. You can check out the video.
Karma
Ok, this song came from Taylor Swift featuring Ice Spice who did the rapping lines on the song "Karma". Well, this is one of the best rap songs that also welcomed its official music video. You might want to watch it below.
Put It On Da Floor
Cardi Ba had to make sure she impress her fans with a brand new song in 2023 which she did already. Although the song in question is mog coming from directly. Put It On Da Floor is a female rap song from Latto featuring Cardi B and you can strongly check it out.
Pound Twon 2
Pound Town 2 came from sexyy Red and the song features Nicki Minaj who has been assisting some fellow female rappers since this year. One of the rap songs that managed to assist is Poun Down 2 from Red. Listen to it below
Alone
Kim Petras and Nicki Minaj had to join forces again for their Alone collaboration. It's a beautiful video seeing Nicki and Petras making appearances in the pink-coloured music video. This is one of the best female rap songs and videos we have seen in 2023. Watch Alone video below.
Princess Diana
Ice Spice and Nicki Minaj have done a good one this year. Princess Diana which comes from Ice Spice Like album featuring Lil TJay finally got a single out of the album. She teamed up with Nicki Minaj on the Princess Diana remix. Not only that the song welcomed its official video, but also one of the best female rap songs and videos. You can watch it below.
My Body
Last Coi Leray also ranked with one of her songs from her 2022 album. Just last month she shared a new song and video titled My Body. She really did a pretty rap job on the video. You can watch it below.
Internet Troll
GloRilla is not slowing down. So far she's the female rapper who has been appearing online with dope music videos. Below you can watch more of her music video. However, GloRilla is back again "Internet Troll" song and video.
In Ha Mood
Ice Spice released her Like album featuring Lil Tjay. The EP only featured 6 songs and one of them is In Ha Mood. She has dropped the official music video for the single and it's a female rap music video you can also watch.
BestFrenn
Is obvious that GloRilla is ready for 2023. After joining Moneybagg Yo on "On Wat U On" she's back again today with a new song from Gloss Up featuring her. The song is titled BestFrenn. This is one of the female rap videos we watched this January 2023. Watch below.
On Wat U On
On Wat U On is a song from Moneybagg Yo featuring GloRilla. This is the first song in 2023 featuring female rapper GloRilla. It is expected to appear on Moneybagg Yo's next album which will release year also so.
Editor's Note: This page is being updated and will last till December 31st. So, always come back for updated female rap songs for this year. Else you can as well save the link page for easy access.
About Author
Links, a co-founder of Aswehiphop, has been dedicated to the platform since its inception in 2019, overseeing the curation of artist songs and features compilations.