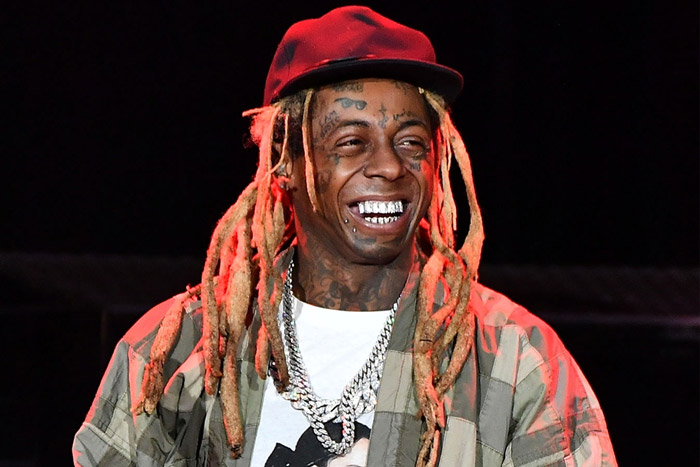 Lil Wayne 2023 Songs & Features
After a while, Lil Wayne was able to start new songs for this year. Sure, Lil Wayne had this busy 2022 with a lot of features coming his way. However, it was quite interesting but Lil Wayne 2023 songs and features compilation has finally begun here on Aswehiphop.
Checking back to Lil Wayne 2022 songs and features will be more interesting only if don't know all the songs he assisted last year.
Below, we have shared all the new songs of Lil Wayne both standalone and features on this page. Though this page will continue to get updated as long as the rapper keeps giving his fans dope vibe.
Lil Wayne released his first song this year which he called Kant Nobody Feat. Swizz Beatz & DMX. This is his first single since 2023. Also, note that his page will continue to get updated for the 2023.
Lil Wayne 2023 Songs and Features
Kat Food
Undisputed (Theme Song)
I'm Mad At Me
Main One (Feat.)
El Niño (Feat.)
Annihilate (Feat.)
Startrax Leaked
THE FORMULA (Feat.)
FMFU (Feat.)
This Shit Right Here (Feat.)
Ain't Gonna Answer (Feat)
Kant Nobody
"Kat Food", is another brand new from Lil Wayne as updated on Aswehiphop. These days it is hard to agree that Lil Wayne is dropping a new album but can't leave us behind with nothing. You can check out Kat Food.
After a two-month hiatus, sports commentator Skip Bayless is bringing back his FS1's "Undisputed" sports show and commissions sports fanatic and rapper Lil Wayne for its theme song.
"I'M Mad At Me" is a song from Trippie Redd first 2023 album which he called "A Love Letter To You 5." From the album, he featured Lil Wayne on the track I'm Mad At Me.
"Main One" was updated on Aswehiphop on 21st of July 2023. It's a song from Mario and it featured both Lil Wayne and Tyga
"El Niño" On this day June 19th, Lil Wayne joined forces with Freedia on a song titled El Niño. This has made another big hit featuring Lil Wayne in 2023. Behind this single is Big Freedia's upcoming album which is called "Central City" which is set to be released June 23rd.
Lil Wayne will always be a regular rapper. He is not retiring or getting of himself into the studio just to drop a new album. Sure, Lil Wayne remains one of the GOATs and one of the things that maintains him in such a spot is his ability to assist fellow rappers. Metro Boomin Spider-Man 2023 soundtrack is this collection of other hip-hop name which also includes Lil Wayne. Wayne was featured on the track called "Annihilate".
"Startrax" which was likely supposed to appear on the first version of Tha Carter V. The sound of the instrumental, name of the song and some of the lyrics indicate that it was produced by The Neptunes.
Don't worry, Aswehiphop compilation will also get you Lil Wayne 2023 songs which you can definitely use as playlist. Today being 4th May, will.i.am and Lil Joined forces together on a new song titled "THE FORMULA." Of course, this is one of Lil Wayne 2023 song feature you can listen to.
On this day March 30th, DJ Drama released his star-studded album which featured a lot of hip-hop rappers. The album is titled 'I'm Really Like That.' Lil Wayne assisted in the album on the track titled "FMFU," a song which also featured Roddy Ricchy and Gucci Main. Listen to it below.
While Lil Wayne is gradually increasing his features for 2023, Swizz Beatz also likes he linked with Lil Wayne on This Shit Right Here. Is a song from Swizz Beatz's Hip-Hop 50: Vol. 2 projects that also featured Nas.
On this one, NLE Choppa and Lil Wayne linked up for a song titled "Ain't Gonna Answer." It is another music and video featuring Lil Wayne. Wayne returns the favour and shouts him out too. Check it out below along with the music video. The song will appear on Cottonwood 2, out April 14th.
This could be a sign that Lil Wayne is readying his new album which he announced last year. That was back in August he said Tha Carter VI is on the way. Just today, Lil Wayne reminded us that he is still working by sharing "Kant Nobody" song featuring DMX and Swizz Beatz. It's a nice song and you can listen to it below.
About Author
Links, a co-founder of Aswehiphop, has been dedicated to the platform since its inception in 2019, overseeing the curation of artist songs and features compilations.