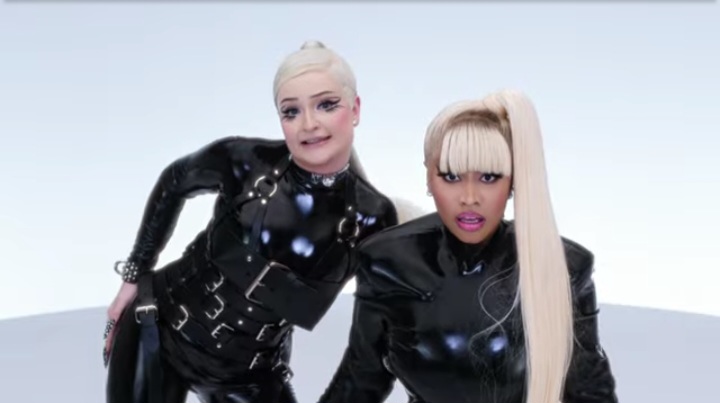 Watch Kim Petras & Nicki Minaj's 'Alone' Video
Nicki Minaj is always active and her fans are loving her for being such an amazing female rapper of all time. Nicki Minaj is the most featured female rapper in 2023 so far. At least she had been doing so well since this year and her collaboration with Kim Petras is something you need to watch on video. Nicki Minaj and Kim Petras linked up on a song titled Alone and fans are loving it.
Alone is a song by Kim Petras featuring Nicki Minaj. You can also find the song Nicki Minaj 2023 songs and features, a compilation from Aswehiphop where all the new songs of Nicki Minaj are updated for 2023. Of course, Alone is not the only song featuring the Young Money rapper. We have seen her in a couple of songs. Today Kim Petras and Nicki Minaj's 2023 collaboration is out with a new video.
You might have not expected this Arrad-directed video to hit on YouTube. However, you should also know that Nicki Minaj prefers any collaboration with her will always come with its official. While Kim Petras Alone didn't come immediately, they have finally dropped the video.
The video will definitely go a long way to promote the song on chart platform. Nicki Minaj is still fresh on Billboard's Hot rap songs with her collaboration with Ice Spice. Ice Spice remixed Princess Diana featuring Nicki Minaj. The is currently at Billboard Hot 100 while at No. 1 on Billboard Hot rap song.
Having watched Princess Diana's official music video with Nicki Minaj and Ice Spice's appearance, Alone official music video was just released 3hrs back. The video features Nicki Minaj's favourite colour (Pink), trumpet, Nicki rocks in Black and Red as she raps after Petras takes on the song. Is a nice cool music video from them.
Nicki Minaj and Kim Petras Alone video has been updated on Best female rap songs and Video of 2023. There you can watch more of Nicki Minaj's 2023 video. But as for now watch Nicki Petras on their first link-up song and video below.
Also, Nicki Minaj has announced an album for 2023. Although has revealed her 2023 plan. Nicki has shared more videos since this year. Some came from her while some came as guests. You can check out Nicki Minaj's 2023 songs and features featuring both NBA YoungBoy, Ice Spice and more. Let us know what you think about the above music video.
About Author
Links, a co-founder of Aswehiphop, has been dedicated to the platform since its inception in 2019, overseeing the curation of artist songs and features compilations.