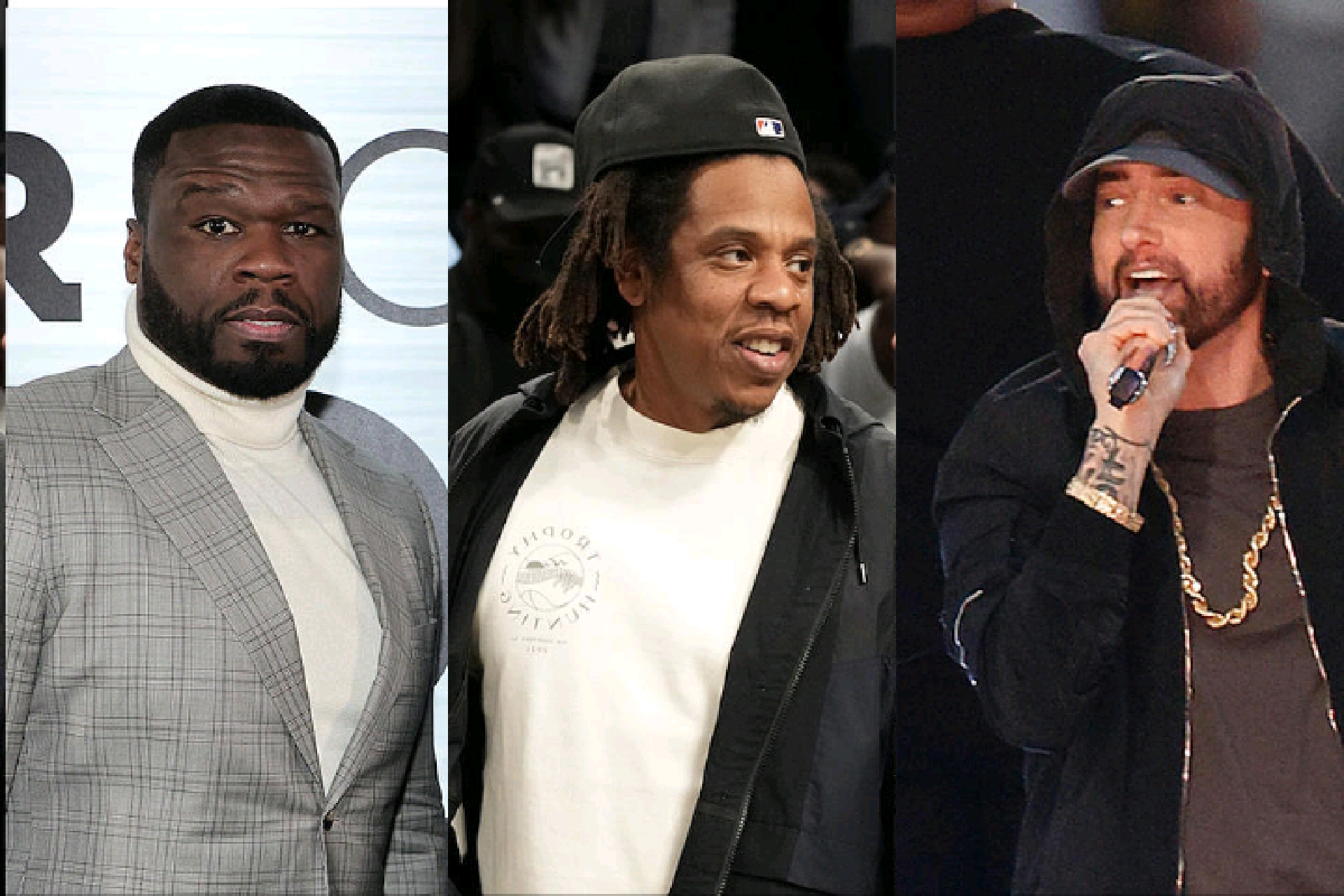 50 Cent Don't Believe Jay-Z's Impact Is Bigger Than Eminem
Whatsoever it is, true or false, 50 Cent is more of Eminem Stan and nobody is denying this fact. While there has been a lot of drama between Jay-Z and 50 Cent and Eminem and Jay-Z, hip-hop still is still going a long way in comparing these two rap sensations Jay-Z and Eminem. So Jay-Z and Eminem who has the biggest impact? That's the latest trend that has many hip-hop folks comparing on different sides.
What really brought the headline stems from a podcast where Jamal Crawford made an appearance on Shaquille Oneal, a brife convo where he was talking about NBA players but he later switched to Eminem and Jay-Z just to satisfy his point.
However, Jamal might have cross-examined both Hov and Slim Shady's impact on hip-hop but finally came up with giving Jay-Z his flowers by saying Jay-Z's Impact is bigger than Eminem's record-breaking album sales. That was what he believed though not everyone who have watched the Shaquille Oneal podcast agreed with him.
Normally, 50 Cent can't play with his longer-time friend, Eminem. Of course, he hopped on The Hip-Hop Wolf Instagram comment section where the podcast video was posted. According to 50 Cent he made sure he called it a "bullsh*t" probably after he he heard Jamal Crawford saying Jay-Z's Impact in hip-hop is bigger than Eminem's record-breaking sales. You can watch the video below.
This is not the first time Fiddy came to the rescue of Eminem. He has been extremely vocal in things about Eminem's career and more. 50 Cent, Eminem and Jay-Z are hip-hop moguls who have paved the way although their careers are more of getting overemphasised when it comes to their impact on the hip-hop community.
50 Cent called Eminem his brother. Sure, both parties have helped each other in so many ways meanwhile the G-Unit resident rapper never let down on Eminem. Love it or loath it, 50 Cent will always support Eminem even when things go wrong he has his stragedy of defending the Lose Yourself rapper.
He continued with a reference to Slim Shady's lead role in the 2002 film 8 Mile. "When you look at 8 Mile, you're seeing a Black story with a white lead. You seeing poverty, you're seeing [similar] circumstances. Look at his friends Proof and D-12 and everybody: these are real Hip-Hop guys. Which is why he's a real Hip-Hop guy." watch it below.
A few weeks ago, 50 Cent revealed that Jay-Z didn't want him in Super Bowl. He explained how Hov tried to stop him. 50 Cent and Jay-Z have had this notable beef but both remain on the low.