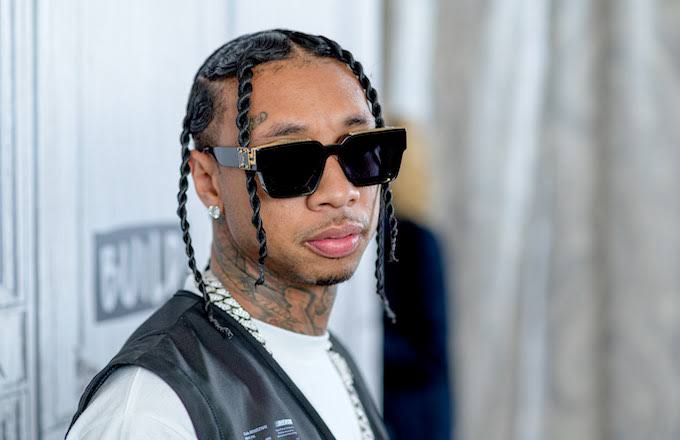 Tyga Explains Things About Kardashians Family and Called Them Good People
When you hear Tyga and Kardashians family, then it's also all about Kylie Jenner, Kim Kardashian and other popular celebrities from the word Kardashian. Tyga saved himself from the social media struggle after he broke up with Kylie Jenner and now T-Raww has explained things about the Kardashians family.
Tyga and Kylie Jenner dated for some years, at least they were together for almost three-year before they break up. That was in April 2017 Tyga and Kylie Jenner split. People.com also reported that the same year Travis Scott began to date Kylie Jenner.
Meanwhile, Tyga has had this Kardashian experience and their way of life. The rapper new appearance on Hotboxin' with Mike Tyson has shared more insight about what he learnt from the Kardashians' families when he was closer to them because of his dating with Kylie Jenner.
At first DJ Whoo Kid asked the Nasty rapper how he felt after his name wasn't included in conversations about the speculated "Kardashian Curse." Mike Tyson jumped in to ask Tyga, "Those people are not bad people, are they?" From there Tyga then gave his view about the Kardashians. He didn't want to mess it up but was able to cooperate.
"Kardashians are not bad people, but the only problem is that you have to understand them better in order to live with them. If you're from a different world, their world is also different, and if they want to become artists and come to our world, they wouldn't last."
Tyga officially met Kylie Jenner during a birthday party of her sister Kendall Jenner's 16th birthday in 2014. But Kylie Jenner also explained the reason why she break up with Tyga.
According to Kylie Jenner, "We just decided — well, decided that I'm really young," she continued. "I don't want to look back in five years from now and feel like he took something from me when he's really not that type of person." So that's that.22 Aug 2017. You might also want to watch where she revealed the reason why she split with Tyga below.
Kylie Jenner's relationship with Tyga was a rocky relationship which lasted for so years. Travis Scott continues with her and then got her pregnant and which she later gave birth to daughter Stormi who Travis Scott also co-parents. Travis Scott and Kylie Jenner have also welcomed their second child, a baby boy whose name is Aire Webster.
Just a few days ago they renamed him Air Webster after his initial name Wolf Wolf Jacques Webster.
About Author
Links, a co-founder of Aswehiphop, has been dedicated to the platform since its inception in 2019, overseeing the curation of artist songs and features compilations.