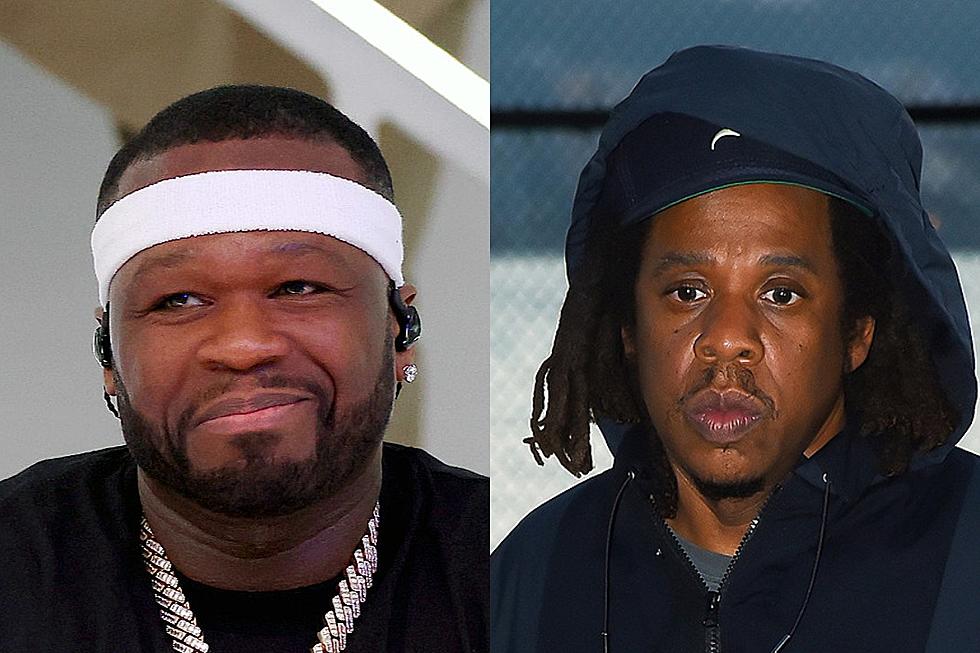 50 Cent Says Jay-Z Didn't Want Him For Super Bowl
"50 Cent says Jay-Z didn't want him for Super Bowl." Jay-Z and 50 Cent's timeline is quite complicated. Till now, 50 Cent still doesn't feel alright about Hov. Not because he is the problem, but fif can be clearly understood that he isn't the problem between him and Jay-Z. Maybe the POWER man still doesn't know.
Last year's Super Bowl was just a beautiful star-studded event where 50 Cent performed with some of his favourite rappers like Eminem, Snoop Dogg, Kendrick Lamar and Mary J Blige was also on stage with them.
50 Cent who recently had an interview with Big Boy's Neighborhood, he has shared so many things that have been going since last year. Sure, during the interview, he talked about Eminem, who rejected 8 million offer from 2022 FIFA WORLD CUP Qatar officials. Uncle 50 Cent also chatted with Big Boy's Neighborhood about possible tension with Hov and his team.
50 Cent talked the Pepsi ads which he would be part of. But he stated the major reason why he wasn't. The possible reason was because of Jay-Z and his tea. "I got the call before the [Pepsi] ad went up," said Fif. "I wasn't in the ad because of—Jay-Z and them was putting it together," he add.
"So, I think they still harbor some energy towards me," 50 Cent added. Big Boy asked if the Power mogul truly believed he was purposefully excluded from the promotional ad.
"No. I think that they—they were saying that the NFL had some issues with me. I don't know what those issues are," Fif answered. "What is the issue? You see what I'm sayin'?" He also mentioned a conversation where he learned that Eminem wouldn't perform with 50 Cent.
"That's your big homie," said Fif. He then remarked about Hov seemingly mirroring the looks of Jean-Michel Basquiat. "You image yourself after a gay painter. Big homie wanna look like a gay painter."
"Em was looking at the entire legacy. The whole thing with Em, Dre, myself," the rapper continued. Additionally, he stated that he was already in communication to perform at the Super Bowl, but the promotional ad was set in motion. Fif also said when he attempted to reach out to learn "what the complications" were, he didn't receive a straight answer.
"I have to believe that was something from them," he further said, alluding to there being an issue with Jay-Z. Big Boy also wanted to know if the two Rap icons discussed the confusion.
"We don't need to talk about nothin'," said 50 Cent.
This isn't the first time Fif complained about Jay not wanting him at the Super Bowl. He first emerged with the accusation just two months after the outstanding performance.
(Via)
About Author
Links, a co-founder of Aswehiphop, has been dedicated to the platform since its inception in 2019, overseeing the curation of artist songs and features compilations.