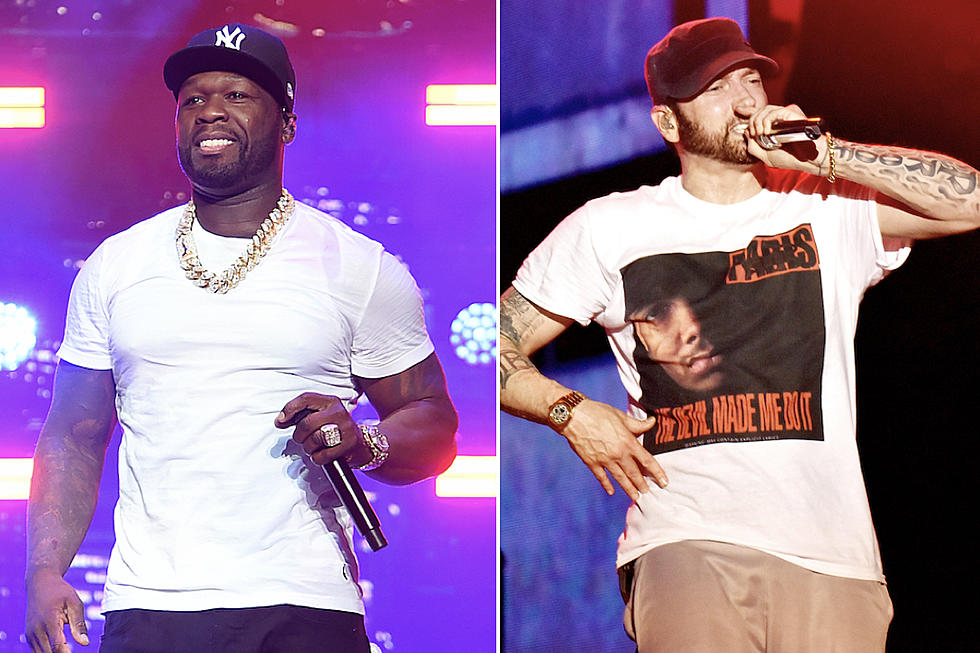 50 Cent & Eminem Shares Video About Their Friendship
The bond between 50 Cent as rappers, as black and white friends, is something you might want to know. For a few years and on, 50 Cent has been vocal and giving his support to Eminem no matter what. Now, 50 Cent and Eminem have shared a video showing their relationship status right from where they began the journey.
Watching the video below you will be able to see how their relationship started. The video appeared on Eminem Pro website and also surfaced on Thisis50. Both sites shared the video which has gotten fans to love 50 Cent and Eminem relationship.
50 Cent, this year he has talked about Eminem on his 8 Mile hitting TV series. Fiddy is getting it to work for now and will be sharing more information soon.
The history of Eminem and 50 Cent relationship is amazing. At least it's rare to love 50 Cent and hate Eminem. Their 2 decades of relationship have built this strong fanbase respectively. 50 and Eminem timeline has always show that Eminem discovered 50 via mixtape.
There are some other things about Eminem and 50 Cent's relationship and they include
Eminem listens to 50 Cent
50 Cent has Eminem as one of his favourite rappers
They will always work together as Black and white
Eminem helped 50 Cent defeat Ja-Rule
They have this favourite producer as Dr Dre
They support each other
They don't diss each other
50 Cent hates it when you attack Eminem
50 Cent always speak good about Eminem
50 Cent nearly made Eminem quit rap
50 Cent want Eminem's 8 Mile on TV Show
50 Cent is likely to speak healthy words about Eminem. Though Slim Shade can't forget the role 50 Cent has played in his career. Just last year, 50 Cent confirmed his relationship with Eminem will never die. He posted it on his Instagram account, and fans were like, "Oh my God," this is not anytime soon.
"I have so much value for him, not just in my career, just in my life," he told Music Choice in 2014. "He's a guy that's one of my best friends because I can trust that he's gonna be honest in his constructive criticism."
He also touted Em's skills as an MC. "Hip-hop is Black music, without question. And unfortunately for some people, it's tough to accept that you got a white artist that does it better than a Black artist," he added. "You can get whoever you feel like is the best Black artist and stand them face to face in a room with Em and he will eat that shit alive."
Eminem also has his 50 Cent favourite verse. In a video shared on Thisis50, Eminem rap his verse favourite in birthday tribute to 50 Cent.
"First off, I want to say happy birthday," said Shady. "Secondly, I want to remind you of the verse you did that made me want to quit rapping," Watch the video below.
What do you think about Eminem and 50 Cent relationship? Let us know via the comment section and also share the post to Eminem and 50 Cent's fans.
About Author
Links, a co-founder of Aswehiphop, has been dedicated to the platform since its inception in 2019, overseeing the curation of artist songs and features compilations.