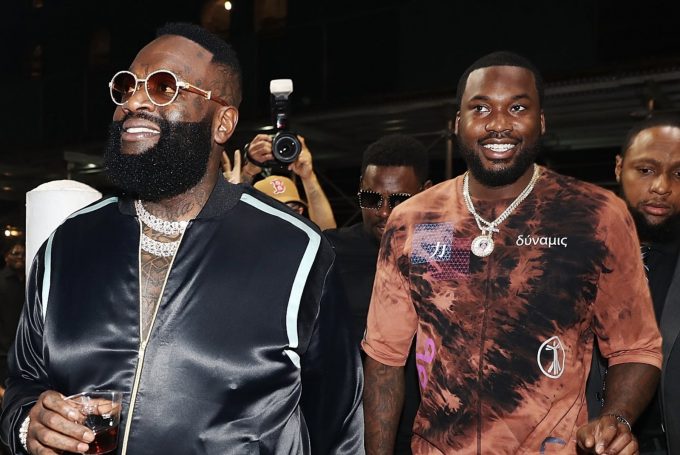 Rick Ross, Meek Mill Album "To Good To Be True" Out Now
The Rick Ross and Meek Mill highly anticipated album "Too Good To Be True" is finally  out on all streaming platforms, this is actually what fans are talking about, the MMG coming together once again for a collaborative project.
Meanwhile, the pair really put a lot of time amd enaery in the production of this new album "Too Good To Be True" as they have been working  on it for a year now, for the album promotion, Rick Ross and Meek Mill  also did some walks together as they were spotted on several TV shows together.
In the just released "Too Good To Be True" album that was just released, the two rappers "Meek Mill and Rick Ross" feature some of their real time colleagues in the rap industry  which include the likes of "Fabolous, Jeremih, Future, French Montana, The-Dream."
Moreover, among all these featured rappers in the album, the most appreciated  rapper by fans is "Wale" who is once a member of the MMG music gangs, meanwhile  fans has started  commenting  on the album already  following  the incredible work that the pair did in it.

"The wait is worth it" a fan commented, including other comment applauding the rappers "Meek Mill and Rick Ross " for always giving in their best whenever they want to release anything new for fans
Meanwhile, Rick Ross shared se insights about tbe production processes of the album on Spotify, "This the culture. It's too good to be true and man, it just feel good, and it was too easy. We set it off. We both know what our true gifts are, our talents are when it comes to production. So when it came to this vibe, it was really simple. It didn't take a lot of time,…" Ross Stated.
About Author
I am a highly skilled copywriter and freelance blogger with several years of experience in the field. Over the years, I have garnered valuable expertise and achieved significant milestones as a blogger.