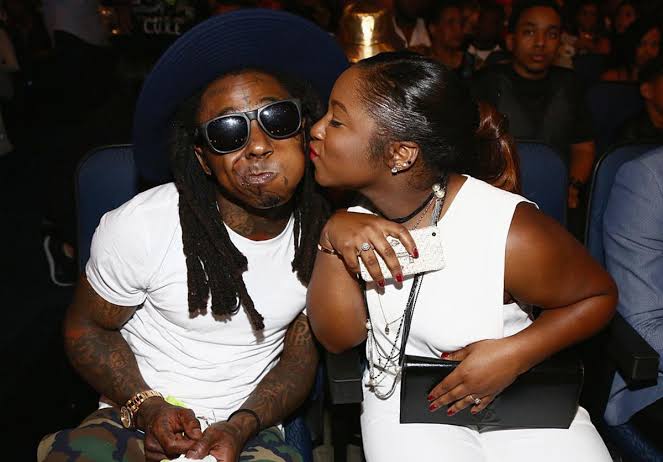 Reginae Carter Raps Best Lil Wayne Verse
How many times have you noticed the deep true love Reginae Carter has been giving to her dad. Reginae Carter who was born in 1998 has always been in position to re-rap hers dad's Veres. It makes her a rapper as well because can show you best lil Wayne verse and rap them word to word.
There are beautiful and amazing Lil Wayne verse you might came across online in the past. Maybe listening to Lil Wayne songs can even make you note your best verse from Lil Wayne.
Reginae Carter is totally Lil Wayne carbon copy and has shown it from another part of life by rapping on one of her dad's songs which also talked about her in the song.
During the 2022 Soul Train Awards, she was approached by Jeremy Hecht. She was asked to rap out her best Lil Wayne verse which she did without hesitating.
She picked the song La La from Lil Wayne's 2008 album Tha Carter III. The La La song featured two artists Brisco, and Busta Rhymes and she went ahead and rap a special line Lil Wayne made for her.
"My daughter be the twinkle of my eye/ You hurt her, you kill me, I ain't 'bout to die," Nae rapped. "See y'all are at ground, and my daughter is my sky/ I swear, I look in her face and I just want to break out and fly/ Four tears in my face, and you ain't never heard me cry/ I'm richer than all y'all, I got a bank full of pride!"
We have also got the video from Hiphopdx where you can watch Reginae Carter shares her best Lil Wayne verse by rapping it.
And that was it. There might be other Lil Wayne best verses which you can also check out. Reginae Carter who boldly faced Kodak Black he was attacking her father, she never let her dad down for any big or minor reason.
Best Lil Wayne Verses or Lines From beats rhymes
Baby girl, I'm finished, I thought we were committed
I put the gun to the pillow, I don't want blood on my clothes
I play my own hand, I don't shuffle or fold
My teeth and my ice so white like Shady
Well, I get paid every 24 hours, money and the power
And we gon' be all right if we put Drake on every hook
If you ain't help me make it, don't tell me how to spend it
I'ma smoke my weed, 'cause I don't want to smoke yours
Got money on my radar, dressed like a skater
I don't care what you say, so don't even speak
If you don't see me on the block I ain't trying to hide
About Author
Links, a co-founder of Aswehiphop, has been dedicated to the platform since its inception in 2019, overseeing the curation of artist songs and features compilations.