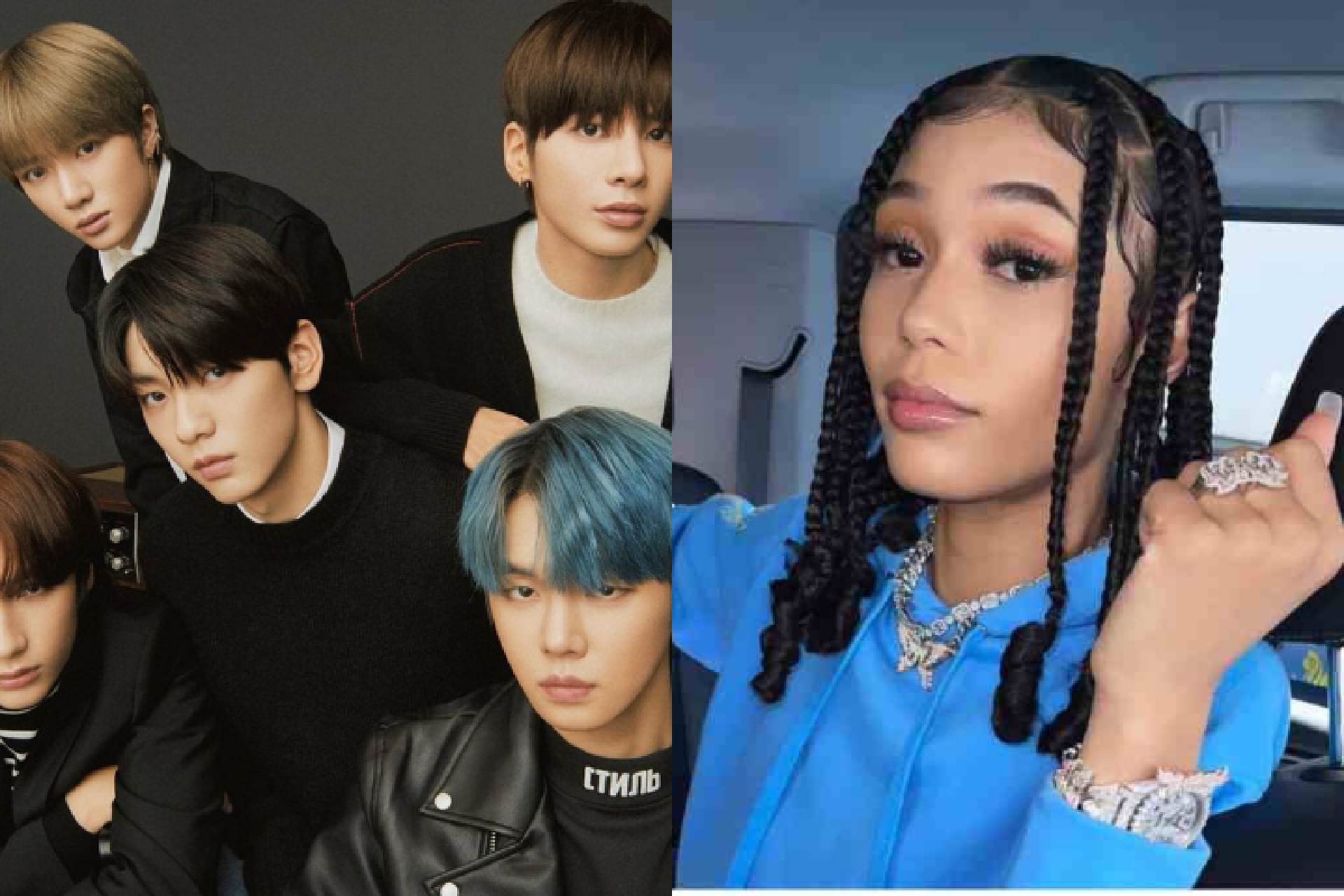 TOMORROW X TOGETHER Features Coi Leray On "Happy Fool"
Coi Leray will always be a big star. Upon having a good 2022 with her new album Trendsetter featuring Nicki Minaj on Blick Blick, the WASTED rapper is teaming up with Tomorrow X Together on their new song, Happy Fool.
As it stands now, TOMORROW X TOGETHER artists are preparing to release their next project 'The Name Chapter: Temptation' EP. Just this month the album will be made available and they have promised. A lot of information has been coming ahead of the album release. Despite Coi Leray being mentioned as part of the project, The Name Chapter: Temptation tracklist is another thing you will like to see.
K-Pop were able to share the tracklist with Coi Leray listed as one of the guest's appearances, as a female rapper as well. After sharing the tracklist on K-Pop social media accounts fans were happy at least this year, a new album is on the way.
The Name Chapter: Temptation EP tracklist includes song titles like "Sugar Rush Ride" which is the hot lead single. Other titles are "Devil By The Window," Happy Fools featuring Coi Leray, "Tinnitus (Wanna Be a Rock)" and "Farewell, Neverland." They are the officially listed songs on the EP.
So, if you are a fan then wait for the album to get released this month. "The Name Chapter Temptation" be a follow-up to the fourth mini EP, minisode 2: Thursday's Child. Definitely, their new work with Coi Leray will also be a good push given to the upcoming EP.
Coi Leray is growing her audience reach also with the help of this upcoming collaboration with K-Pop group. Coi will be rapping on TXT's new song Happy Fool which is produced by Slow Rabbit. Below you can check out the tracklist shared by TXT's record label, BigHit Music.
The Name Chapter: TEMPTATION – Tracklist#투모로우바이투게더 #TOMORROW_X_TOGETHER #TXT #TheNameChapter #TEMPTATION #SugarRushRide pic.twitter.com/KUAiePHzLN

— BIGHIT MUSIC (@BIGHIT_MUSIC) January 19, 2023
This EP, as said earlier, will be dropping this month on the 27th to be precise. The group has been showing their awareness of the work with Coi Larry. Both Coi Leray and some of the TXT'S group members have posted on social media showing the incoming collaboration. See below posts.
Could not resist @coi_leray https://t.co/7g8ESqsgRY pic.twitter.com/MayJ0peZXe

— TOMORROW X TOGETHER (@TXT_members) January 19, 2023
Coi Leray is simply getting her first collaboration of 2023. Just after releasing the music video for her WASTED song released in December 23rd, she is again. But this time, with TOMORROW_X_TOGETHER TXT. Her Trendsetter album was one of best female albums in 2022. Her TWINNEM is also listed as best female rap song in 2022. This year will also be great for her.
About Author
Links, a co-founder of Aswehiphop, has been dedicated to the platform since its inception in 2019, overseeing the curation of artist songs and features compilations.