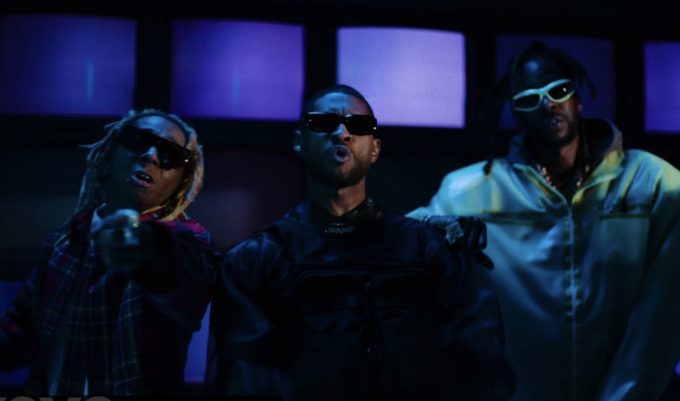 New Video_ 2 Chainz, Lil Wayne & Usher "Transparency"_ Watch
The Lil Wayne and 2 Chainz collaborative album "Welcome 2 ColleGrove" has a lot of grooves to present to the table, following  the fact that they had so many featured artist in the album, which one of them is "Usher" that appeared on their "Transparency" single.
Now the three rappers have backed the collaborative single "Transparency" up with a new music video that dropped in the afternoon, this music video gives a different vibes all together following  the creativeness in making the music video worth watching.

The song itself is one of the highly rated singles from the collaborative album " Welcome 2 ColleGrove" and Lil Wayne and 2 Chainz has made more moves with the song along with Usher to give fans more reasons to listen to some other songs from the just released music project on "Transparency" single.
Meanwhile, fans are so happy with the fact that this two came to gather to release  a new project together for the firstime after their 2016 collaborative album, moreover, they didn't just made songs, they also featured some great men in the music industry and also used most of their songs to pay some attributes to some  legends like Wu-Tang Clan.
The two rappers Lil Wayne and 2 chainz actually made some good Rhymes with Wu's 1993 debut album Enter the Wu-Tang (36 Chambers), as theya made reference and compared themselves to the Raekwon and Ghostface Killah.
In this particular song where they paid a homage to the legendary Wu-Tang Clan,  they actually made some mixed up, starting RZA's sonic blueprint, "Shame," and then adding some sample of Ol' Dirty Bastard's voice and later changing the song's hook from "Shame On a N-gga," off the Wu's 1993 debut album Enter the Wu-Tang (36 Chambers)."
About Author
I am a highly skilled copywriter and freelance blogger with several years of experience in the field. Over the years, I have garnered valuable expertise and achieved significant milestones as a blogger.