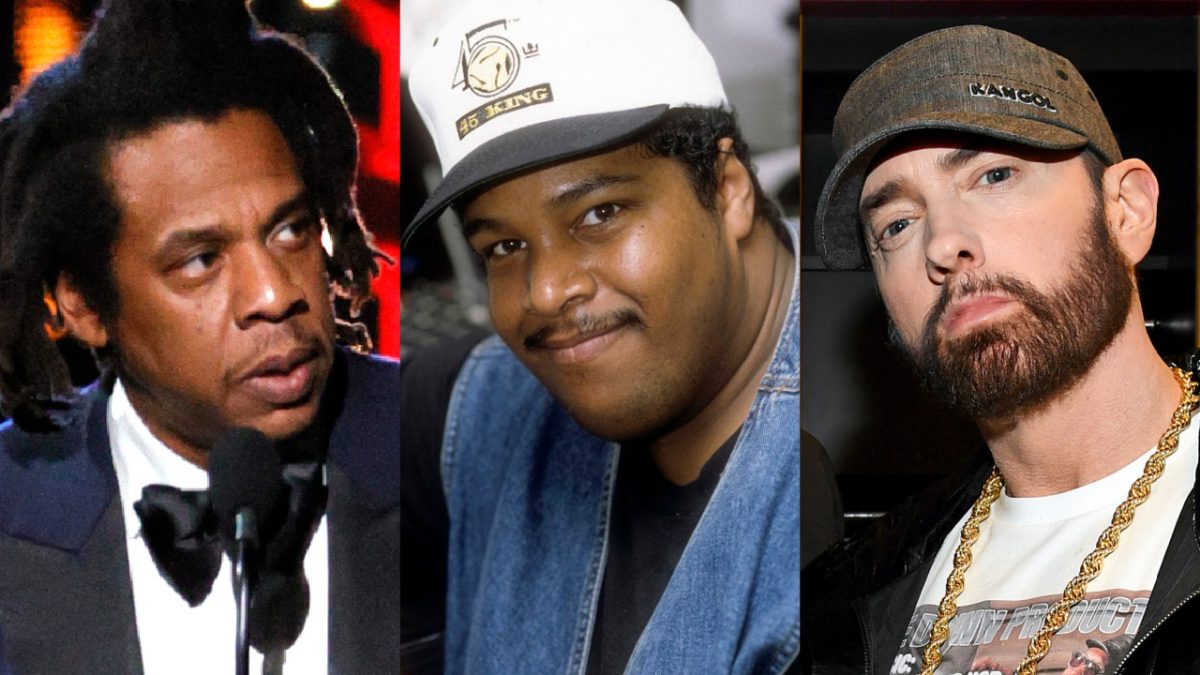 Jay-Z And Eminem Pay Tribute To DJ Mark The 45 King
In the wake of DJ Mark The 45 King's passing. Jay-Z and Eminem, iconic figures in the music industry, have united with the global Hip Hop community.
This was to honor the renowned producer and DJ behind hits like…
"Hard Knock Life (Ghetto Anthem)" and "Stan".
The producer of Jay-Z and Eminem, DJ Mark The 45 King, born as Mark Howard James, breathed his last on Thursday, October 19.
However. This was a heartbreaking announcement made by DJ Premier and also, it was later confirmed by his manager, Paul Martinez.
Although. The circumstances surrounding his demise still remains undisclosed.
But DJ Premier revealed in an emotional Instagram post that the Bronx-born producer had been hospitalized earlier that week. This was just days after celebrating his 62nd birthday on October 16.
After the news of his passing spread. Jay-Z's trusted engineer, Young Guru, shared Jay-Z's heartfelt tribute on Instagram.
In his message. Jay-Z expressed his gratitude to The 45 King. He did this by acknowledging that the instrumentals, particularly "The 900 Number", were more impactful than entire albums.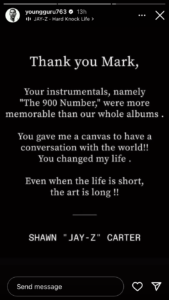 Furthermore. He credited The 45 King with providing him the canvas for a conversation with the world and changing his life profoundly.
Eminem, a global icon in his own right, took to Twitter to pay homage to the late DJ, emphasizing that legends endure.
Also. He expressed his eternal gratitude to Mark Howard James. This was done by sharing a video of the producer discussing the creation of "Stan".
Legends are never over. #RIP Mark Howard James aka The 45 King … I'm 4ever grateful!!! https://t.co/s4ywAw6r03

— Marshall Mathers (@Eminem) October 19, 2023
DJ Mark The 45 King earned his name through his ability to craft beats from obscure 45 RPM records.
More to this. He first rose to prominence with his 1987 track "The 900 Number" and his contributions to Queen Latifah's debut album, "All Hail the Queen".
Notably. He was part of the Flavor Unit alongside artists like Apache, Lakim Shabazz, and Chill Rob G.
The 45 King's career continued to flourish in the late '80s and early '90s through collaborations with prominent artists, including…
Gang Starr, Eric B. & Rakim, Salt-N-Pepa, Madonna, and MC Lyte.
He also released instrumental projects like…
"Straight Out Da Crate" and "The Lost Breakbeats" series.
In addition to this. It also pioneered the instrumental side of Hip Hop.
His most significant production credits came with JAY-Z's "Hard Knock Life (Ghetto Anthem)" and Eminem's "Stan".
These tracks catapulted both rappers to global stardom and achieved immense commercial success. "Hard Knock Life" was particularly groundbreaking for Jay-Z, becoming his highest-charting single at the time and earning him a platinum plaque, along with a Grammy nomination for Best Rap Solo Performance.
The legacy of DJ Mark The 45 King lives on through his timeless contributions to Hip Hop. And he is acknowledged by numerous artists and figures in the industry, including…
Diamond D, Kid Capri, The Alchemist, A-Trak, and Roc-A-Fella Records co-founder Kareem "Biggs" Burke.
Their tributes stand as a testament to his enduring impact on the music world.
About Author