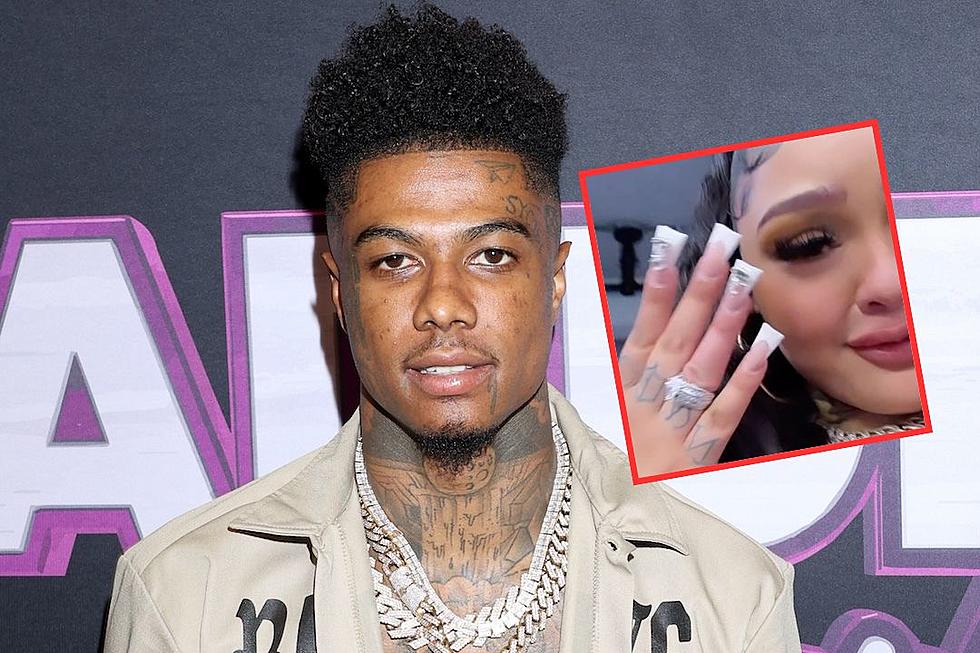 Blueface Proposes To His On And Off Girlfriend Jaidyn Alexis
Blueface Proposes To His On And Off Girlfriend  Jaidyn Alexis
Blueface Gets on Bended Knee and Proposes to Jaidyn Alexis
On October 22 (Sunday), Jaidyn Alexis posted several videos on her Instagram Story of her surprise engagement to Blueface. In the clip, the Los Angeles rapper gets on bended knee and proposes to Jaidyn, who is the mother of their two children.
Jaidyn was in complete shock and burst into tears as Blue placed a huge diamond ring on her ringer finger. Meanwhile, their friends cheered on with delight as Blueface and Jaidyn officially became engaged. In another clip, Blue is overhead saying that he put a 30-carat diamond ring on her finger.
Blueface and Jaidyn Alexis: From High School Sweethearts to Engaged Couple
According to Distractify, Blueface and Jaidyn were high school sweethearts who have been in an on-again, off-again relationship since 2020, before the rapper's career took off. Jaidyn is also the mother of Blue's two children: son Javaughn and daughter Journey Portner.
Additionally, Blueface and Jaidyn are business partners with their new record label MILF Music, which supposedly has an artist roster of only women with children. Jaidyn, who is the label's flagship artist, just dropped her latest single, "Barbie," earlier this month.
Recently, the couple appeared on The Jason Lee Show to talk about their tumultuous relationship and raising their children in the public eye. During their sit-down Blue recalled an incident in which Jaidyn walked in on him and his other baby's mother Chrisean Rock having sex and a fight erupted.
Blueface Propose to His Girlfriend Jaidyn Alexis
About Author