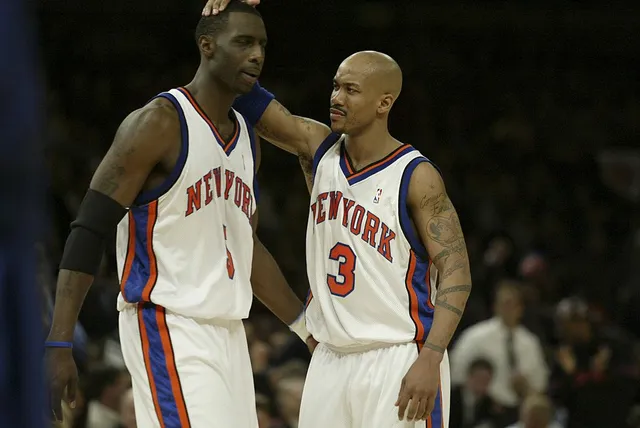 Stephon Marbury and Tim Thomas Fallout Due To Past Hiphop Beef
Stephon Marbury and Tim Thomas, fallout due to the intense rivalry between 50 Cent and Fat Joe.
However, this rivalry between Fat Joe and 50 Cent happened during the mid-2000s.
But it didn't just stay in the world of hip-hop. It seeped into unexpected places. Further causing a fracture in the friendship of NBA teammates Stephon Marbury and Tim Thomas.
In a recent revelation on the WKND WRK podcast, Thomas shared insights into how the feud between 50 Cent and Fat Joe affected his relationship with Marbury.
Despite their history of friendship, the rift emerged when Thomas sided with G-Unit, while Marbury remained aligned with Fat Joe's camp.
Thomas explained. Saying…
"Me and Steph grew up together, we went to Five Star Basketball camp. I knew his brothers, his mom, his pops.
We actually played for Fat Joe with Terror Squad at the Rucker.
It was really no issues between us at all until 50 and Fat Joe got into it".
https://www.instagram.com/reel/CzeUvy8LgN6/?utm_source=ig_embed&ig_rid=5e482ebc-0472-4d1e-a0ad-0182502a64f7&ig_mid=6547954B-C964-48E0-84C2-00DBD41E8C16
More to this. Thomas detailed the challenges during the three years of the beef.
He also recalled moments when Fat Joe was courtside, and Marbury showed him love, making Thomas feel torn between the conflicting loyalties.
Following 95 games with the Knicks. Thomas moved to the Chicago Bulls in 2005 before playing for several other teams.
Eventually. He returned to the Knicks in the 2008-2009 season after the fallout between the franchise and Marbury.
The feud between Fat Joe and 50 Cent escalated in the mid-2000s, almost resulting in clashes between their respective crews backstage at the 2005 MTV Video Music Awards.
Despite the past tensions. The New York rap legends have since reconciled, with Fat Joe making a guest appearance on 50's Final Lap Tour.
Reflecting on the feud earlier this year. 50 Cent expressed regret for involving Fat Joe in his conflict with Ja Rule.
Furthermore. He acknowledged that he misinterpreted Joe's discomfort with his success as animosity.
In conclusion. The fallout from the hip-hop beef serves as a reminder of how personal and far-reaching such conflicts can be, impacting relationships beyond the music industry.
About Author