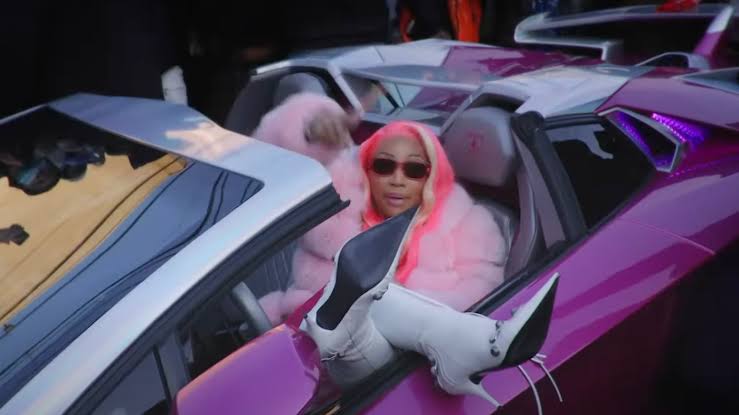 Nicki Minaj Reveals Her Favourite Car with Pink
Nicki Minaj is now reaping her reward, and after over 2 decades, the young mony female rapper was able to purchase a new mansion at Hidden Hill that cost her about $20M just last year. She has this quality taste and Minaj favourite car is quite expensive.
Nicki Minaj as a female rapper, she has her best choice of choosing what will be above-average female cars. Nicki Minaj loves Pink colour but she always prefers Cadillac Escalade. That is her most cherished vehicle and she love it in Pink colour.
She has other top favourite cars like Mercedes Maybach, Lamborghini Aventador, Bently Continental GT, Rolls-Royce Wraith, Lamborghini Gallardo, Mercedes-Benz SLS AMG, Rolls Royce Cullinan, Ferarri 488, and Range Rover.
The listed above are Nicki Minaj preferred cars she currently has her top 10 cars but when it comes to her favourite car, then Cadillac Escalade is more of the comfort zone to her. She almost has this car collection just like Lil Wayne. Nicki Minaj's net worth is also calculated by fortunes and in this year's Nicki Minaj net worth, she has a $130 Million net worth. This made her the richest female rapper alive.
In one of Nicki Minaj's interviews that surfaced over the past years, she revealed so many things like she has her favourite Dictionary Nictionary, her favourite candy is Mango Hi-Chews, Nicki Minaj favourite car Cadillac Escalade. She also mentioned pink colour as one of the things about her.
Nicki Minaj has also explained why she loves Pink colour has a major impact on most things around her. Both in dressing, videos, of course, and car as well. According to her "So I guess pink takes me back to that time and it just feels euphoric when I wear it. I love it."
It's very rare to see Nicki Minaj without pink around her. In an interview where she talked about the pink colour, below is what she said about her love for pink.
"When I was younger I didn't have much financially, like we couldn't afford a lot of stuff and I remember seeing little girls' rooms on TV and they'd all be pink. I didn't have my own room, I shared with my brother, so I would have this daydream and imagine that one day I could have my own room and it would all be pink, like Cinderella's. So I guess pink takes me back to that time and it just feels euphoric when I wear it. I love it."
About Author
Links, a co-founder of Aswehiphop, has been dedicated to the platform since its inception in 2019, overseeing the curation of artist songs and features compilations.