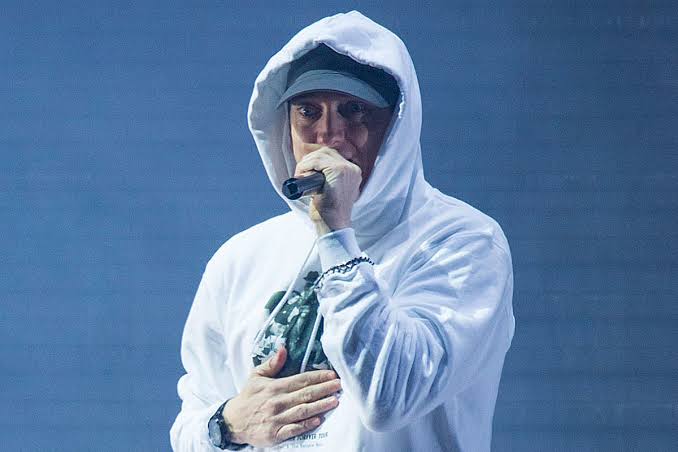 Stream: Eminem 2021 Songs & Lyrics Feat. Nas; Amahiphop Compilation
Do we even expect a new album from Eminem in 2021? Love it or loath that's odd to be predicted because no one has revealed any album name hitting up this year either Eminem.
Now, having streamed 2019 Eminem songs Amahiphop, Kamikaze, Music To Be Murdered By, and some other related Eminem's deluxe edition, it's clear that Eminem hasn't delivered any follow-up album since this year.
His 11th studio album was welcomed tremendously but desperately fans think a new album from the Detroit resident rapper is coming later this year but to Amahiphop, we have confirmed Zeus rapper has nothing to put out for now.
Sure, it sounds disappointing Eminem not releasing any album this year until there's a convinced announcement from him. But that doesn't mean it's rare to listen to Eminem in 2021 after Amahiphop always compiles Eminem's yearly songs which include standalone singles, features, and albums.
While there are top 6 compilations you might be missing on Amahiphop, today Eminem 2021 songs are being compiled on this page. These features and lyrics and you can stream it below.
Eminem 2021 Song List
Killer (Remix)
Eminem made the surprise announcement that he is releasing a remix to his song 'Killer' featuring Jack Harlow and Cordae.
The announcement definitely came unexpectedly to fans because the original song isn't currently in rotation on radio and has been out in December when he released the deluxe edition of Music to be Murdered By last December. The DA Doman-produced cut was a standout on the album. Stream the song and lyrics below.
Epmd 2
Walkthrough
Last One Standing
Venom (Remix)
Gospel
CHeck back for new Eminem song updates on this page.
https://aswehiphop.com/2021/06/eminem-2021-songs/
Albums
Compilation
Music
Review