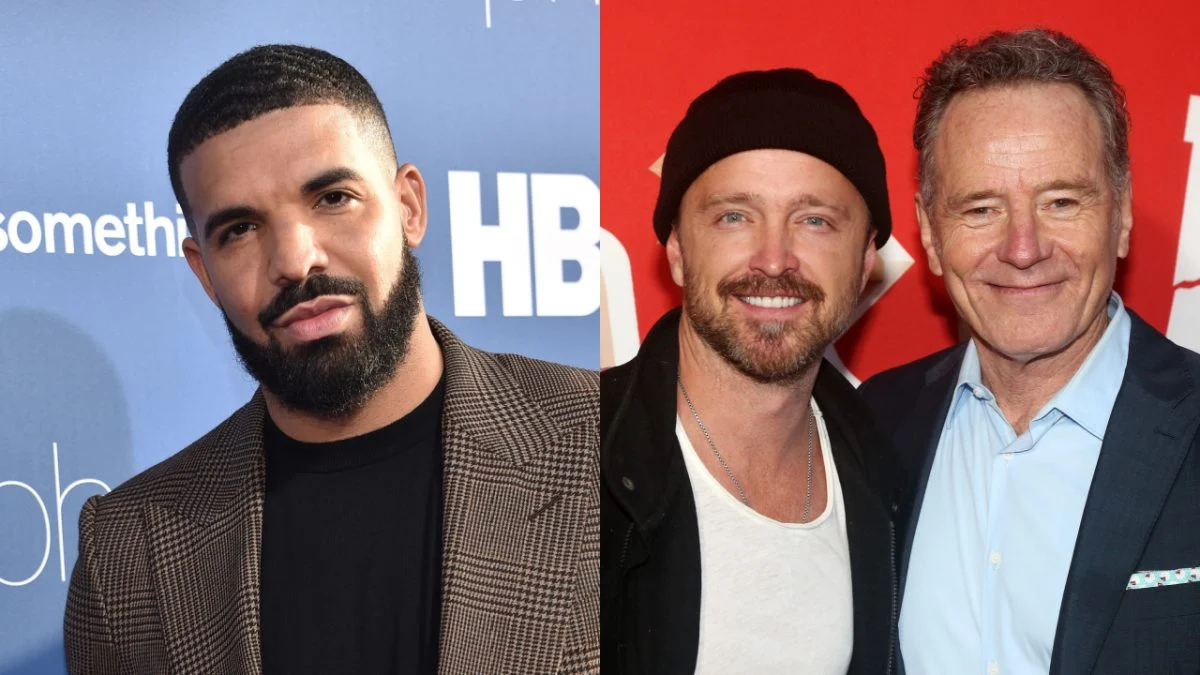 Drake's 37th Birthday Was Celebrated With His Favourite Actors
Drake's 37th birthday bash in Miami took an unexpected turn. This happened as he invited beloved actors Bryan Cranston and Aaron Paul.
This duo are best known for their roles in Breaking Bad.
Although. During their invite. They were asked to take on an unusual new role.
Due to the celebration, which occurred the night before Drake's 37th birthday on October 24.
Cranston and Paul were seen playing the part of bartenders, surprising partygoers at the swanky event.
BNYX. A producer with several credits on Drake's new album "For All the Dogs", captured footage of this unique moment.
Drake got Aaron Paul and Bryan Cranston serving us drinks at his bday party lmao pic.twitter.com/WRwFuE5a2j

— BNYX® 🇭🇹 (@BNYX) October 24, 2023
In addition to this unexpected bartending gig. The night included Drake taking the microphone, surrounded by friends and fellow partygoers.
Also. He was being presented with a massive birthday cake adorned with sparklers.
To add some humor to the evening. One of Drake's friends grabbed the microphone and quipped…
"Thanks for making everybody a rich baby daddy!".
However. He said this before playing Drake's song of the same name.
Drake brings in his 37th birthday in Miami ✨ pic.twitter.com/1mhABQp9u1

— Word On Road (@WordOnRd) October 24, 2023
Drake's Global Birthday Treat
More to this. In a spirit of gratitude and celebration. Drake recently announced a special giveaway in collaboration with Dave's Hot Chicken.
On October 24. The restaurant chain offered a free crispy chicken slider or tender to customers.
Although. This was for those who downloaded the Dave's Hot Chicken app. And also visited one of their locations.
Drake has a significant stake in Dave's Hot Chicken. And this gesture was his way of expressing appreciation to his fans and customers.
While celebrating his own birthday. Drake received an unusual invitation. A devoted fan named Miya Garcia rented a billboard on the I-10 highway in Corpus Christi.
Furthermore. She invited the OVO hitmaker to her Sweet 16 birthday party.
The billboard read…
"Drake, you're invited to my Sweet Sixteen".
And this was signed with…
"Your biggest fan, Miya".
Miya Garcia explained her admiration for Drake. She also cited his music and style as her inspiration.
In addition. Her mother supported her in renting the billboard. And this showcased the strong connection between Drake and his fans.
About Author