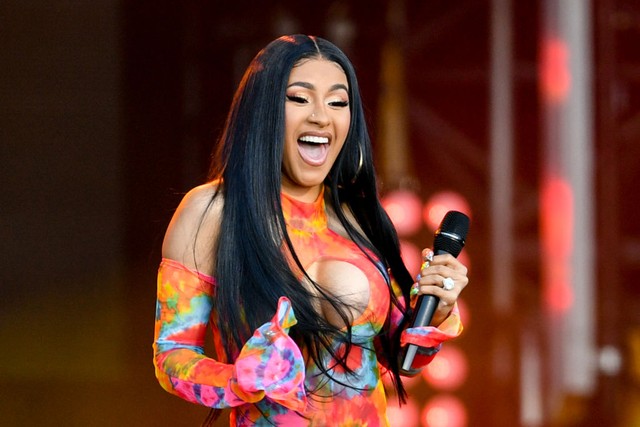 Cardi B Blames Anxiety Over Her Album Delay
Cardi B has stepped forward and she recently explained more about the delay in her sophomore album. As you can notice, Cardi B has been facing a series of backslashes regarding her follow-up to her 2018 album Invasion Of Privacy. Cardi B's album delay is caused by anxiety, the Bronx rapper disclosed.
Despite having faced critics about why keeps delaying the album she would have dropped in 2020, Cardi B still can't help so early but wants her fans to understand one of the main reasons she worried about making a new album.
According to Cardi B, she has 'anxiety', and dropping a new album will trigger her to a new tour. Another thing she mentioned is it put a separation between her and her children for some time.
Cardi B, of course, cares for her fans but she is also putting family first. Meanwhile, she's feeling more anxiety which is causing the potential delay of her album. Cardi B previously shared the amount of money she made for show.
About $1 million she made during a recent performance. Cardi B speaking on her album and other reasons that might have delayed her album is nothing but facts about her being so far. You can watch the video below.
Cardi speaking on her album and some reasons why it hasn't dropped yet💜 pic.twitter.com/Jix1V4v6GH

— BIG BARDI💜 (@lavishhcardi) December 6, 2022
Cardi B loves going on tour and performing for fans. But these days making music for her has become a job that gives her anxiety. Looks like Cardi B is no longer honing focus on music, it's making her stressed out and with family responsibilities a whole lot of necessity for her.
So far this year, Cardi has not released many singles just like she normally does. Although Cardi B has assisted with a few collaboration songs. Apart from her 'Sh*t' song featuring Lil Durk and Kanye West, she has also gotten a compilation of her 2022 featured songs which fans have been listening to.
Cardi B has been more of an interest too so many people who are supporting her career right from the inception of her Invasion Of Privacy. The album nominated for many awards, including a Grammy Award for Best Rap Album — which it won — and the Billboard Music Award for Best Rap Album.
Keeps showing her deep love to Offset who is finding it very difficult to live without Takeoff. That is another thing she is battling with right now just to keep her husband happy. Cardi B, to her, wants something new but blames anxiety for overriding her.
"We're living our lives normally, but deep down inside, our hearts have been so heavy," the "Tomorrow 2" artist admitted. "I feel like if I talk about – the internet's so desensitized – how we really feel, what motherf**kers really been going through, y'all would start saying, 'Oh sympathy.' We don't want no sympathy."
"We ain't no charity case, but no lie, I have been feeling so hopeless trying to make my husband happy, Trying to make him crack a smile."
Cardi B despite no album being released yet, she's also one of the best female rappers in 2022. Her collaboration with GloRilla also appeared on the best female rap songs of the year.
About Author
Links, a co-founder of Aswehiphop, has been dedicated to the platform since its inception in 2019, overseeing the curation of artist songs and features compilations.