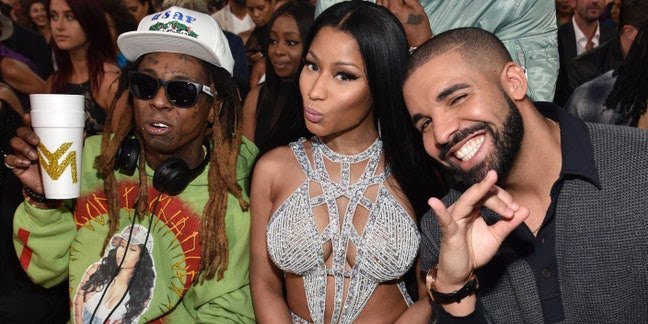 Stream Top 2021 Compilations On Amahiphop
Since the inception of Amahiphop compilation which kicked off in 2019, there have been more sensible catalogs from particular artists.
These catalogs featured songs from an artist who has been deliberately working and dropping some studio body of work, singles as well got a ton of features from peers.
However, it might not be the first time you are streaming compilations on Amahiphop only if you are a regular visitor. So, from 2019 and 2020, it's quite simple to understand that artists like Nicki Minaj, Lil Wayne, Snoop Dog, Meek Mill, Kendrick Lamar, J. Cole, Eminem, and more have taken a deep breath to work on their respective new album. But irrespective of that Amahiphop had already gathered their featured songs and singles in 2019.
While 2021 is another opportunity to stream, listen to more songs, and watch videos on US PMVC and NPMVC on Amahiphop. We have top compilations since this year.
Lil Wayne since his reconciliation with Birdman has released some projects, mixtapes, standalone singles, and also got cool features. This year, Lil Wayne has also been active. He previously said there is a new compilation of Young Money records on the way.
As for the top compilations on Amahiphop, Lil Wayne is also among rappers who have worked relentlessly to date. From 2019 to 2021 Wayne has got our compilation of his songs on his tip.
Top Compilations On Amahiphop
Lil Wayne 2021 Songs: Base on how slow but steady he pushes his career even after Cash Money legal brawl, Lil Wayne continues to drop more songs online out from his hidden vault. As said earlier, is one of the rappers who have gotten its compilation on Amahiphop and was once ranked the most featured artist. His 2019 songs compilation gave further proceedings in his 2020 songs compilation yet again there is reason to compile his 2021 songs after been featured on most songs this year.
Chris Brown 2021 Songs: Over a decade old Chris Brown can't be forgotten. While living the best of his career, breezy is always ready to welcome both local and international features. Chris Brown has no compilation on Amahiphop as of 2019. But in 2020 we were able to hone focus on breezy's songs. That was the first Chris Brown compilations on Amahiphop featuring fellow artists. Despite how desperate fans are waiting for Chris Brown's follow-up album this year, Amahiphop has as well compiled another Chris Brown song, 2021 songs, to be precise. It's still an ongoing compilation lasting throughout 2021.
Lil Baby 2021 Songs: 2021 is a good year favoring Lil Baby just all around. Baby was not among noted artists whom we added to our compilation projects in 2020. But he worked smarter this although he did had this recognition even before the inception of Amahiphop compilation. So what is new about Lil Baby's music? Sure Lil B is working on the new album but due to his massive features from contemporaries, there are even more songs of this rapper you probably haven't heard. Meanwhile, Lil Baby is another rapper whom we have added as part of the top 6 compilation on Amahiphop.
Davido 2021 Songs: His portfolio is growing more, maybe beyond most minds' expectations. Davido is a Nigerian traditional singer who paved the way not only for his success to exceed no limit but has given more integral to Nigeria's music industry. Last year he delivered A Better Time album featuring some of the American hip-hop names. Davido having faced passive-aggressive beef while trying to remain relevant, continues to get grow bigger both local and international. This year, Davido has been featured more than a couple of times which has dragged our attention to compile his 2021 songs.
DaBaby 2021 Songs: This is the second time DaBaby showing he never gives up rapping. In 2020 we compiled DaBaby songs. DaBaby hasn't dropped an album since this year, however, there are songs you featuring the rapper as compiled lately last month. Stream DaBaby's 2021 songs here.
Wiz Khalifa 2021 Songs: In 2019 Wiz Khalifa was pronounced as the most featured artist, according to Amahiphop. Without eye contact, Wiz Khalifa is a rapper who knows how to thrill his super-fans with song. Is either he drop a mixtape, album, single or get featured. Wiz Khalifa 2019 songs orderly compiled. But as we skipped his 2020 songs, Wiz this year once again merit our compilation offer. His 2021 songs featured his FUCC2020, Taylor Night, and other songs.
Wizkid 2021 Songs: Another super-artist from Nigeria. Wizkid had a beautiful year to date. Big Wiz, although his music for this year is slow though steady with the standalone impact of new songs which we have recorded since 2021. However, streaming Wizkid's 2021 songs compilation then it's only a few songs he has released or got featured.
Drake 2021 Songs: Drake Certified Lover Boy is on greenlight although has been over anticipated since 2020. According to Drake, the album is finished and ready to be released. Well, while the album continues its hold on, Amahiphop released Drake's 2021 songs featuring both Lil Wayne, Nicki Minaj, Rick Ross, and more. It's one of the top compilations on Amahiphop. Note that if Drake's Certified Lover Boy gets released any soon, it will be updated on his 2021 songs Compilation.
Eminem 2021 Songs: Very rare to hear a new song from Eminem these days. The last Eminem compilation was in 2019 which featured some rappers. The 2019 songs catalog was just all songs from the rapper but Shady since hasn't been able to deliver more songs from the studio though he made our top compilations with a featured song titled Killer which featured Jack Harlow and Cordae. Eminem hasn't dropped any album this but we hope to see more songs on his compilation, on Amahiphop.
Young Thug 2021 Songs: This is another classic compilation you might have missed but still existing on Amahiphop. Young Thug has done this pretty work you need to check out. His compilation featured both 21 Savage, Chris Brown, Lil Baby, Lil Durk, and more.
Future's 2021 Songs: The first we announced his 2021 songs compilation on Amahiphop, there were many reactions though positively expected and grabbed. Taking a deep survey on 2021 American music industry, Future nothing but also a pro-active artist like others mentioned above. Number 2, All My Voodo, Picasso, Hard For The Next, Go Crazy and more are songs names you stream which also featured the rapper. This is another super compilation on Amahiphop top list artists in 2021.
Meek Mill's 2021 Songs: Meek Mill is one of the notable rappers we compiled their songs in 2019. Meek's Championship album we the last album also currently on the popular commercial streaming platforms. In 2020, just during the pandemic outbreak, he only delivered some songs which include "Quarantine Pack and that featured only four songs. Outside Of America and Believe were part of Meek Mill's 2020. It's 2021 yet again no album from the 1942 Flow rapper has been released but we are able, to begin a new compilation with his new songs in 2021 which you can stream here. Meek Mill's 2021 songs compilation has begun only here on Amahiphop and it's one of the top completions so far.
Cardi B's 2021 Songs: Cardi B can grab her second compilation on Amahiphop. Sure, B was among female rappers who released songs and get featured in 2019. Cardi B's 2019 songs and Nicki Minaj's 2019 songs were potential compilations despite not dropping a new album. This year, Cardi B startup with new music and video Up. That wasn't the only song that made her get Amahiphop 2021 songs compilation but has more external features which you can stream here. However, she's the first female rapper to get Amahiphop 2021 songs completed after some features from fellows like Lizzo, Normani, and more to be updated.
The Weeknd's 2021 Songs: The Weeknd 2021 songs compilation is now available on Amahiphop as part of the top compilation in 2021. The Weeknd's 2021 song list featured his newly standalone songs but also welcome related guests like Lil Baby, Doja Cat, and Kanye West's new album DONDA featured The Weeknd on Hurricane track which also features Lil Baby 2021 songs as well.
Jay-Z's 2021 Songs: Have you streamed Jay's 2021 songs compilation on Amahiphop. The compilation presents you with simple curation on how Hov has deliberately collab with follow hip-hop rappers. So how song has he gotten since this year. Jay has five songs with lyrics which you can stream and read along with the lyrics as well. What It Feels Like, Sorry Not Sorry, Bath Salt, Jail and All Love.
Ty Dolla Sign 2021 Songs: Ty Dolla was able to secure Amahiphop 2021 songs compilation after getting solid collaboration Joyner Lucas, B-Real, Anti Clemons and more rappers. While we also look forward to stream new album from $ign, our Ty compilation will give you this moment to enjoy his new collaboration song.
Check back for more updates.
Compilation
Music
News
Video