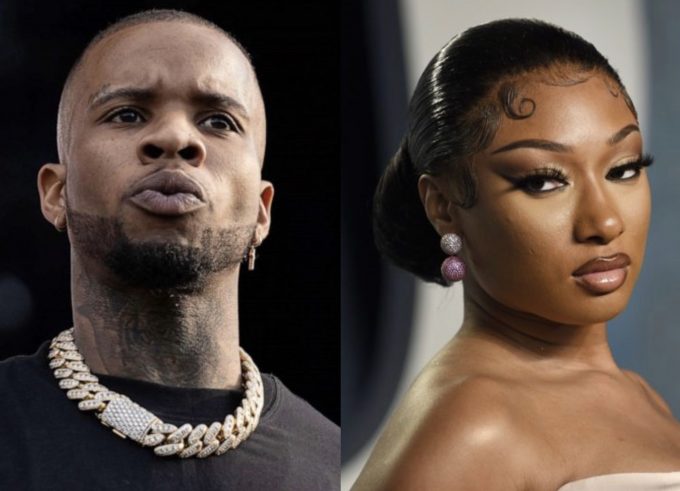 Tory Lanez Guilty of Shooting Megan Thee Stallion
After a longer extensive investigation and trials, Tory Lanez whose real name is Daystar Peterson found guilty of shooting Megan Thee Stallion. Tory Lanez's guilty of Shooting Megan Thee Stallion has finally to an end.
This shooting incident happened back in 2020. Both were so much in a good relationship but trouble has become afoot between Lanez and Megan after the shooting that took place outside of a Hollywood Hills residence.
Troy Lanez and the WAP co-rapper were inside a sport utility vehicle then followed by a serious argument that erupts into the shooting incident that took place. However, their case in 2020 became something the Internet pays attention to even to date Megan and Troy Lanez shooting never leave existence.
Lanez was arrested and then released on bond for his trial which finally found him guilty of shooting Megan Jovon Ruth Pete better known as Megan Thee Stallion. It was yesterday a verdict was finally been reached by a jury. Below is the full statement shared by District Attorney George Gascón confirming Tory Lanez was convicted of the shooting between him and the female rapper.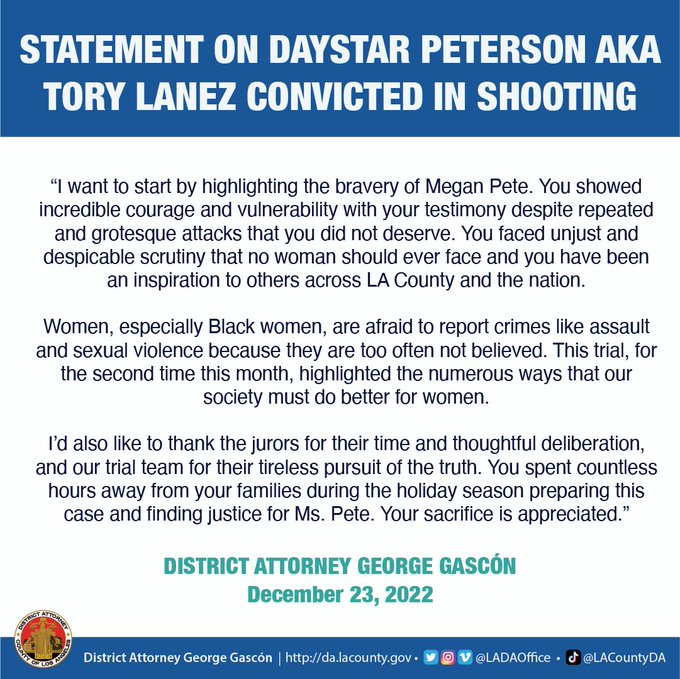 The three charges he was found guilty of are felony count of assault with a semi-automatic firearm, carrying a loaded, unregistered firearm in a vehicle and discharging a firearm with gross negligence. The sentencing hearing is set for the 27th of January.
Breaking News: A Los Angeles jury found Daystar Peterson, the rapper better known as Tory Lanez, guilty of shooting a fellow artist, Megan Thee Stallion, in both of her feet following an argument about their romantic entanglements and careers in 2020. https://t.co/RDryyi7zV9

— New York Times Music (@nytimesmusic) December 23, 2022
New York Times reported that during Troy Lanez's recent court appearance, Megan Thee Stallion was not around. She was absent and the final verdict was made. Lanez's dad who was present wasn't happy with the judge and prosecutors. "God will judge you," he said, as bailiffs moved to block his path.
Alex Spiro who remains Megan Thee Stallion's attorney was extremely happy as he said the judge got it right in assisting to find Justice for his client. Tory Lanez guilty of shooting Megan Thee Stallion has brought joy and also unhappy to most people.