Rihanna Reveals Her Second Pregnant at Super Bowl
Thanks to her Super Bowl Halftime Show performances which unveiled her second pregnancy. Rep also confirmed that Rihanna's second pregnancy is a possible way for her second child with ASAP Rocky.
Right, Rihanna during her Sunday Super Bowl Halftime, many noticed her body add up and were all admitting that she expecting and baby with ASAP Rocky.
Rihanna performed some of her hit songs which were mentioned ahead of the Super Bowl Halftime. She sang and danced on stage at the State Farm Arena in Glendale, Arizona, where the Philadelphia Eagles are playing the Kansas City Chiefs.
Below you can watch the set-up for Rihanna's 2023 Super Bowl stage performance. It was a hard one but was worth it. The stage was hot indeed as she also performed BBHMM. Just check out the state arrangement.
Hard at work building @rihanna's #SuperBowl halftime show stage! pic.twitter.com/8YrOG3eimU

— The Hollywood Reporter (@THR) February 13, 2023
SHE'S BAAAACK 👑 @Rihanna #AppleMusicHalftime pic.twitter.com/rH2G9r2RSc

— NFL (@NFL) February 13, 2023
Rihanna Super Bowl Halftime 2023 songs include Diamond, Where Have You Been, We Found Love and Work. These are songs that made fans at the venue more thrilled than usual.
During the 2023 Super Bowl Halftime, Rihanna set fans into a frenzy, he said that she is pregnant again and ASAP Rocky remains the potential man and responsible for the second incoming baby. Fans were happy more than the Super Bowl show. Rihanna is pregnant again.
Rihanna, along with rapper A$AP Rocky, are the proud parents of a 9-month-old boy. In an interview that took place ahead of her halftime performance, the Grammy winner said she first thought twice about performing at the Super Bowl, but motherhood ultimately inspired her to perform at the big game.
"I was like, 'You sure? I'm three months postpartum. Should I be making major decisions like this right now? I might regret this,'" she said.
"When you become a mom, there's something that just happens where you feel like you could take on the world — you can do anything," she added. "And the Super Bowl is one of the biggest stages in the world, so as scary as that was … there's something exhilarating about the challenge of it all," she said. "It's important for my son to see that."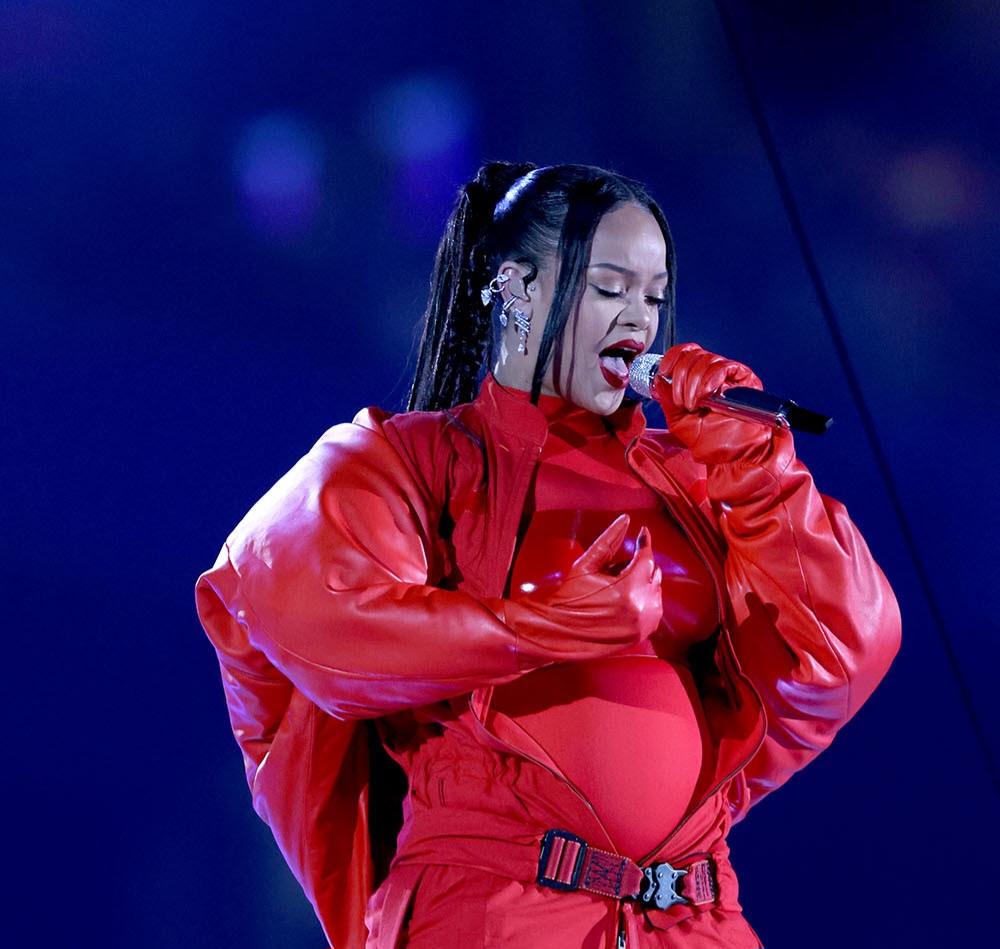 Last year Rihanna showed her first baby full photo and video. The video was shared on Tiktok account where the bouncing baby boy is enjoying himself while looking at his mom and dad. He is the first child of ASAP Rocky and Rihanna and now and baby is joing the baby.
Rihanna 2023 Super Bowl Halftime performance can be watched on YouTube. The video has been temporarily blocked but you can officially watch it on YouTube. She performed hit songs not her recent songs from 2022.
According to Marca: One of the best reveals of the halftime show was Rihanna's baby bump and many people believe she is pregnant while others doubted the news, and although there hasn't been any official confirmation, she took her precautions while dancing and she was grabbing her belly constantly.
Yes, Rihanna is pregnant again for Rocky, no other person. Check out more updates below and let us know what you think.
Rihanna reveals she is pregnant with her second child during her Super Bowl Halftime performance. pic.twitter.com/AWul8kqbKY

— CONSEQUENCE (@consequence) February 13, 2023
About Author
Links, a co-founder of Aswehiphop, has been dedicated to the platform since its inception in 2019, overseeing the curation of artist songs and features compilations.