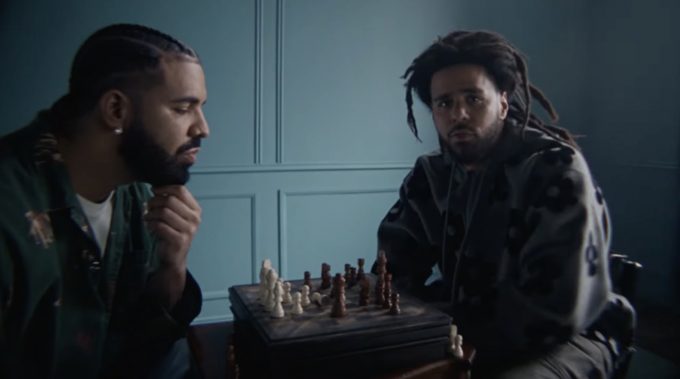 New video_ Drake and J.Cole "Fisrt Person Shooter" Watch
The two rappers "Drake and J.Cole" pairing once again for the first after ten years has really becoming of the greatest collab in the hip hop industry  this year following  the fact that their collaborative singer from " All for the Dogs " Album "First Person Shooter " is hitting No 1 and the have made the video.
Meanwhile, in the "First Person Shooter video" that they released recently, J.Cole amd Drake made the visual a one of it kind as it was really fun all together as the two rapper were doing a lot of things together in music video, which include chess, basketball, table tennis and boxing.
Moreover, the video were a kind of mimicking people's real life character and playing  their role, some other people  also made an appearance in the video , but hey were actually playing the role or character of other people in tbe "First Person Shooter video."
Someone like the Office's Brian Baumgartner also appeared in the video, but he actually played the character of kelvin Malone, thie was actually an iconic appearance as he played the character  of a SEO of an organisation  who was just directing bunch of dolls.
After some series of competition between  the two rappers " Drake and J.Cole " starting from their stadium-capacity ping-pong matc, to playing  chess as they also mimicked footballers "Loe Messi and Christiano Ronaldo " in their Chess outfits, they also came up with some spider man outfits comparing  themselves to be one of the spider man's meme.
Meanwhile, fans of Drake and J.Cole who really enjoy the creativity they put in the music video has really  applauded the rapper and they left a lot of comments  in the comment section of the "First Person Shooter video," "This is like JAY-Z and Nas doing a video in 2002″ a fan wrote.
About Author
I am a highly skilled copywriter and freelance blogger with several years of experience in the field. Over the years, I have garnered valuable expertise and achieved significant milestones as a blogger.