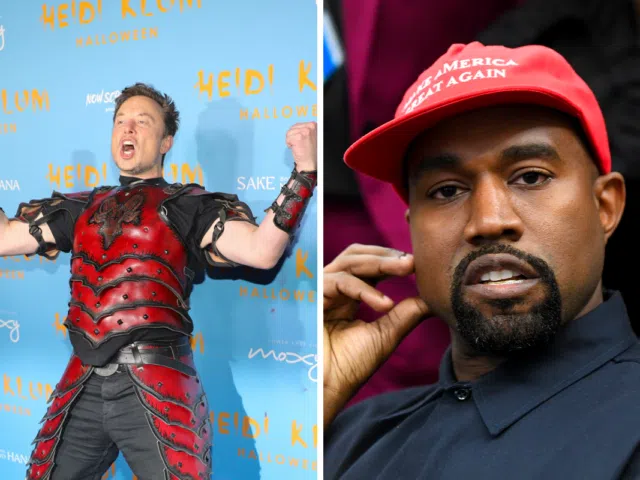 Elon Musk Still Wants to Punch Kanye West in His Face
Suspending Kanye from using Twitter couldn't be the best deal but Twitter CEO has threatened Kanye West with a Punch. The Punch in question has not been unleashed towards YE but Elon Musk prefers to see Kanye West inside the boxing ring with him.
It all started with Kanye West's notorious moments which have been under the spotlight. His incitement on social media is getting him, potential enemies, and Elon recently joined the crew.
Twitter platform is against incitement and also U.S law goes against incitement. Maybe Kanye West might have not acknowledged that. Posting swastikas is against the terms and conditions of Twitter. That is the major reason Elon Musk wants to have his folded arms on Kanye West's face.
Below you can hear Elon Musk saying he wants to punch Kanye West in his face. The post was shared on Twitter where he addressed Kanye West being so controversial since this year. Listen to audio below.
BREAKING: Elon Musk says he wanted to "punch Kanye" for posting Raelian symbol on Twitter. pic.twitter.com/HhquHkeFO2

— Idaho Tribune (@IdahoTribune) December 3, 2022
Supporting Kanye West at this moment could be a bad market but some rappers like NBA YoungBoy, The Game, Akon and others are standing with the rapper. Elon is a fan of Kanye West and he tried his best to keep YE on Twitter but he keeps causing trouble. The major reason he suspended Kanye has shared here.
Elon wants to punch Kanye West to know if he can be fixed from ant-Semitic and from other controversial comments he has made so far. Though Kanye West has asked Elon.
"Am I the only one who thinks Elon could be half Chinese?"
He then claimed the Tesla CEO "is the first genetic hybrid that stuck," alongside Barack Obama. Ye also called for "a mass investigation of Elon Musk's childhood photos in the midst of Balenciagagate."  
Elon Musk and Kanye West just had a run-in which might have caused a little problem between them. But as for now, Kanye West has been suspended on Twitter.
About Author
Links, a co-founder of Aswehiphop, has been dedicated to the platform since its inception in 2019, overseeing the curation of artist songs and features compilations.