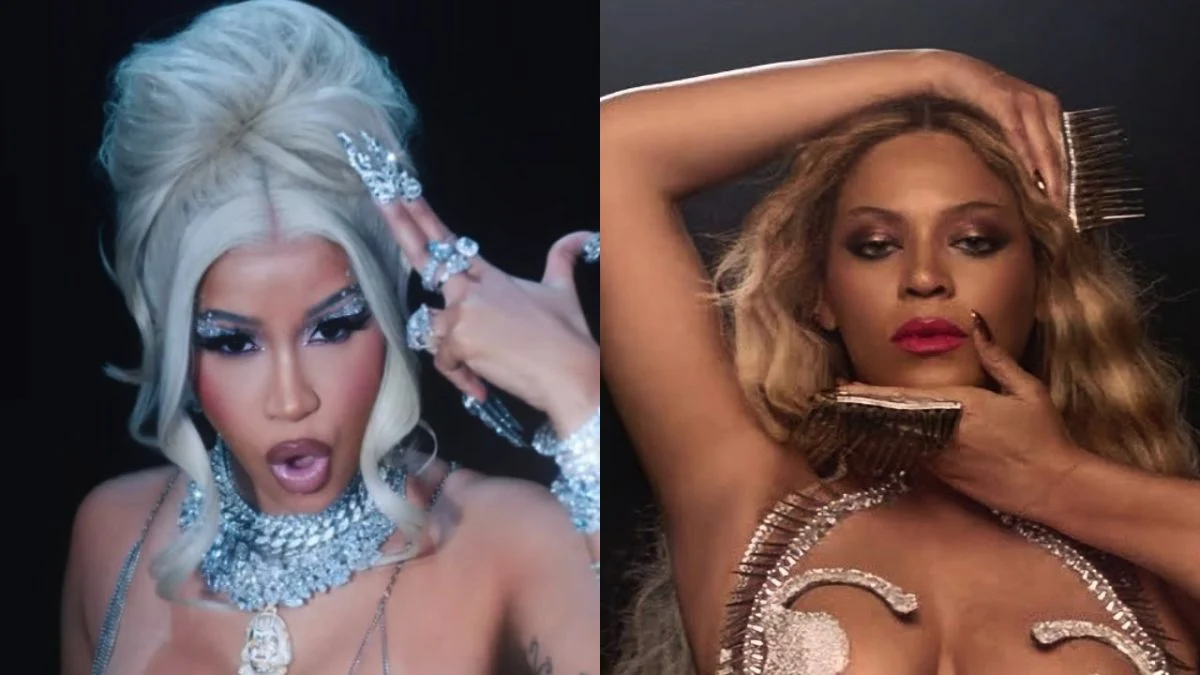 Cardi B also Obeyed Beyonce Mute Challenge at Renaissance Final.
Cardi B has left a lot of people  talking  after she showed respect  and obedience  to her colleague "Beyonce" during the mute challenge at her Renaissance Tour final grand.
Beyonce  reportedly rounded off her Renaissance Tour in Kansas City on Sunday night (October 1) as that marks the end of her North American trek for the past few months.
Meanwhile l, a lot of people  didn't  participate  on the mute challenge especially  on of the male fans who received  a hot slap after he shouted during  the Beyonce challenge, but Cardi surprised fans by adhering to the rules.
After the conclusion  of the Renaissance Tour,  Beyonce  still have a great release  which is her concert film, probably  Renaissance Tour visuals starting  from  Stockholm, Sweden, to the finale in Kansas City, Missouri.
Cardi B doing the mute challenge at Beyoncé's final tour stop 🤫 https://t.co/52WCdDrY0T pic.twitter.com/idJi2kxeaN

— HipHopDX (@HipHopDX) October 2, 2023
Beyonce  fans are so happy  to hear that, especially  those  fans who were not able to attend  most of her shows as they will still stand the chance to view the Tour looks like.
Following  the reveal "the film accentuates the journey of Renaissance World Tour, from its inception, to the opening in Stockholm, Sweden, to the finale in Kansas City, Missouri."
The just concluded Renaissance Tour which ended with a mute challenge, Beyonce actually made her intentions clear after she stated that all she wanted was to bring smile into the face of many people  through her shows and performances.
"It is about Beyoncé's intention, hard work, involvement in every aspect of the production, her creative mind and purpose to create her legacy, and master her craft. Received with extraordinary acclaim, Beyoncé's Renaissance World Tour created a sanctuary for freedom, and shared joy, for more than 2.7 million fans." an insider review  which is while the concert film is also out so thay everybody will share.
About Author
I am a highly skilled copywriter and freelance blogger with several years of experience in the field. Over the years, I have garnered valuable expertise and achieved significant milestones as a blogger.