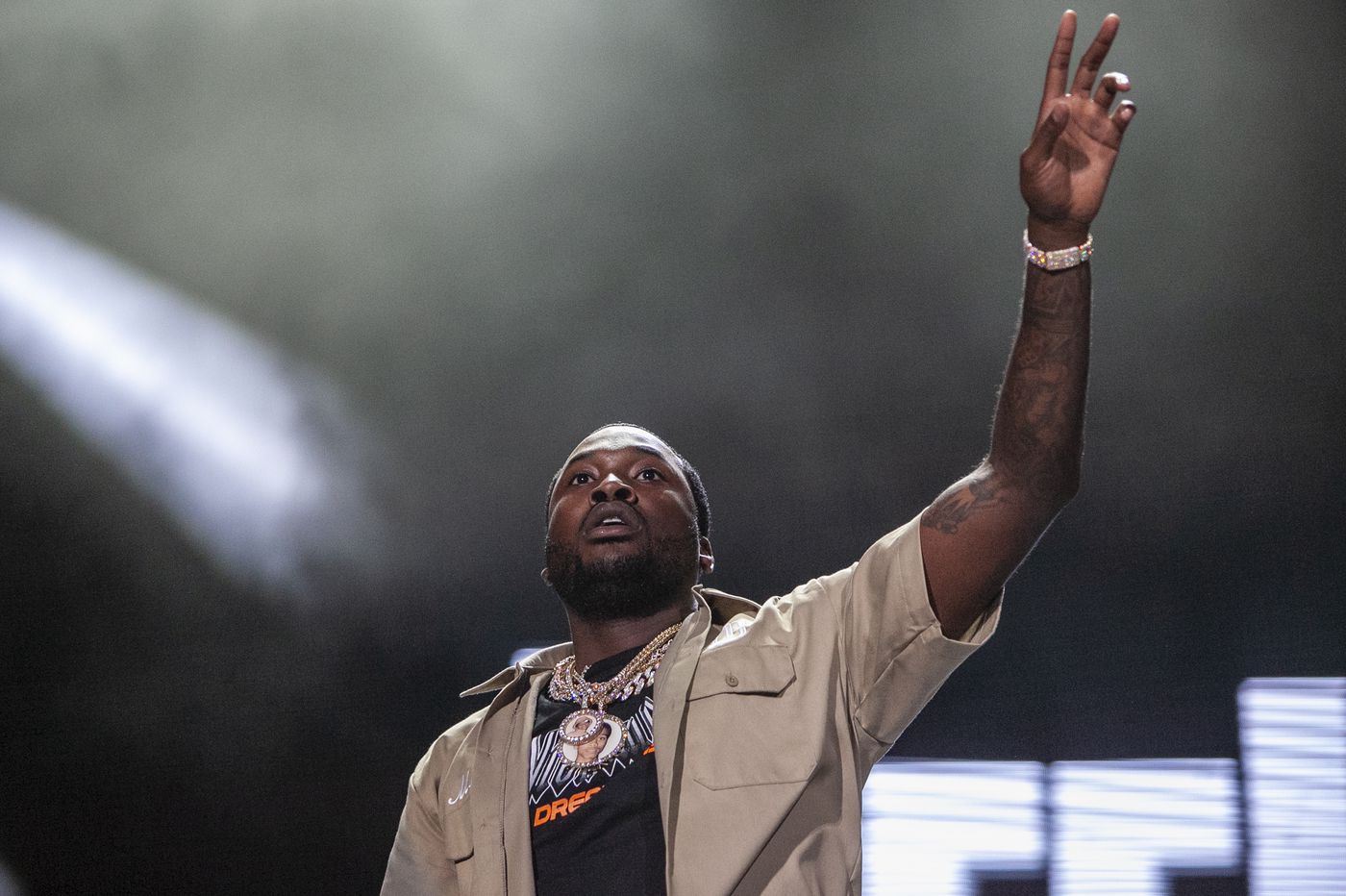 All New Songs Feat. Meek Mill In 2019
Meek Mill also embracing some notable Feat since this year. We are about to list those songs Meek has been featured so far while waiting for future album.

The Championship was released last year, an album that follow up to his Wins & Losses. Meek Mill, few months back the noticed us that he is working with Jay-Z and Eminem probably for new song under new album.
Meek Mill haven't disclosed any of his 2019 project but I doubt the Maybach Music rapper shelving no plans to render compilation of tracks this, although both him and Nipsey Hussle was gearing on joint project before Nipsey was shot dead.
Meek Mill had some Off and On issues around his music front, his battle with probation and charges but never deprived him of getting some features from most Hip-Hop rappers. Check the list top best Meek Mill song of 2019.
Editor's Note: This Post Continue To Get More Updates
Featured Meek Mill 2019 Songs
Jeezy 'MLK BLVD' Feat. Meek Mill
If you have check list of August 2019 albums, then Jeezy has released his TM104 album which also featured Meek as guest and notable contributor to his album. MLK BLVD is the titled track which also sounds great to list. Jeezy TM104: The Legend Of The Snowman album is not just an album but it also took shots on Donald Trump. The album also featured both 50 Cent, Rick Ross and more of traditional artists. Listen below.
Future '100 Shooters' Feat. Meek Mill
Future isn't icing since this year although Atlanta rapper been on streak on Billboard using his SAVE ME project. The Wizard album came in, on streaming then he later drop EP which which is Save ME. These two project didn't feat. Meek Mill but only played a standalone song called '100 Shooters', a song from Future featuring Meek Mill. The track was released for the cause of their Legendary Nights tour yet we are able to enlist it as one of the song from Meek Mill. Listen below.
Don't Miss: Eminem Top Feat. Songs In 2019 So Far
Calboy 'Chariot' Feat. Meek Mill
Calboy Chariot Feat. Meek Mill. Well am not suprise that Calboy is under Mill's Dream Chasers Management so doing a hit common. Caldoy already dropped EP titled Wildboy. The Chicago go rapper has been a success to most of the popular hit songs and one of them is Envy Me but now Chariot boy has emerge with Meek Mill, Lil Durk
with Young Thug. Stream the song below.
Quality Control Control The Street 2 Feat. Meek Meek
Meek Mill didn't miss Quality Control new album Control The Street 2 which also featured some other Hip-Hop artists. The album was released this year and is a belated follow-up to the previous version Control The Street . Quite sure, Meek Mill new album haven't Surfaced this year but the rapper already started the year with a malted gold of features just like Lil Wayne featured songs. This album also featured all the label mates but Outside of in-house artists, big names Meek Mill, Travis Scott, Gucci Mane, Young Thug, Meg Thee Stallion, City Girls, Gunna and more all appear also join assured. Stream below.
Nav 'Tap' Fast. Meek Mill
This song is under Bad Habits album and the project also Feat. Meek Mill. Bad Habits was released back in March and Tap is one of the song we have listened were Nave and Meek Mill turn it up. The song also gave the album some promoting using a visual, the same Tap also welcome new video were both are seen on scene. Lil Durk, The Weeknd also appears on the album but Rick Ross, 21 Savage, Young Thug, Gunna had there cameo. Watch video below.
Gucci Mane 'Backwards' Feat. Meek Mill
It's very rare seeing Gucci Mane making on his career and one of the astonished is that this year he gave us a song called Backwards and Meek Mill was among in that song. The video even go a long way in promoting and creating awareness for Gucci Mane D.O.G. (Delusions Of Grandeur) watch video below.
DJ Khaled 'Weather The Storm' Feat Meek Mill
Very successful this year with Father Of Asahd which was released past few months. Khaled enlisted both Jay-Z and his Wife, Meek Mill and more rap wizardry and gave this album a worth both on Billboard. As For Meek Mill, he has been a fixture on DJ Khaled 2019 album. Weather The Storm featured the like of Lil Baby and Meek Mill. It also came with video and you can watch it as follows.
Don't Miss: All New Songs Feat. Lil Wayne In 2019
DJ Khaled 'You Stay' Feat Meek Mill
You Stay is another song we caught Meek Mill With. Khaled has feat Meek Mill multiple times this year. Storm Weather and You Stay, all under Father Of Asahd project. After 'Just Us' with SZA, 'Celebrate' with Post Malone & Travis Scott, 'Higher' with Nipsey Hussle & John Legend, 'Jealous' with Lil Wayne, Meek Mill & Big Sean and 'Holy Mountain' with Buju Banton, 070 Shake, Sizzla & Movado, Khaled has now dropped the video for 'You Stay'. Watch below.
Hitmaka 'Thot Box' New Song Feat. Meek Mill
This song was released on (September 6 2019) Hitmaka production skills is something you might not like to miss out. Here's is a new song we found Meek Mill on. On this song Hitmaka feature 2 Chainz, A Boogie, Tyga, YBN Nahmi and Meek. "Throughout my career, I've always been able to put records together for different people," Hitmaka said. "Once I had the hook, I knew who I wanted on it. I got Nahmir, Meek, 2 Chainz, Tyga, and A Boogie. Everybody was feeling it. They say, 'It's a hot girl summer,' so we had to tell the other side of the story from the male perspective. We love all women. You watch, the girls are going to love this … It's going to be a takeover. I'm excited for hits, more hits—and more hits." below.

Lil Wayne 'Lil Weezyana Festival' Feat. Meek Mill
Lil Wayne don't only had this common collaboration with Kash Doll. He Lil Weezyana Festival span both Travis Scott, Megan Thee Stallion, Meek Mill. Meanwhile, Amahiphop has enlist the Festival as one of the Feat from Lil Wayne and Meek Mill. Both parties haven't linked up this year probably the fest has brought them together. Tracing the history of Lil Wayne fest, it only started over some consecutive years. Since 2015, the fest been fixture in Hip-Hop yet we continue seeing growing as expected. takes place on Saturday, September 7th at the new location of UNO Lakefront Arena in New Orleans. The lineup is stacked: Lil Wayne, Travis Scott, Meek Mill, Megan Thee Stallion, Kash Doll, Saweetie, Trey Songz, Melii, Leven Kali, and Akbar V just like i said above. The festival organizers have also teased some special "surprise" guests. You can stream it below on Tidal.
Wale Feat. Meek Mill and Rick Ros – That's Crazy
Wale's new album finally come to an existence and from album we can see Meek Mill featured on one of the songs that's appeared on Wale's new album Wow… That's Crazy Routine. You can stream the song below from the full album.

Listen YBS Skola Blow A Bag Feat. Meek Mill
Here's another song featiring Meek Mill. Blow A Bag from YBS SKola just added a new to Meek 2019 song. The Baltimore native has released his first full length project called Minor Setback where Meek assists the young emcee on track #13, 'Blow A Bag'. It almost feels like the song belongs to the Philly star. Listen below.

This Post Might Get Future Update, But As For No You Can Share It It be Across Social Media.
About Author
Links, a co-founder of Aswehiphop, has been dedicated to the platform since its inception in 2019, overseeing the curation of artist songs and features compilations.