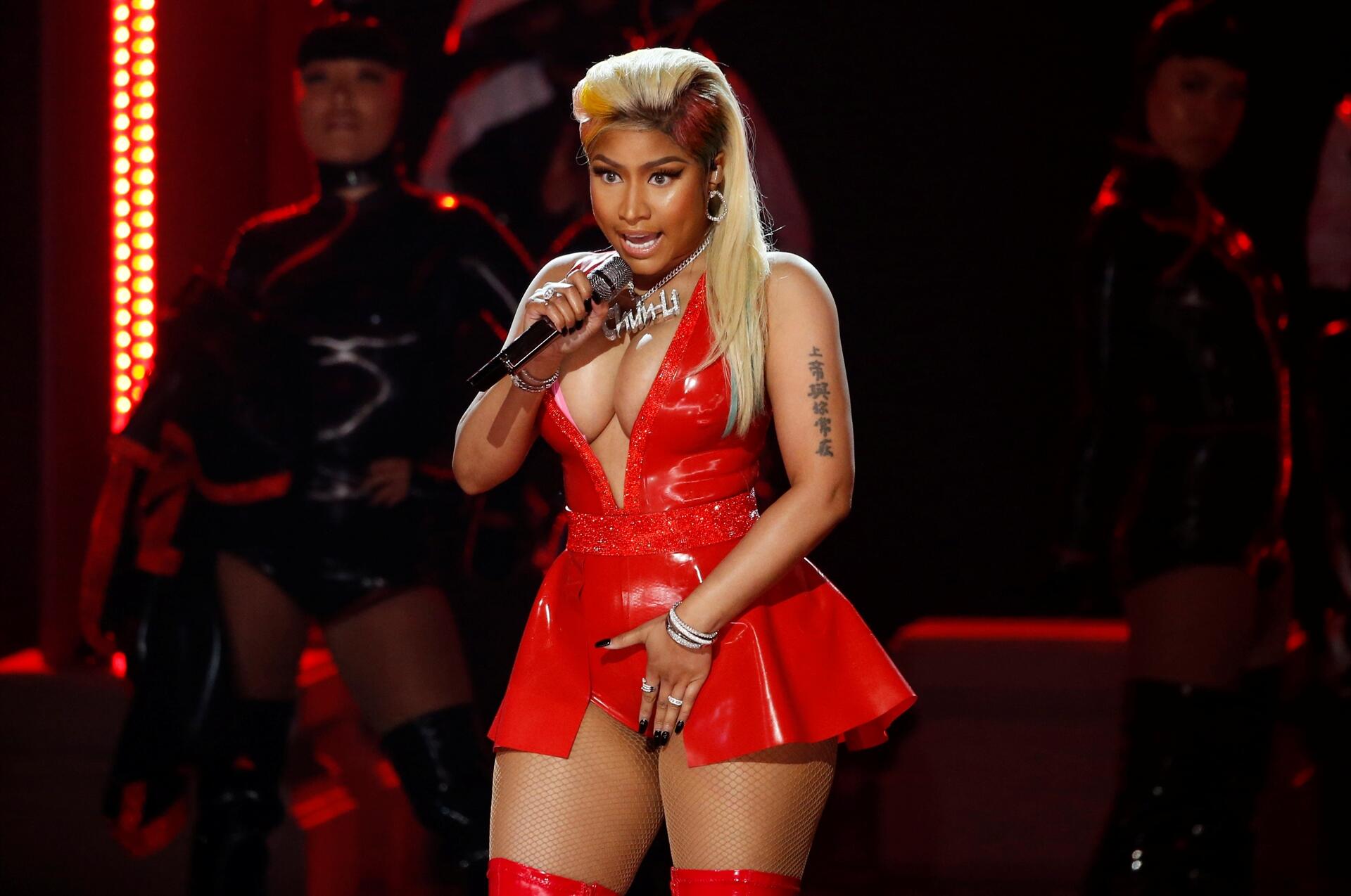 Stream: All Nicki Minaj New Songs Featuring 2019
Nicki Minaj has gotten a ton of featured songs from fellow hip-hop minds both female and male. Nicki never inspired us with any upcoming album but using Twitter to post her retirement online. While we keep on watching her next movement, Amahiphop is circling all her songs solo single and guest appearance altogether.
Queen album was released in 2018 is last year yet it was only Megatron currently a standalone song Nicki has delivered since 2019. Hopefully, Nicki Minaj will still debut her fifth project probably sometime this year vs 2020. Remember Nicki has been keeping us on brand with two new videos, at least the hot once like Megatron and Megan Thee Stallion Hot Girl Summer.
You still want to revisit her 2018 rival album then you can check out hir Queen project. This Post continue to get more updates from Nicki Minaj 2019 songs but for the main time let's listen to her featured tracks from other side of artists.
Stream Nicki Minaj Songs 2019 Below
Stream Nicki Minaj Megatron
Nicki Minaj was totally keeping relatively low profile after her fourth album, Queen Album. The project is a belated follow-up to 2014 PinkPrint. Megatron is currently standalone a long single and both it's video has been released. The song is not such viral unlike most of her songs that pick numbers on Billboard. Megatron is the only song from Nicki Minaj but she will definitely drop more as we expect it around the year or 2020. Stream Megatron on Spotify. To watch the video again check our 2019 September videos from home page.
Don't Miss: All New Songs Feat. Lil Wayne In 2019

Stream Nicki Minaj Megan Thee Stallion Hot Girl Summer Song
Hot Girl Summer by Megan Thee Stallion featuring Nicki Minaj is another song you need to add as your Nicki Minaj Playlist. Megan Thee Stallion is a top this year with most of her recent release getting a lot of attention from different minds. Hot Girl Summer didn't slack after both divas dropped the song on stream platforms. This is a song the ladies and barbz are playing on daily basis for the cause of three tremendous rappers that joined force and called it Hot Girl Summer. The song is also inspired by one of our powerhouse talent artist. Yes, Ty Dolla Sign was able to chimed in and trends bars. So, the song is traditional collaboration, Nicki Minaj, Ty Dolla Sign are all guest appearance. Stream below.
Don't Miss: All New Songs Feat. Meek Mill In 2019
Stream Nicki Minaj Welcome To The Party Song
This song originally own by Pop Smoke but other artists found foundness on the track and start some remix version. Nicki Minaj also hopped on the song after French Montana released the same song title with same beat. Welcome The The Party also got a remix from the hitmaker Pop Smoke featuring Nicki Minaj and YG as DJ Boof preview it officially. Nicki own version also surfaced online and we have added it as party of Nicki Minaj 2019 songs. Stream it blow on Spotify, Apple Music and YouTube.
Don't Miss: All New Songs Feat. J.Cole In 2019
Stream Nicki Minaj Lil Durk Extravagant Song
She might keeping silent for new project but Nicki Minaj is still active some how this year. Her collaboration with Lil Durk is another song of Nicki Minaj since this year. Extravagant comes from Lil Durk Love Songs For The Street 2 album which was released this year. Both rappers resort to singing on the very sexual, auto-tuned filled track which you can listen below.
Don't Miss: Kendrick Lamar New Songs '2019' To Listen Right Now
Stream Nicki Minaj DaBaby SUGE Song Remix
Nicki Minaj has gotten so many remix this ? Just few and DaBaby SUGE song is also included in our top featured songs to Nicki Minaj. You can stream it via Audiomack below.

Stream Nicki Minaj Trina BAP'S Song
This song is not the first song both Nicki Minaj and Trina found themselves into. BAPS is under The One album from Trina and she featured Nicki Minaj on hit. This song available on Tidal we are only embed the Apple and Spotify frame below for stream.
Stream Nicki Minaj and Ariana Grande Bed To You
Nicki Minaj Karol G Tusa Song – Listen
Nicki Minaj has been on relative low profile since her Queen Album came to light. However, the young money diva Continue to embelish his fanbase with features directly from external artists and today she join force with Karol G new song Tusa. Listen below.

This Post Is Being updates……check back later
About Author
Links, a co-founder of Aswehiphop, has been dedicated to the platform since its inception in 2019, overseeing the curation of artist songs and features compilations.