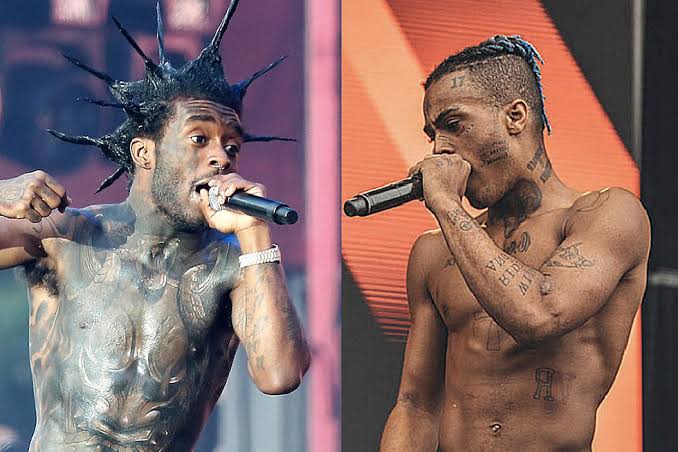 XXXTentacion and Lil Uzi Vert Shares "I'm Not Human" Song Listen
XXXTentacion and Lil Uzi Vert I'm Not Human is a brand new song from XXXTENTACION estate. It's a song paying tribute to the late rapper who was shot to death on the 18th of June 2018. XXXTentacion whose rename is Jahseh Dwayne Ricardo Onfroy was born in January 23, 1998.
Meanwhile, XXXTENTACION would have turned 25th today. Today marks another birthday for the last rapper. Just for his birthday, XXXTENTACION's estate has dropped a new song I'm Not Human featuring Lil Uzi Vert.
His estate is honouring him with this particular song assisted by Lil Uzi Vert, who has been a little bit active since this year. Also, this is the first song from Lil Uzi Vert since his Just Wanna Rock, which he released last year's November. XXXTentacion and Lil Uzi Vert "I'm Not Human" song is an emotional tribute track, and you need to see Uzi rap on the beat.
"I'm glad they ended up making this song. I could listen to it forever," wrote one, while another said, "You can literally see the effort Uzi put in it which reflects the respect he has for Jah."
XXXTentacion thinks Lil Uzi Vert is the rapper to fit in for his birthday. This is because Uzi has always paid respect to the late rapper who was murdered during a robbery. X got victimized and was shot to death. Meanwhile, last summer Lil Uzi Vert stopped his show and pay homage to XXXTentacion during the Lyrical Lemonade's Summer Smash Festival in Chicago.
"That was like my only competition," he said during the show. Fans and supporters of XXXTentacion remembered the rapper once again today. Although he never departed from their hearts, today is a special day. Below is the message posted on X Instagram story today.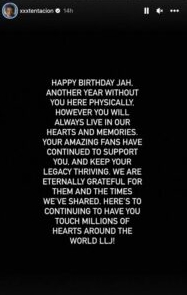 "Happy birthday Jah, another year without you here physically, however you will always live in our hearts and memories," read a post on his IG Story. "Your amazing fans have continued to support you, and keep your legacy thriving. We are eternally grateful for them and the times we've shared. Here's to continuing to have you touch millions of hearts around the world LLJ!"
Below is the song from Lil Uzi Vert in celebrating the birthday of XXXTentacion. You can listen to it below and let us know what you think about the song. In other news, Lil Uzi Vert was brought by Drake during Drake's Apollo Show. 21 Savage was also present.