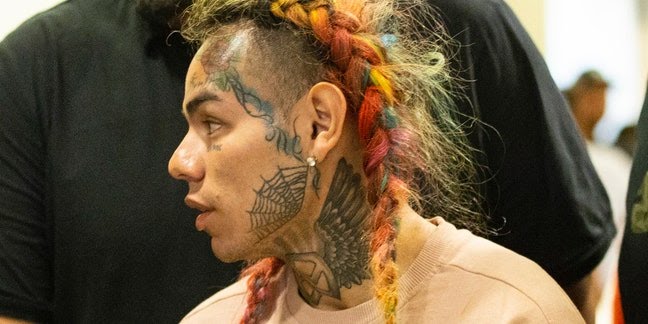 Tekashi 6ix9ine Call Out Future, Diss Meek Mill and YK Osiris Respond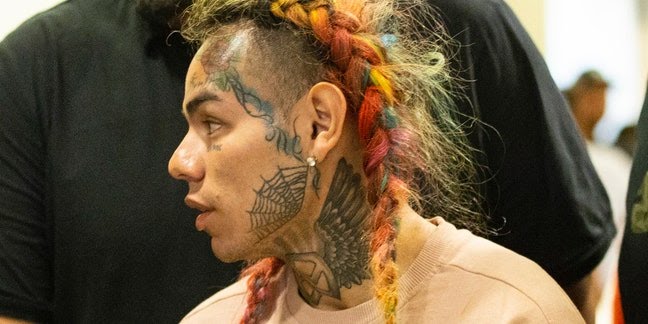 Still on 69 matters which escalated since past months, this year indeed, since he was granted home confinement. The rapper in question notoriously living relevant despite acknowledging side adversaries in dispute on his snitching to fed.



Tekashi 6ix9ine is he the latest fortune in the game right now ? Actually 6 9 has been creating notable awareness yet came out with first class release then drop two new song and videos GOOBA and TROLLZ featuring Nicki Minaj and both are reflecting it to all and sundry.


However, he isn't free. In his roster there's slew of hip-hop names trying wiping down his name over the cause of his 2019 cooperating with Federal Authorities which is a Capital street code sin to the culture.


Now he has been released from prison, a vulnerable and sick rapper who could easily come in contact with COVID-19 and that was why he was discharged.


Tekashi 6ix9ine has delivered two songs as said earlier but his second version of Nicki Minaj collaboration (TROLLZ) push the rapper on front row seat on Billboard Hot 100 currently celebrating first No. 1 with TROLL then went up in words, using related salty troll in making sure his beef counterparts are catching his winds.


Notably Meek Mill and Tekashi ducked it out even before he secured his questionable No. 1. 6ix9ine while celebrating then called out more rappers that couldn't maintain predecessor on Billboard Hot 100 probably as No. 1 rapper. He blast most big names which includes Meek Mill, Future then added Lil Dirk, G Herbo, Trippie Red and more.


"Hey guys! So you guys ever notice how when people diss me or they say my name or try to clown me, the moment I respond, like the moment I address them, I'm dragging 'em? I get it. Well today I'm number one in the world and I just wanna address a couple things, I wanna drag em some more. I got a list! Let's start at the top: Future you've been rapping for over a decade, if not over a decade, close to a decade, you have many Drake features my friend, and you never went number one. Mr. Meek Mills, since 2011, close to a decade, you never went number one either. He also mentions Lil Dirk, G Herbo and Trippie Red before bringing home his point- Every New York rapper that's a male, that's not old, you've never been number one…" he said.


6ix9ine has been poking fun since May's friendly boxing match between Osiris and Lil TJay, but today shots were fired, and the trolling was in full effect. Arguing with YK Osiris – who had time today and was actually tuned in and asking to be added to the Live – he and DJ Akademiks took jabs at his performance style and lyrics, laughing at "how R&B this ni**a tries to be."


"Listen Osiris, we all know you not on my level – 1. I don't wanna give you that amount of clout…Look the only reason I don't do it to you right now is coz you believe in God and I like you coz of that." He runs into his home studio in the next room to mock Osiris's movements on the microphone in the "Worth It" video, "like if he doesn't get the song right, she'll walk out of his life."


When Osiris again comments, "Let's speak facts," and Akademiks seems interested in the idea, 6ix9ine says, "I gave him clout, I gave him streams, people are gonna go listen to this right now and watch his face." Social media sensation KKVSH even notes that Tekashi was probably scared to add Osiris, sticking to his usual format to finish him off. After a good long laugh?—and minute?—Tekashi finally adds, "I'm done for today can we call it quits? Nobody has number one but me.." and attempts to end the Live with that final word, admitting "that was a fail" when he realizes he didn't press the button.


Also Osriris led his own vocal in response to Tekashi. He categorically spent his verbal at Tekashi music career, calling it trash of course TROLLZ is selling because music is not what it use to be.


"Can you get nominated for a Grammy? You gotta stop, my brotha. If you so number one, why you ain't nominated for a BET Award? If you gon' talk about being number one, talk about you being happy my ni**a like, like ni**a you still a clown bruh like that don't make you like 100%. I don't care bout no Instagram, y'all mind so delusional. I'm never trash, never that and I don't gotta explain myself coz all y'all do is ride waves," as bleachs Tekashi for been trash and continue being trash.

View this post on Instagram
View this post on Instagram
About Author
Links, a co-founder of Aswehiphop, has been dedicated to the platform since its inception in 2019, overseeing the curation of artist songs and features compilations.
News