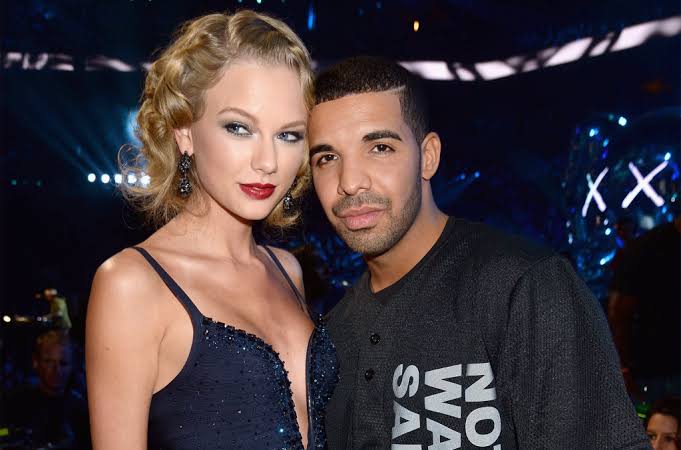 Drake 'Rich Flex' vs Taylor Swift 'Anti-Hero' go Wrong
What is really going on between these two classic songs? Before we dive into the bad side of Drake Rich Flex and Taylor Swift's Anti-Hero, just know that Drake and 21 Savage HER LOSS album is almost taking Billboard Hot 100 top 10 songs. But one thing from Taylor Swift remains stronger ahead of Rich Flex song.
Taylor Swift's career can't be overemphasized because she has always been a favourite singer to folks. The same applies to Drake. She released her tenth album this year, on Oct. to be precise and there has been a massive success for her via the album until Drake and 21 Savage HER LOSS decided to play smarter.
Her new album in 2022 is called MIDNIGHTS of course we all know that unless you are new to Taylor Swift which will be somehow rare. Congratulations to Taylor Swift for securing another No. 1 album on Billboard Hot 200. The album came online before Drake and 21 Savage joint album.
However, the Rich Rlex rappers are currently soaring in Billboard Hot 100 numbers with their 9 tracks from their new album on the spot. Below is what Drake shares online as regards to his big achievement with 21 Savage. He posted a photo showing of their songs from HER LOSS on Billboard top 10. But they got a little problem which is Taylor Swift's 'Anti-Hero' song maintaining the No.1 spot on Billboard Hot 100. See below.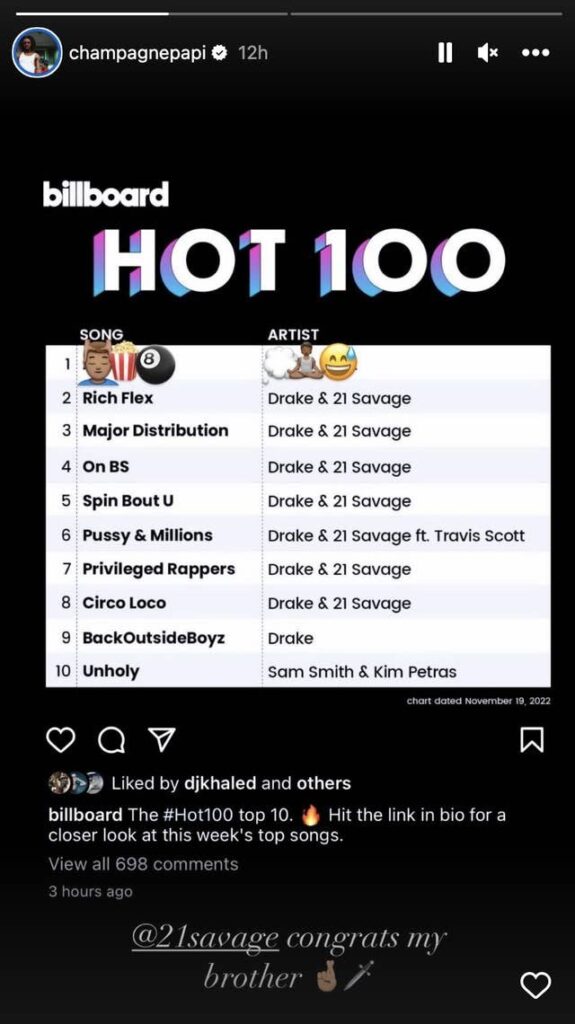 As you can see in the above photo, you might be wondering why the No. 1 song is not showing. But that is because Drake who posted the screenshot used some emojis to cover Taylor Swift's Anti-Hero on No. 1. This is kind of HER LOSS vs ANTI-HERO on Billboard hot 100. Meanwhile, Drake is being questioned for covering Taylor Swift song.
Many fans don't like what Drake did and it seemly they are on their first beef because Drake and Taylor Swift have been in a very good relationship. HER LOSS album has also topped the charts giving Drake and 21 Savage solid recognition in chart history. Drake has been called out by fans for trying to humiliate Taylor Swift using the chart record. He has been labelled as petty and also jealous of Taylor Swift's ANTI-HERO song.
Drake's action also reminds fans of how Kanye West treated Taylor Swift in the past yet again Drake is on his way. Drake album new joint album debuted at No. 1 on the Hot 200. The only thing that's remaining is for a song from the album to hit No. 1 on Billboard Hot 100. It might happen but as for now, ANTI-HERO is still making them follow its lead.
Anti-Hero has broken all kinds of records since the release of Midnights album. Taylor Swift suppose to be on Era tour with all her new and old classic songs but it has been cancelled.
Due to extraordinarily high demands on ticketing systems and insufficient remaining ticket inventory to meet that demand, tomorrow's public on-sale for Taylor Swift | The Eras Tour has been cancelled.

— Ticketmaster (@Ticketmaster) November 17, 2022
The Eras tour kicks off March 17 in Glendale, Ariz., as of now, and runs through early August, when there is a block of shows in L.A. Some of the supporting acts are Haim, Paramore and Phoebe Bridgers. International dates are pending.
About Author
Links, a co-founder of Aswehiphop, has been dedicated to the platform since its inception in 2019, overseeing the curation of artist songs and features compilations.