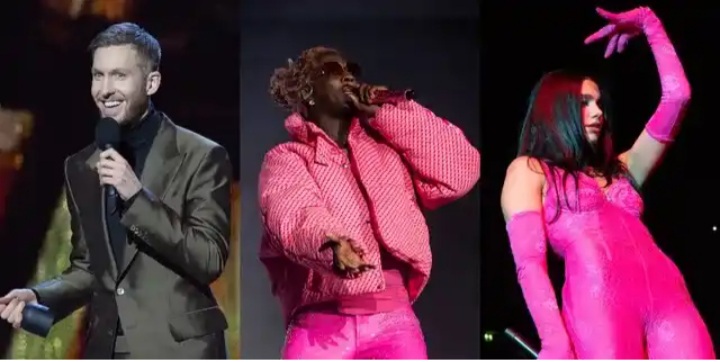 Calvin Harris "Potion" Feat. Dua Lipa & Young; Listen
Calvin Harris has finally arrived with the new song he announced featuring Dua Lipa and Young Thug. When the song was promised by Harris, none his fans were able to know when the Calvin Harris Postion is dropping, but here it is.
To even start with, Potion is the first time single from Calvin Harris upcoming album which is called Funk Wav Bounces Vol. 2. The first version Funk Wav Bounce was released in 2017 and that was amazing. Meanwhile, the follow-up album is dropping this summer.
More songs are coming but Calvin Harris Potion song featuring Young Thug and Dua Lipa has made us know that Calvin is seriously working on Funk Wav Bounce Vol. 2 despite saying that there will be no follow-up.
Check out the song below and let us know what you think about the lead single. Another thing you know is that Calvin Harris featured Dua Lipa last four years on One Kiss and also featured Thugger on Heatstroke in 2017. Now has linked Thug and Lipa on a single track, Potion.
Friday Funk Wav Bounce, the journey continue, Calin Harris shared on his Twitter official account.
Friday
Funk Wav Bounces
The Journey Continues pic.twitter.com/4KG8eRFz0n

— Calvin Harris (@CalvinHarris) May 25, 2022
Harris spoke of his upcoming LP in a new interview with Apple Music 1's Zane Lowe. "I wanted the original essence and I want the layers and the grit and the dirt and I don't want everything to be mixed perfectly," he told Lowe. "I want things to be too loud and I want things to be like, you know, I want things to be like Sly and the Family Stone when it's just mixed on the fly."
Upon Thug's ongoing drag RICO case, the still can assist fellow artists on one or two collaborations. Young Thug has been charged on allegedly YSL criminal activities. The Fulton D.A had noted some of his song will be used against in upcoming trial.