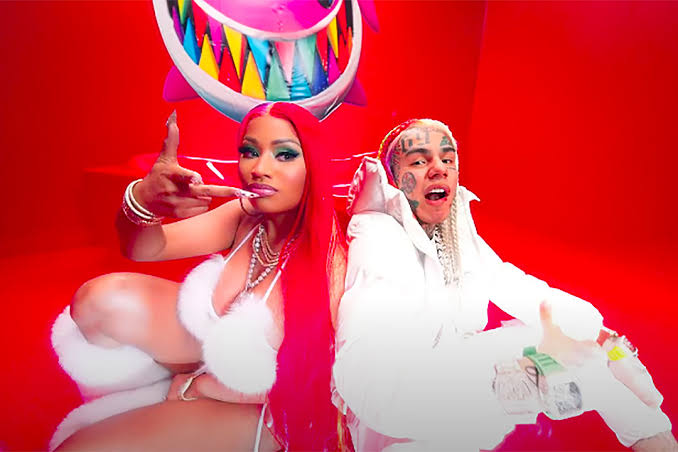 Tekashi Attacks Nicki Minaj Over Fivio Foreign
Sure, Tekashi 6ix9ine and Nicki Minaj have their respective new music videos on Amahiphop U.S PMVC April music videos compilation.
Tekashi dropped his GINE while Nicki Minaj has her Fivio Foreign assisted music video We Go Up released same this month. However, the rainbow hair rapper is not dragging views with Nicki Minaj but he's not happy for giving hype to Fivio Foreign.
He has bas been beefing with Fivio for claiming to be the King Of New York. Things never settled since then and now. Now Tekashi attacks Nicki Minja for her support to Fivio.
While Nicki is just busy asking her fans to run up We Go Up video on YouTube to get more better views. She also threatened her fans by saying;  "If y'all don't do what needs to be done with the #WeGoUpVideo, I will significantly and I do mean significantly …delay the…the… the…Oh what's the word…oh the album. That's right. sigh the album *devil wear Prada Meryl Streep voice," and this where 6 9 attacked her freely.
"I love Nicki…but threatening the Barbz and fans is crazy. You can't make someone king that don't got it. Anyway, if it's that important to you, got it. The threat was crazy," he responded to Nicki Minaj. The appeal of this reply is to avoid Nicki Minaj to slow down her hype with Fivio Foreign.
If y'all don't do what needs to be done with the #WeGoUpVideo I will significantly and I DO mean significantly…delay the…the…the…oh what's the word… oh! the album. That's right. *sighs* the album *devil wears Prada Meryl Streep voice*. 

— Nicki Minaj (@NICKIMINAJ) April 19, 2022