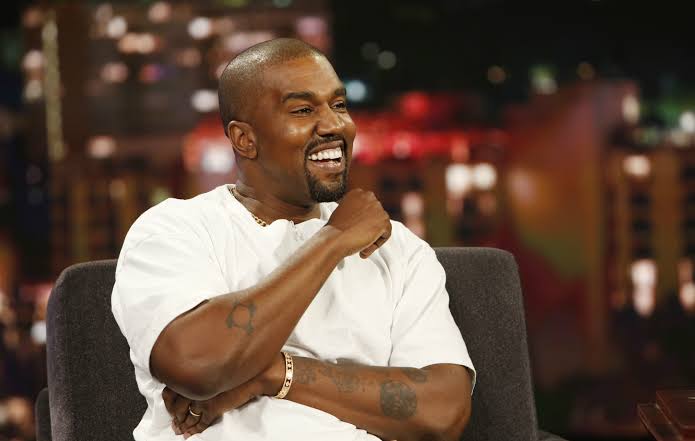 Kanye West Highest Paid Musician on Forbes 2020 List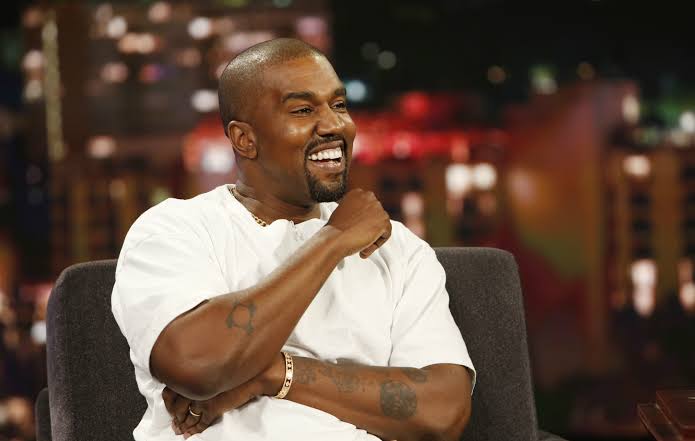 Forbes shocking us with surprise list. To most folks it's so early though irrespective of pandemic outbreak artists still working smart across endeavors. Last year Amahiphop was convinced with top earning Musicians, frontline both Taylor Swift – $185 million and Kanye West – $150M.



Here's 2020 and another list out but this time Kanye West was spotted as top notch while stay below relevant. Ye amassed $170M making the most paid Musican of 2020. Elton John follows up with $81M.


As for highest paid celebrities, Kylie Jenner and Kanye West leads. Kylie Jenner is 2020 highest paid celebrity with $590M then Kanye West $170M. While most of Kanye's earnings came from his Yeezy line of sneakers and clothing, Jenner's came from selling a 51% stake ​in her cosmetics firm Kylie to Coty in January.


Top 5 highest paid artists according to Forbes includes Kanye West, Elton John, Ariana Grande, Jonas Brothers and Chainsmokers. Below we list out highest paid artists and celebrities as well.



Highest Paid Musicians 2020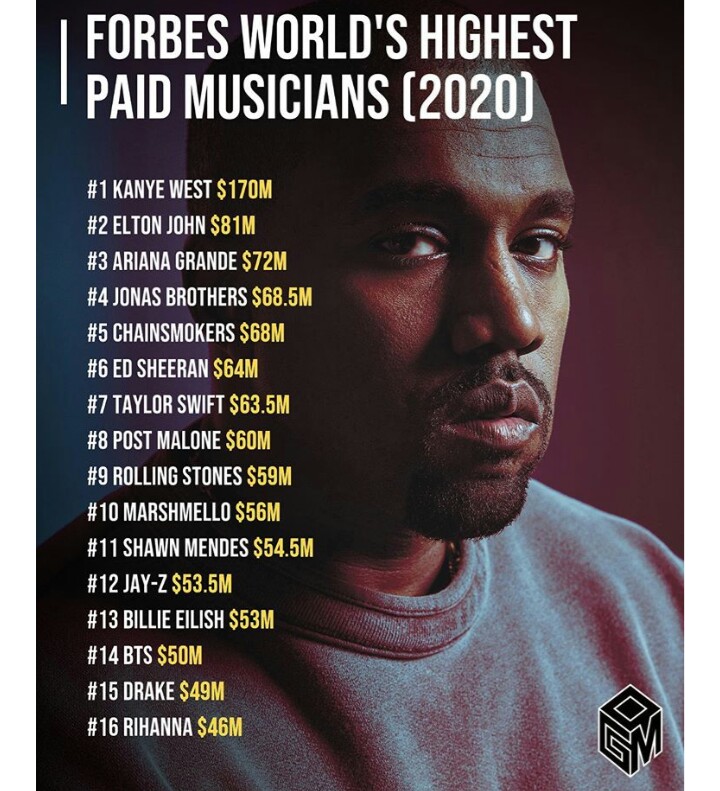 #1 Kanye West – $170M
#2 Elton John – $81M
#3 Ariana Grande – $72M
#4 Jonas Brothers
#5 Chainsmokers
#6 Ed Sheeran
#7 Taylor Swift
#8 Post Malone
#9 Rolling Stones
#10 Marshmello
#11 Shawn Mendes
#12 Jay-Z
#13 Billie Eilish
#14 BTS
#15 Drake
#16 J.Lo
#17 Pink
#18 Rihanna
#19 Luke Bryan
#20 Backstreet Boys



Highest Paid Celebrities 2020
#1 Kylie Jenner – $590 million
#2 Kanye West – $170 million
#3 Roger Federer – $106.3 million
#4 Cristiano Ronaldo – $105 million
#5 Lionel Messi – $104 million
#6 Tyler Perry – $97 million
#7 Neymar – $95.5 million
#8 Howard Stern – $90 million
#9 LeBron James – $88.2 million
#10 Dwayne Johnson – $87.5 million
#11 Rush Limbaugh – $85 million
#12 Ellen DeGeneres – $84 million
#13 Bill Simmons – $82.5 million
#14 Elton John – $81 million
#15 James Patterson – $80 million-
#16 Stephen Curry – $74.4 million
#17 Ariana Grande – $72 million
#18 Ryan Reynolds – $71.5 million
#19 Gordon Ramsay – $70 million
#20 Jonas Brothers – $68.5 million


#21 The Chainsmokers – $68 million
#22 Dr. Phil McGraw – $65.5 million
#23 Ed Sheeran – $64 million
#24 Kevin Durant – $63.9 million
#25 Taylor Swift – $63.5 million
#26 Tiger Woods – $62.3 million
#27 Kirk Cousins – $60.5 million
#28 Post Malone – $60 million
#28 J.K. Rowling – $60 million
#28 Ryan Seacrest – $60 million


#31 Carson Wentz – $59.1 million
#32 Rolling Stones – $59 million
#33 Mark Wahlberg – $58 million
#34 Tyson Fury – $57 million
#35 Marshmello – $56 million
#35 Russell Westbrook – $56 million
#37 Ben Affleck – $55 million
#37 Sean Combs – $55 million
#39 Shawn Mendes – $54.5 million
#40 Vin Diesel – $54 million


#40 Lewis Hamilton – $54


#42 Jay-Z – $53.5 million
#43 Billie Eilish – $53 million
#44 Rory McIlroy – $52 million
#45 Simon Cowell – $51 million
#45 Jerry Seinfeld – $51 million
#47 BTS – $50 million
#48 Kim Kardashian West – $49.5 million
#49 Drake – $49 million
#49 Jared Goff – $49 million


#49 Judy Sheindlin – $49 million
#52 Akshay Kumar – $48.5 million
#53 Conor McGregor – $48 million
#54 James Harden – $47.8 million
#55 Giannis Antetokounmpo – $47.6 million
#56 Jennifer Lopez – $47.5 million
#57 Anthony Joshua – $47 million
#57 Pink – $47 million
#59 Deontay Wilder – $46.5 million
#60 David Copperfield – $46 million


#60 Rihanna – $46 million
#62 Luke Bryan – $45.5 million
#62 Lin-Manuel Miranda – $45.5 million
#64 Backstreet Boys – $45 million
#64 Tom Brady – $45 million
#64 Phil Collins – $45 million
#67 Drew Brees – $44.8 million
#68 Novak Djokovic – $44.6 million
#69 Will Smith – $44.5 million
#70 Blake Shelton – $43.5 million


#71 Sean Hannity – $43 million
#71 Sofía Vergara – $43 million
#73 Celine Dion – $42 million
#74 Kyrie Irving – $41.9 million
#75 The Eagles – $41 million
#75 Adam Sandler – $41 million
#77 Phil Mickelson – $40.8 million
#78 Julio Jones – $40.5 million
#78 Metallica – $40.5 million
#80 Jackie Chan – $40 million


#80 Rafael Nadal – $40 million
#82 Heidi Klum – $39.5 million
#82 Travis Scott – $39.5 million
#84 Kevin Hart – $39 million
#85 Klay Thompson – $38.8 million
#86 Katy Perry – $38.5 million
#87 Lady Gaga – $38 million
#87 Bon Jovi – $38 million
#87 U2 – $38 million
#90 Naomi Osaka – $37.4 million


#91 Canelo Alvarez – $37 million
#91 Damian Lillard – $37 million
#91 Paul McCartney – $37 million
#91 Oprah Winfrey – $37 million
#95 DJ Khaled – $36.5 million
#95 Kiss – $36.5 million
#97 Sebastian Vettel – $36.3 million
#98 Serena Williams – $36 million
#99 Angelina Jolie – $35.5 million
#100 Mohamed Salah – $35.1 million
News