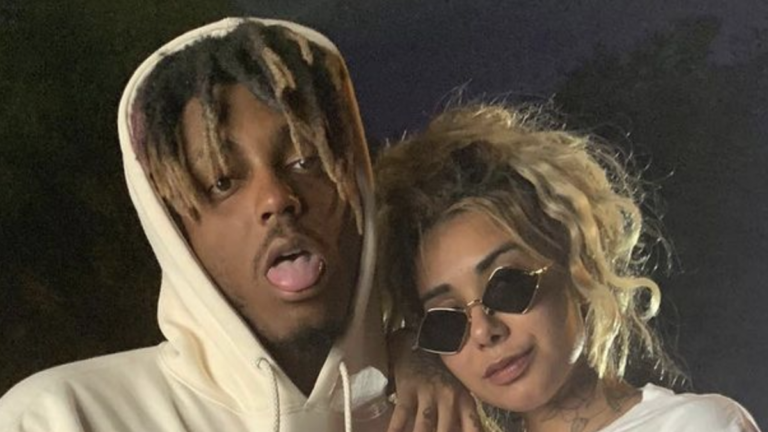 Juice Wrld Ex-Girlfriend Ally Lotti Arrested Over Drugs, Theft
That was yesterday 14th of January the late rapper's ex-girlfriend was arrested for engagement in theft and also being in possession of drugs. She was taken to Crittenden County Sheriff's Office in West Memphis, Ark the same day.
According to a report reaching us, All Lotti whose real name is Alicia L. Leon was on a mission to deliver drugs to unknown people yet. The cops are investigating the exact location which was trying to make her delivery and those involved as well.
She has been charged of possession of methamphetamine or cocaine with the purpose to deliver, possession of drug paraphernalia and theft of property as XXLMAG reported.
Juice Wrld ex-girlfriend Ally Lotti is 29yrs old and has been engaging in drug dealing. This time she couldn't make it after she was caught. Currently, Ally is Jailed at The Crittenden County Detention center on a $2,525 bond. Normally, she is also known as a model and social media influencer.
Akademiks also updated the news about Juice WRLD ex-girlfriend Ally Lotti after getting arrested. Ex Ally Lotti and her boyfriend have been arrested, said Akademiks.
Ally Lotti is WRLD's girlfriend and the girl he dated before he passed away. The death of the rapper shocked the Internet. It was also rumoured he died of drugs while in the plan. Ally Lotti was said to be a witness when the rapper passed away.
On November 29th, Ally Lotti shared a review about his boyfriend's death. Y'all mad 'cause literally I'm like, 'Oh, blah blah blahb you guys think he died from an overdose.' You're wrong! you're wrong! Literally, you're wrong so suck a dick. Okay? Suck a dick," she said.
Juice Wrld Girlfriend claims the truth about his death still hasn't been revealed and also said he didn't die from a drug overdose pic.twitter.com/3t03PoiCOV

— DJ Akademiks (@Akademiks) November 29, 2022
"There's a lot of shit y'all don't know that I fucking grieved through myself while I let y'all grieve and talk mad shit on me. I don't care." You can see more photos and information below.
Ally Lotti and Juice WRLD are were just good friends. Just like we said earlier, she was with the rapper in a private jet when he died. According to Allhiphop, Juice WRLD died as a result of seizure just as they were landing at Chicago's Midway International Airport. he was rushed to nearly hospital, but the rapper couldn't make it.
As for Juice WRLD's mother, Carmella Wallace, she's remained devoted to running Live Free 999. Wallace founded the non-profit in Juice WRLD's memory shortly after his death. Find more information here.