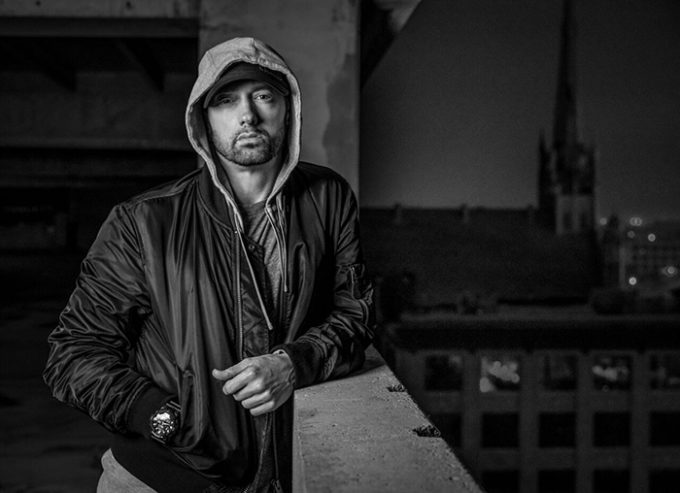 All New Songs Feat. Eminem 2019 – Stream
Eminem haven't released any project this year though there's hope after his brutal and fatal Kamikaze took extensive measures, raining shots on MGK and his contemporary rival. Revival marks as predecessor to his last year project and it wasn't such coincident seeing Em render Kami. project despite Revival.
While MGK maintained his career with Hotel Diablo, a followed up album to his Binge, he successfully got accolade on billboard top chart. Em and MGK ducked it out last year but never go on radio-silent at least Shady has embraced good feat. songs from some of the rap stars. Temporally, the unforeseen project from Eminem is totally obsolete for this year. Since he's yet to mentioned any future album, i guess not all fans are expecting his speedy raps.
Meanwhile, if you're gearing to assemble those 2019 songs from Eminem whose real name Marshall Bruce Mathers III, then you ought to consider coming across those few top feats. incorporating with his super-rap rhythms and bars. We're quite impressed to huddle up some of his guest appearance so far. Below is our Top feat. songs to Eminem.

Eminem Bang

Already it came in as one of the best song the rapper has engaged ? in so far. Bang wasn't that anticipating till he took to his twitter account and unwrapped Bang, a song tapping him directly from Conway The Machine for his God Don't Make Mistakes. The Conway collab rooted towards feud/beef between Eminem, Canibus and Ja Rule. Em had his run-in with both parties in the past yet Slim Shady hopped in on Conway Bang and put out his bars once again. This song is the latest song Eminem been featured and you can stream it below.

Eminem Remember The Name

Ed Sheeran No.6 Collaborations project was released this month. The project crew up our favorite hip-hop minds of course Eminem wasn't missing. No.6 Collaborations came on streaming following No.5 Collaborations project debuted on 9 January 2011. Before he made No.6 Collaboration project hit out, Ed Sheeran shared he is enlisting both Cardi b, Justin Bieber, 50 Cent and more of commercial hip-hop names on No.6 Collaborations. Em serves as those notable hip-hop presence to valid Ed Sheeran 2019 No. 6.
50 Cent and Eminem historical dominance is a long tail cooperation. Foofy and Stan trended bars on 2012 on My Life song and to shelved their relationship Ed Sheeran didn't forget to bring Cent and Em on his new album, using his Remamber The Name to trademark Fif and Slim collaborating again. Theguardian gave Amahiphop a per-little review on Ed Sheeran No.6 Collaborations, we think his Remember The Name song still remains the top song with Eminem as well a belated follow-up to his Bang song with Conway. Stream below.


Eminem Homicide

Two self-rightous rapper did pretty collaborative song. The
Maryland rapper Logic found fondness on Eminem, using Homicide to pen a
track for his tracklist on already mentioned album tittle Confessions
of a Dangerous Mind. Logic later shot the video right off the bat
though took some days.
Logic Homicide carved out a great spot
since both great minds collaborated for the first time. We have examine
the song then bring it up for Eminem top featured song on this 2019.
Logic latest album also feat. Will Smith, Gucci Mane, G-Eazy, WizKhalifa, and Logic's dad and it stemed after his 2018 studio record
YSIV. Em gave his fans
feedback following his last year album and keep
maintaining good vibes.Stream below.
Eminem Rainy Days

Earlier this year Boogie featured Eminem on
"Rainy Days." The song was released on this past January for Boogie's
Everything's For Sale album. Both 6LACK, J.I.D., Snoh Aalegra, and jazz
trumpeter Christian Scott aTunde Adjuah were guest appearance. The
single also appears to be a circulated song from Shady Records but the
album undergo delays before its official release.

A total of 13 tracks got the album compiled but having Eminem on Rainy
Days which you can stream on Spotify, Tidal also Apple Music. Check out
below.

What If I Was A Gay
This song has been added
Amahiphop November 2019 songs
. While Eminem doing some inner workings with his circles, What If I Was Gay has also served as one of the top song of Eminem we are listening yet waiting for his new album debut.
Everything
Everything added as well but this song has been penned over some year back which was one of the song on his 2007 album. Everything surfaced online lately but it worth streaming.
Griselda Feat. Eminem "Bang"
Eminem and 50 Cent with Reakwon joined force and helped out Griselda What Would Chine Do WWCD. The project has been marked as part of Eminem's song featiring 2019. From the album you can navigate to the last track being the track 13. It feature Eminem as Bang while 50 Cent featured on the tenth track as City On The Map. Stream below.
About Author
Links, a co-founder of Aswehiphop, has been dedicated to the platform since its inception in 2019, overseeing the curation of artist songs and features compilations.
Music
News