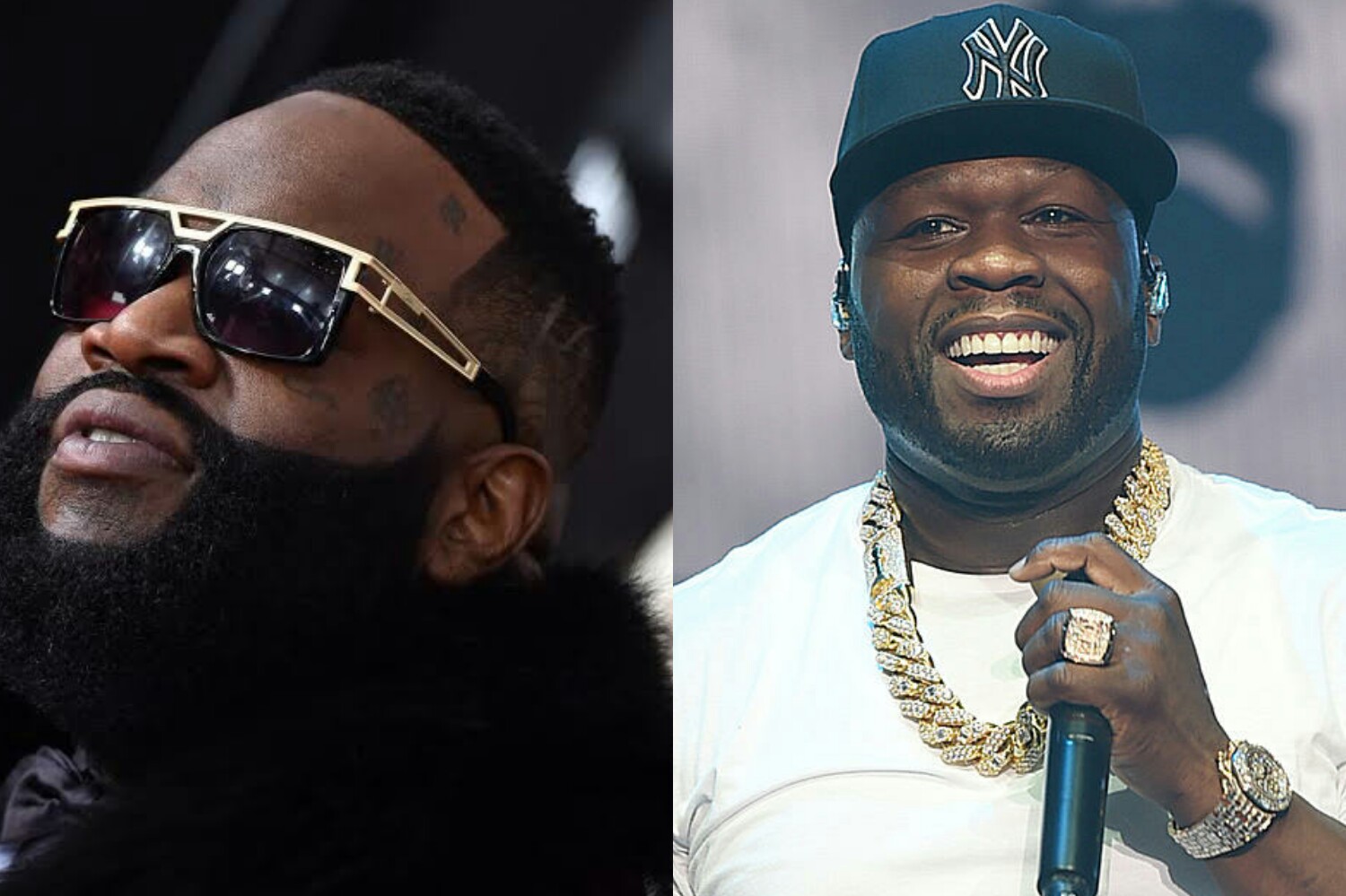 Rick Ross Said Dre and Eminem Put 50 Cent Together; Called him Monkey
50 Cent and Rick Ross beef, sometimes it try to make peace but that's not happening sooner, maybe later.
We also believed by now you all already knew how their famous beef started despite the age. MMG boss and Fiddy still got no time to fix what wrong in the gut.
At least vicious Cent has gave Rozay tough moments since this year, looks like Rick is firing back. It's even more awaking to 50 Cent after Rick Ross's recent talk shift focus on 50 and his 2005 album Get Rich or Die Tryin.
Rick Ross was with NFL players Brandon Marshall, Chad Johnson, Fred Taylor and Channing were he was asked about competing with one of his history notorious hip-hop enemy on battle Verzuz.
Maybe to Jackson, this is so crazy after coming across what Rick Ross gave as response toNFL Players. 50 can't really compete against me in a matchup like that.
"Would it be really entertaining music wise? I'm a real dude, 50 Cent had some huge records when he had the biggest producers and artists around him putting them together. That's why right now, he can't make nothing to save his life. Rozay probably couldn't save him," said the rapper.
Rick Ross was fully feed with points why 50 Cent's career stying relevant till date. Rick Ross said 50 Cent's Get Rich or Die Tryin album got the best integral to success from best producer and an artist which he mentioned as Dre and Eminem.
The MMG boss added that even when it came to dropping diss records, it made sense earlier when they were at their peak but not anymore as 50's music is "no longer valuable in the music area." He then refers to him as a "monkey." Watch the clip below.
However, this could be a beef challenge to POWER co-creator to battle Verzuz Rick Ross. It's also chance of putting peace in place just like Gucci Mane and Jeezy battle Verzuz.
This not the 50 Cent getting pushed for battle Verzuz. T.I once asked for 50 Cent battle though got ignored. But 50 Cent has already talked about The Game Verzuz.
About Author
Links, a co-founder of Aswehiphop, has been dedicated to the platform since its inception in 2019, overseeing the curation of artist songs and features compilations.
Albums
News