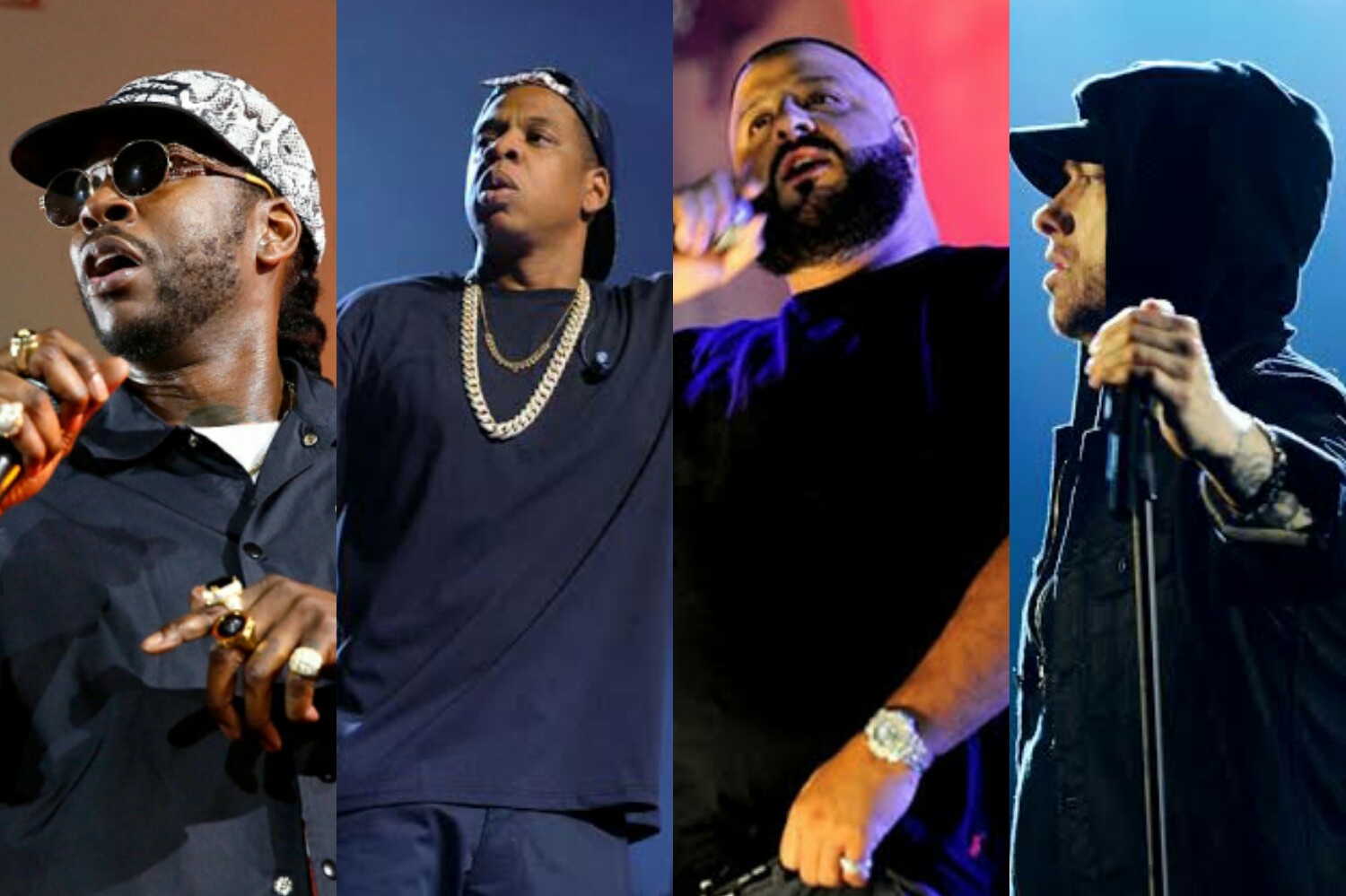 DJ Khaled & 2 Chainz explains How Jay-Z and Eminem Rejects collaboration
There're more inexistence collaborations hip-hop might've not brought to limelight. Many sounds are still missing from the culture, only those moguls can find it. Sounds like Drake featuring Kendrick Lamar or Eminem, 2 Chainz featuring Jay-Z, DJ Khaled using his We The Best Logan on a song featuring Eminem, although never happened.
So many collaborations we haven't heard, and while we were able to earshot joint singles from artists with one the most controversial feud after mending whatever previous animosity they had in the past, yet again there're rappers and other high recognized hip-hop names literally can't do the studio session together.
However, 2 Chainz has been outspoken about exploring huge interest in getting Jay-Z to body a track with him. The Atlanta base rapper has no anthem with Hov although tracing what led Jay-Z rejection to Chainz, it started after 2 Chainz refused to sign with Jay-Z's Roc ?
Chainz, during his recent Interview, he explained how he asked Jay-Z for collaboration like three times but all was declined. His So Help Me God supposed feature Jay though totally flopped and turned down.
"Me and Hov cool so I sent him the video when I did it," he explained. "Just to show him the angle that I wasn't trying to be him, but that was the…since it was a Hov sample and the things that I was talking about in the song, it was some Hov stuff, so I named it 'Southside Hov.' But um, he was like, 'I'm humbled by it.' It was a cool back-and-forth we had, but I sent him the video as soon as I did it."
"As far as trying to get him on something, yes, I've given up on that," said 2 Chainz while The Breakfast Club hosts laughed. "I don't like rejection and I got this little mental thing—the people don't even know this. People that I deal with don't even know this, where I might ask somebody something three times over my whole life and secretly, after the third time, I won't ever, ever, ever probably like [say anything]," 2 Chainz added.
2 Chainz did like to work with Jay-Z just like DJ Khaled who hasn't archived success from Eminem. Khaled is really struggling to get Eminem on record and there're Interviews were he has explained that. Remember this is We The Best, Another One DJ in the universe who have worked with countless hip-hop tycoons although Eminem currently exceptional.
Do many times DJ Khaled has tried getting Eminem sampled on the record. It's hard but still hope it could happen probably the next album will feature the Godzilla rapper.
interview With Rap-Up
DJ Khaled Interview With Hot 97 2011
DJ Khaled Interview With BET 2017
DJ Khaled Interview With Larry King 2014
DJ Khaled Interview With Billboard 2017
DJ Khaled Talked About Eminem On Instagram 2016
DJ Khaled Interview With Snoop Dogg 2016
2 Chainz and DJ Khaled aren't the only people who have talked about working one of the best hip-hop rap-star. Hopefully DJ Khaled still got unreleased albums definitely featuring Eminem. As for 2 Chainz, he has stepped back asking for collaboration with Jay-Z.
Albums
Compilation
Editorial
News