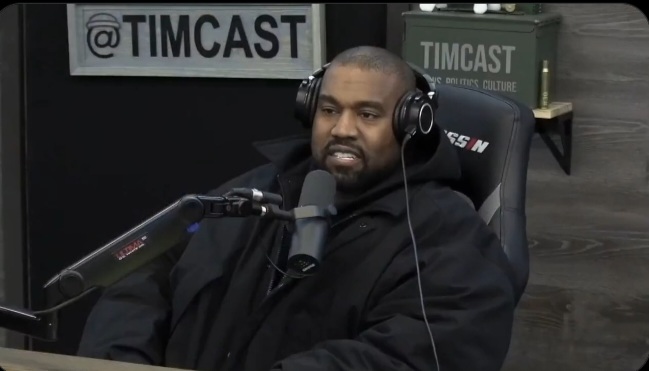 Watch Kanye West Leaves Interview over Anti-Semitism
Another thing you should know right now is that Kanye West doesn't want to discuss more about his recent anti-semitic comment. It has obviously become widespread against Kanye West from different ramifications of social media. A recent Kanye West Interview wasn't funny.
Push a T just revealed how Kanye West antisemitism affected him. But the latest version right now is that Kanye left an interview after being asked of Anti-semitic remarks.
Ye walked out of a discussion on Monday night's episode of podcaster Tim Pool's show. The way he left proves that he never show up again in Tim Pool's show.
Ye made claims concerning Jewish conspiracies early in the interview, alleging that "Jared Kushner was next to [Donald] Trump, Rahm Emmanuel was close to [Barack] Obama" and that "Jews controlled recent U.S. presidents."
White nationalist and Holocaust denier Nick Fuentes and far-right provocateur Milo Yiannapolous both took part in the interview along with Ye. "I think they've been extremely unfair to you," Pool told Ye as he was discussing recent media coverage about him. "Who is 'they' though?" Ye asked. "We can't say who 'they' is can we?"
"Corporate press," Pool responded. "I'm not using–I don't use the word the way I guess you guys use it." "It is 'them' though isn't it, because when you think about it, consider it, in 2018…" Fuentes said before being cut off by Ye, who asked, "What do you mean it's not?"
20 minutes into the show, Kanye decided to walk out of the interview. "You leaving?" Pool asked, adding, "He's gone." You can watch that below.
this is how it ended after nick fuentes and ye couldn't hold back their antisemitism for a second and forced tim to push back lightly causing kanye to leave abruptly. pic.twitter.com/0WcTfdFyXi

— hasanabi (@hasanthehun) November 29, 2022
The Kanye West interview didn't end interestingly but ended up leaving the coverage.
About Author
Links, a co-founder of Aswehiphop, has been dedicated to the platform since its inception in 2019, overseeing the curation of artist songs and features compilations.