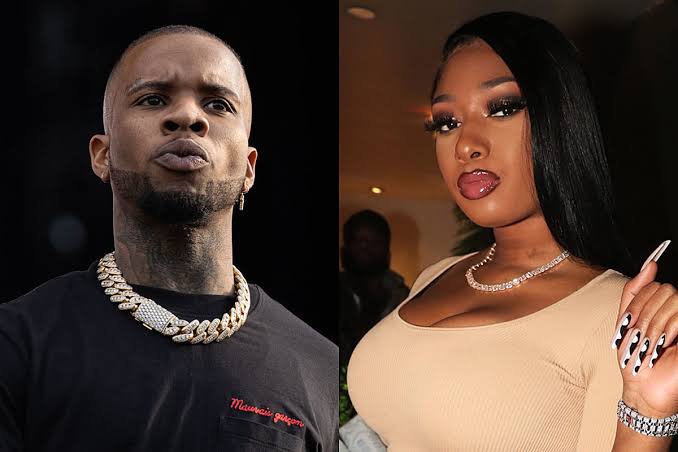 Tory Lanez Shouted 'Dance, Bitch' at Megan Thee Stallion Before Shooting Her
The saga not ending anytime soon maybe until Megan Thee Stallion legally get justice against Tory Lanze. So many things have been in the gut as regards these formal friends that turned out to be notable foes since last year June 2020. It's getting hard, Tory Lanze is the one feeling to hit following shooting at Megan that got her injured in her foot.
The whole storyline began last year when the good time friends hang out together. But it flipped bad since Megan Thee Stallion who was reported with the shooters singer in the Hollywood Hills party was left with wounds. She was shot in her foot after a wide arguing was initiated by Tory Lanze and the WAP co-creator while in an SUV located at Hollywood Hills.
However, the story continues to unwrap because there is another update bout the shooting incident. It had never been heard that Tory Lanze shouted Dance B*tch before shooting at her feet. Meanwhile, the recent report was gotten from testimony at Lanez's preliminary hearing Tuesday in his felony assault case in Los Angeles.
As it stands now, prosecutors remain with more prove and continue to allege Tory Lanze for shooting Savage singer in the Hollywood Hills around 4:30 a.m. on July 12, 2020. Ryan Stogner one of the Los Angeles Police Department LAPD officers has testified that Troy Lanze shot Megan The Stallion. He is proving it from one on one interview with Megan Thee Stallion. He also noted that Megan There Stallion described Lanze as "half In, half out" on the step board of the vehicle.
In the testimony on Tuesday in the courtroom, Rayan Stronger left more claims against Lanze. He spoke directly from an interview he had with Megan following the shooting. But Lanze attorney Shawn Holley asked Stronger if he knew it was Megan who invited Peterson to the party at Kylie Jenner's house that preceded the alleged shooting.
Some of the questions Shawn Holley asked Ray Stronger includes, "Did you ask Megan how much drink she had that day." "Do you know that alcohol can impair a person's perception and their ability to recall?"
This shooting storey about Megan and Lanze has been on the headline. It was also confirmed that Megan Thee Stallion never mentioned Lanze as of her assailants for some weeks. She later named him on her Instagram post like the one who shot her.
Tory Lanze is fully expected to stand trial in the shooting of Megan Thee Stallion as a judge ruled on Tuesday according to news channels.