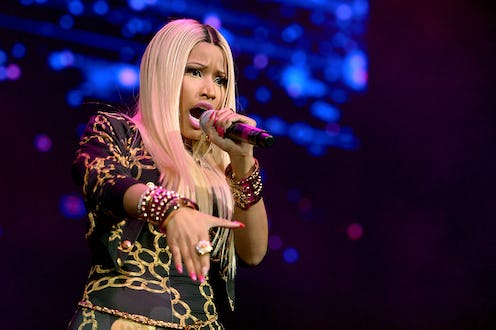 Nicki Minaj Reveals 2023 Album and Plans
Updated: As of June 5th of 2023, Nicki Minaj took to her Twitter account and then announced the release of her upcoming album which she's yet to reveal the title. According to a Twitter post shared by the female rapper who is currently the most female rapper in 2023, she tweeted "10/20/23 The Album" with a CD emoji.
Repeat is assured that Nicki Minaj is simply working on her new album of course she has once revealed her album plans and more which you can also check out below. But before that, you would want to see the reactions of her fans on Twitter following the release of her upcoming project which will be due on October 20th 2023.
10/20/23
The Album 💿🎀

— Nicki Minaj (@NICKIMINAJ) June 5, 2023
WE will be listening pic.twitter.com/GFO7VrA2bb

— kira 👾 (@kirawontmiss) June 5, 2023
It's gon get wicked pic.twitter.com/YgjVeZlx6s

— Sexyy Red (@SexyyRed314_) June 5, 2023
JT you're so real pic.twitter.com/2MEs1wAI9P

— Stats of Minaj (@statsofminaj) June 6, 2023
BITHHH WE OUT THE MFCING TRENCHESSSSS

— Stats of Minaj (@statsofminaj) June 5, 2023
OMGGG NICKI ANNOUNCED HER ALBUM RELEASE DATE😳 #NM5 IS COMING

— Barbie Charts (@barbiecharts) June 5, 2023
I CANT TAKE THIS OMG pic.twitter.com/0Kutej7jJL

— Sam. (@boysamiie) June 5, 2023
nicki after pressing "tweet" pic.twitter.com/oxDSVHu8E3

— Barbie Charts (@barbiecharts) June 5, 2023
i am SO EXCITED. i have never experienced an album release as a BARB. this is huge. pic.twitter.com/SYkxfe8ylS

— nicky (@nixcklm) June 5, 2023
Nicki Minaj 2023 Album Plans and More
In 2023, every fan of Nicki Minaj is eagerly anticipating the release of her new project and her continued ascent to GOAT status. Fortunately, Nicki has plans for this year.
Nicki Minaj's plan has always been to drop a new album, go on tour, take care of her family, and then retire. She has been considering retirement since 2019, which was one of her major plans.
Last year, Nicki Minaj had an interview where she spoke about family responsibilities, especially motherhood, which she is currently focused on.
She has a big plan to put out a full-length project, just like she did in 2018 with her Queen Album. Nicki Minaj was convinced to work on a full-length project after "Super Freaky Girl" made it to No. 1 on the Billboard Hot 100.
That was last year, though. The song, according to Nicki Minaj, inspired her to work on a full-length project that will definitely make a hit in 2023.
During a conversation she had with Jada Pinkett Smith for Interview Magazine, fans enjoyed hearing about Nicki Minaj's plans that she's about to explore.
However, Nicki Minaj has not announced any album title since the release of her 2018 project. But some of her released singles have been keeping fans eager for future projects.
There was no album last year, but Nicki Minaj was able to join Aswehiphop's top compilations, which also featured Lil Wayne, Drake, Lil Baby, Kanye West, and more.
One of Nicki Minaj's biggest plans that later didn't happen was her plan to attend the 2023 Grammy Awards show. In one of the interviews she had last year, she appeared with E! News.
When asked if she would attend the Grammys if she were nominated, Minaj responded, "Yeah, why not? I'm not a coward."
"I feel like I am in a really good space, and therefore, why not?" she continued. "Why not put on a beautiful dress, cover my big boobs, and show off my big old butt. Why not go and flaunt it?"
Let's wait and see
About Author
Links, a co-founder of Aswehiphop, has been dedicated to the platform since its inception in 2019, overseeing the curation of artist songs and features compilations.