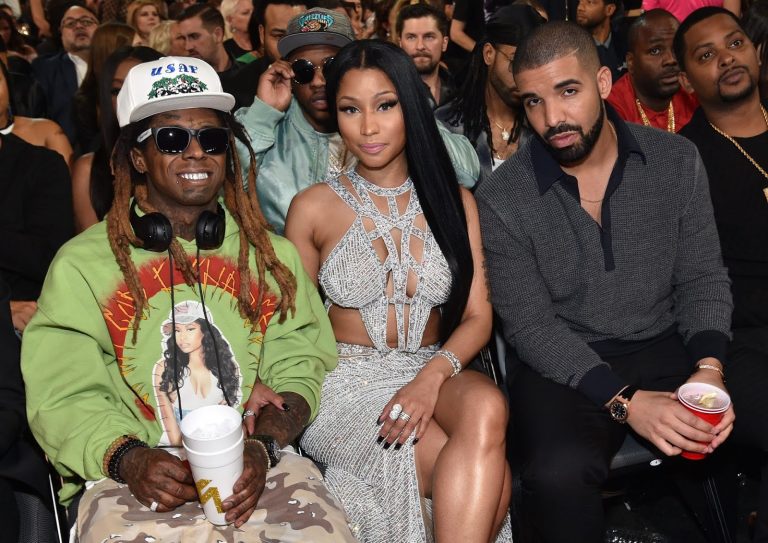 Lil Wayne Is Always Proud of Drake and Nicki Minaj
Lil Wayne's Young Money is a record lable that's also more influential to hip-hop community. Inside it's circle are different notable rap genders none but Drake and Nicki Minaj, majorly. Lil Wayne isn't deyning the fact about Nicki Minaj and Drizzy being so traditional with integral part of giving the record label outstanding balance.
Drake music front has always been more successful than you know. Nicki Minaj has controversially talked global just about her undisputed rap career on Young Money widely known as female representing female rap game of this generation.
While Drake and Nicki Minaj qualities can't be find off-putting and anxiety on this particular lable, Lil Wayne who have held key roles till date remains much outspoken using own thoughtful gestures describing Drake Minaj as unreplaceable hip-hop names.
During some moments he shared lately with Sovereign Brands CEO, Brett Berish (creator of Weezy's Bumbu Rum), and many interesting topics were discussed. Although their discussion took a deep dive around most Young Money rap-stars, like if there's possibility of discovering another Drake or Nicki — the cornerstones of his Young Money dynasty — prompting a passionate response from Wayne.
However, Liltunechi did respond to Brett Berish with what most Nicki and Drake folks always have in mind. Those fanbase believes there will be no other Nicki Minaj and Drake. Maybe Lil Wayne has just repeat that.
"There's no such thing," says Wayne, his face crinkling with incredulity. "I hate when people ask me that. There's no such thing as the next Drake or the next Nicki." When the interviewer clarifies his question, specifying that he essentially meant 'the next big thing,' Wayne takes a moment to ponder. "Back then, when I did discover Drake and Nicki, the game was different. Music was different. What I mean by that is they came in right before all the social media popped off. They came in when music had everybody's attention. It had everybody looking to see how is next, what is next."
"You had a choice. This is what's next? Do I like, yay or nay?" continues Wayne. "That's not what it is these days. Now it's a thousand new things a day." His feed goes full 56K mode and interrupts his thought, but the sentiment is clear as the connection picks back up. "Unfortunately, given that fact, you gotta be more than someone to become a Drake or a Nicki these days. Right when you think you Drake or you Nicki, they gon' post something of a little six-year-old saying something that's more popular than your songs. It don't even matter no more."
About Author
Links, a co-founder of Aswehiphop, has been dedicated to the platform since its inception in 2019, overseeing the curation of artist songs and features compilations.
Albums
Compilation
News